Arctic Dreams in Autochrome: Photos from 1912 Greenland Expedition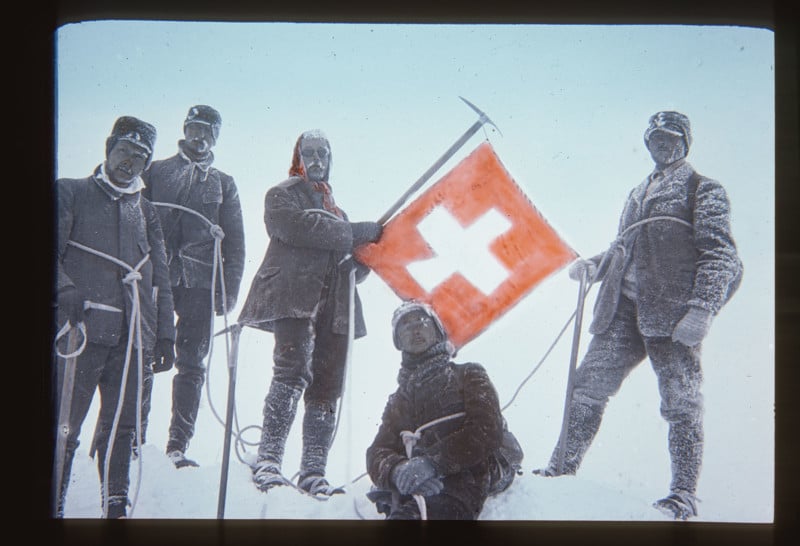 More than a century ago, a Swiss expedition sledged across Greenland's ice sheet, recording their feats in full color. A new book and an exhibition give these images a new lease of life.
Think of polar exploration a century ago, and the classic images that come to mind — Captain Scott's ship framed in an ice cave, Shackleton's Endurance trapped in the ice — are all monochrome. But just after Captain Scott perished in Antarctica, a low-budget expedition set out from Switzerland with a very different approach to photography: They thought in color.
Led by the Swiss meteorologist Alfred de Quervain (1879-1927), the four scientists aimed to make the first west-to-east crossing of central Greenland's ice cap. And in June-July 1912, they did exactly that, covering 640 kilometers in 31 days, skiing behind a trio of dog sledges.
On this expedition, nobody fell in a crevasse, froze to death or suffered so much as a frost nipped finger. Some of the expedition members even managed to gain weight before coming home in the autumn of the same year. And, on the way, they documented their progress in a trove of color images.
Like other polar photographers of the time, they experimented with a color process known as autochrome. This was a mosaic-screen technique devised by the Lumière brothers of Lyon, France, who launched it commercially in 1907. Such autochrome plates continued to be the most widely used way of making color prints until color films appeared during the 1930s.
The Swiss expedition's color photographer was Wilhelm Jost, a physics teacher. It's fair to say that his results were mixed. As you can see, the Autochrome on the left (below) is less crisp and colorful than the hand-tinted, originally black-and-white image on the right.
But one of Jost's Autochromes, showing an arctic sunrise (below), did appear as the frontispiece to the expedition leader's book, which was published in 1914. That was probably a "first" in polar photography — Captain Scott's photographer, Herbert Ponting (1870-1935), also experimented with Autochrome, but not to the Captain's satisfaction.
Color wasn't just a hobby for the Swiss crew. Like many an expedition before and since, they'd run up large debts and they hoped to pay these off by making a round of public lectures, illustrated with magic lantern slides. Color pictures would make these events more compelling. But if Wilhelm Jost's experiments weren't numerous or impressive enough, how could they fill the gap?
The answer, suggested by a previous Swiss traveler to Greenland, was to hand-tint their black-and-white plates. And fortunately, they were able to find such a specialist in Zurich in the person of Wilhelm Heller, a professional retoucher.
Heller's work did the job. Not only did Alfred de Quervain manage to pay off the expedition's debts, but his expedition books — there were two — were later reprinted in German together with sixty color plates. This too is probably a "first" for polar photography from such an early date.
To mark the 1912 expedition's 110th anniversary, a new book has recently come out featuring an even wider selection of these full-color pictures, which accompany the first full English translation of de Quervain's expedition write-up.
In parallel, an exhibition entitled Greenland 1912 will run until March 12 at the Forum of Swiss History, an offshoot of the Swiss National Museum located in the central Swiss canton of Schwyz. The book Across Greenland's Ice Cap: The Remarkable Swiss Scientific Expedition of 1912 is published by McGill-Queen's University Press and is available from Amazon or direct from the publisher's website.
---
Disclosure: Martin Hood was the editor of the above-mentioned book, but does not profit in any way from its sales — this was an unpaid involvement. He has no financial or other interest in the museum exhibition mentioned in the article. PetaPixel was likewise not compensated, and only wished to share Hood's story.