Jamie Lee Curtis Sparks Uproar Over Framed Photo of Naked Child in Box
Hollywood actress Jamie Lee Curtis has deleted an Instagram post after facing backlash for her choice of photography wall art.

Curtis posted a picture from inside her house last week showing "beautiful Pollack chairs" from her latest movie
Everything Everywhere All at Once
in her office.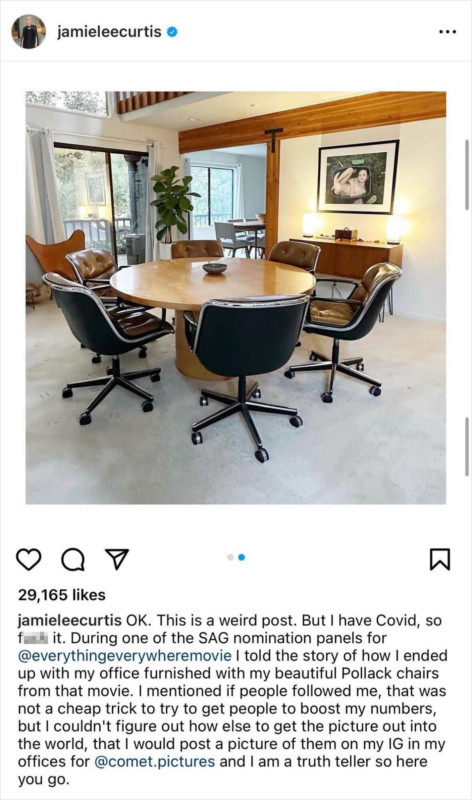 Reactions in the post's comments and on social media were largely focused on the strange framed photo on the wall behind the desk and chairs, as it appeared to show a naked child inside a plastic tub.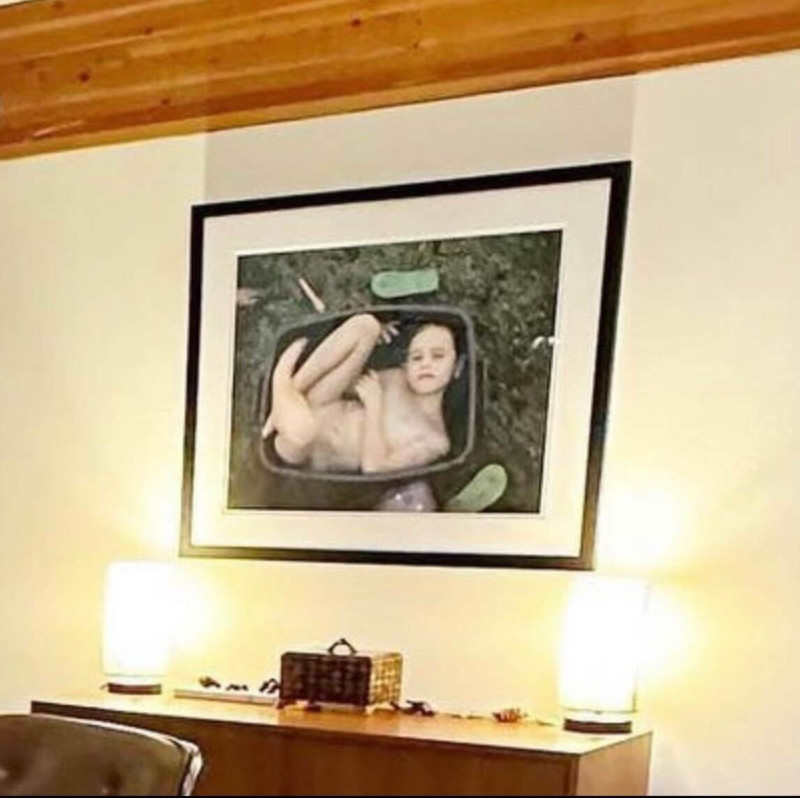 Critics questioned the actress's taste in art, calling the photo "creepy" and "sick." Others on social media drew connections between the art and everything from Jeffrey Epstein to the recently Balenciaga BDSM scandal.
Curtis quickly responded by deleting the Instagram post, but social media continued to swirl. Today, Curtis took to her social media channels to address the matter.
"Last week I posted a picture of some chairs that included a photograph on the wall by an artist that was gifted to me 20 years ago," she writes.
"I understand it has disturbed some people. As I have said, I am a truth teller so here's the truth. It's a picture of a child, taken by her mother, of her playing in their backyard in a tub of water. Nothing more, nothing less. I took down the post because I didn't want to keep something up that upset anyone."
The Photographer Behind the Photo
The controversial wall art is a print of a photo by American photographer Betsy Schneider. It's from her series Sweet is the Swamp, a collection of candid photos taken mainly of the photographer's children. The picture that Curtis owns is called The Tub and was taken in 2003. The image shows Schneider's daughter in a small plastic box filled with water.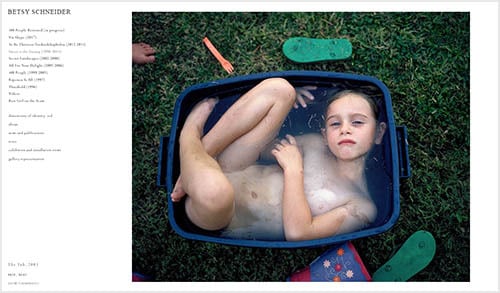 Schneider was one of around 175 individuals around the world that was awarded a prestigious Guggenheim Fellowship in 2011.
Past Controversies
Photographer Betsy Schneider documents transformations of individuals and families over time and place, according to her website.
Her work has been exhibited in art galleries and Schnieder has released a book entitled To Be Thirteen.
Schnieder's work has caused controversy in the past. In 2004, police in London were called to her exhibition at the Spitz gallery after concerns were raised over photos of the artist's naked daughter. A visitor to the exhibition considered the images to be pornographic and the exhibition was shut down by the gallery.
She told The Guardian that she did not consider the work to be obscene when seen as a whole.
"The aim of these pictures is not to provoke or to shock. The idea is to show time, change and growth," she said at the time.
---
Update 1/20: This article has been amended after the photographer reached out to PetaPixel claiming that she never said her photos might be considered pornographic. This was misquoted at the time and PetaPixel has removed the quote.
---
Image credits: Photo of Jamie Lee Curtis licensed via Depositphotos.