Photographer Recalls Iconic Shot of Euthanized Hollywood Mountain Lion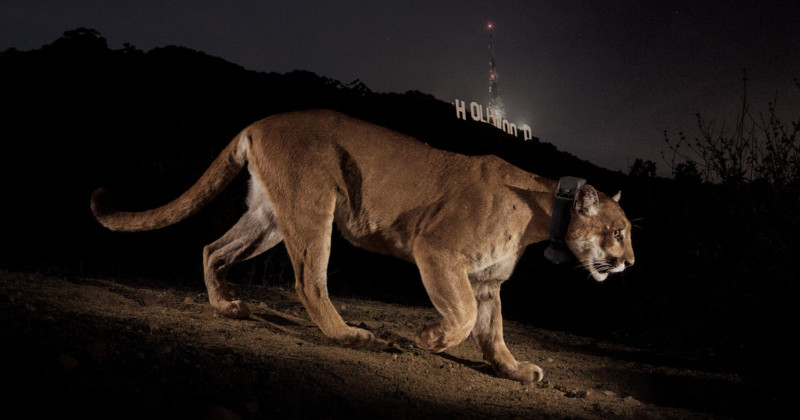 National Geographic photographer Steve Winter is sharing thoughts about his remarkable photo of P-22, a Hollywood mountain lion that's been widely mourned since it was euthanized.
Speaking to CBS Los Angeles, Winter expresses his sorrow over P-22's passing and his immense pride over capturing an iconic photo.
"I spent a long time today crying because this cat means so much to me," he says. "He became a celebrity in the land of celebrities. His story's a miracle like something out of a Hollywood movie."
To capture Hollywood's famous big cat, Winter enlisted the help of a national park service biologist.
"He found a trail and he said 'this is perfect, it's dark and no people walk this trail, only animals.' It took 15 months but I got the first picture," he says.
Winter had to wait another 15 months before he got the second shot of P-22 but this time it was perfect. The Nat Geo shooter set his camera to a four-second exposure so that the Hollywood sign in the background would be visible, and the off-camera flash froze the cougar.
"[The lighting] just hits P-22, because we knew exactly where he was going to go from the first image."
"I'm overjoyed [with the picture]. Look at what it's done, it brought all these people together to think about wildlife in the greater L.A. area."
A Beloved Big Cat
P-22 was humanely euthanized on December 17 by the California Department of Fish and Wildlife. A health examination revealed the big cat has sustained severe injuries, likely due to being struck by a vehicle.
"P-22 has had an extraordinary life and captured the hearts of the people of Los Angeles and beyond," the agency writes in a statement.
In November, the cougar had killed a Chihuahua mix that was being walked in the Hollywood Hills and was suspected of killing another Chihuahua in the Silver Lake neighborhood. For most of his life, he lived in Griffith Park where he hunted deer and coyotes.
"Grief is just another form of love and P-22 was so loved," writes L.A. resident Serita Colette in the Los Angeles Times. "His presence reflects our inherent connection, and why we need to wake up. There is something profound about P-22's magnitude and this collective grief of ours. Language won't suffice."
---
Hollywood Cougar (P-22) prints are available from Vital Impacts, with the profits going to Big Cat Voices.
---
Image credits: Photo by Steve Winter/National Geographic.