Photographer Tries to Find 'Kissing Couple' from His Photo 50 Years Later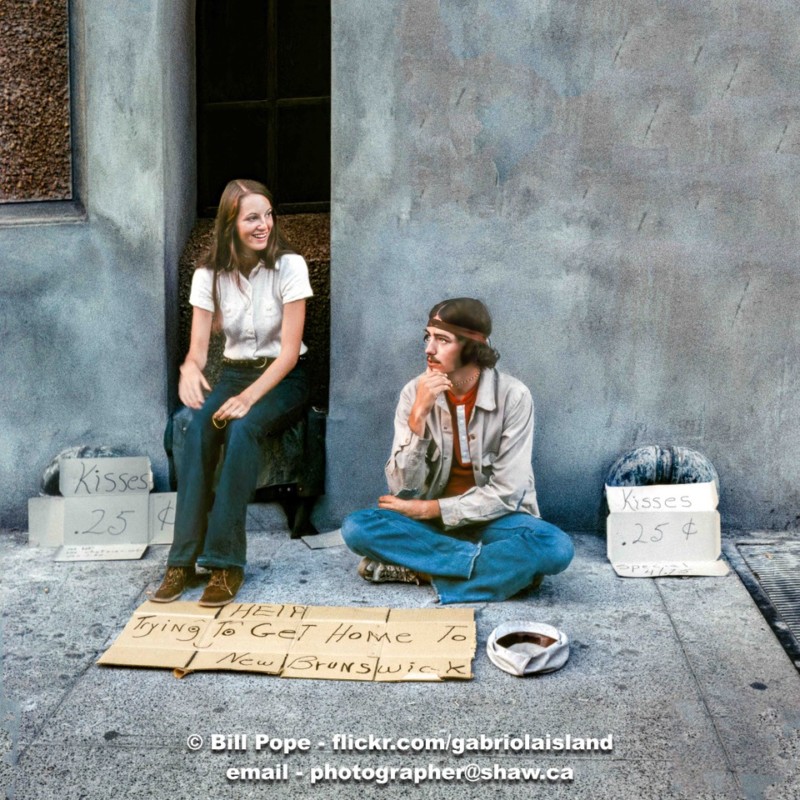 A photographer has shared his 50-year-old photo of a mystery couple who were kissing their way around Canada in a bid to find the duo.
In 1971, Bill Pope was a student taking photographs in Gastown in Vancouver, Canada when he stumbled upon a young couple who were selling kisses to fund their travels around the country.
The pair were holding handmade signs that read "Help. Trying to get home to New Brunswick" and they were offering kisses for 25 cents, which is around the value of $2 today.
Photographer and lawyer Pope took a photo of the couple with his Pentax SP500 and now, fifty years later, he is trying to identify the pair in the photograph and find out what happened to them.
A Fifty-Year-Old Mystery
According to Times Colonist, the original photographs remained among Pope's collections of slides that he took in Vancouver and the images stayed there for several decades.
However in 2015, Pope had his slides digitized. But it was only recently when he edited the photographs he took of the couple that he became fascinated by their story.
"I was able to tidy them up and get them a bit cleared up and stitched them together," Pope tells Time Colonist. "Once I got to that point, I thought wouldn't it be neat to see if I could find out who these two were."
The photographer posted his pictures on his website and his Facebook page earlier this month. He asked users on the social media platform if they knew the couple that he photographed in 1971.
"It would be interesting to find out who they are, what happened to them," Pope tells Time Colonist. "It's an interesting snippet of what might be a bigger story."
Pope's Facebook post has been shared over 1,000 times and online users are intrigued to know the fate of the people in the photographs.
Do You Know The Couple?
In the photo, the pair appear to be sitting on Water Street in Gastown. There are signs visible offering a kiss for the price of 25 cents. However, on the man's sign, there is a special offer of four kisses for 75 cents.
On the ground near the pair is an upside-down hat that appears to be empty.
If anyone recognizes the couple, they can contact Pope, who can be reached by email or via his website where the photographer is documenting the search.
More of Pope's work can be seen on Facebook, Flickr, and his website.
---
Image credits: Bill Pope.