A Whimsical Photo Series of the Japan's Ubiquitous Traffic Cones
In a delightful array of subtly whimsical images, photographer Max Cameron showcases a quirky approach to storytelling in his latest photo series.
In Cameron's latest photo book titled Traffic Cones of Japan, the artist's minimalistic shots of the peculiarly shaped warning objects afford viewers glimpses of not only the many uses of traffic cones in the streets of Japan but cleverly introduces and whispers messages of inspiration and emotion.
"In a nation as safety conscious as Japan, it is perhaps unsurprising that the humble traffic cone is omnipresent. Yet, many instances of its use surprised, inspired, and amused me. I created a photo book of the cones that didn't just make me stop, but made me feel." he tells PetaPixel.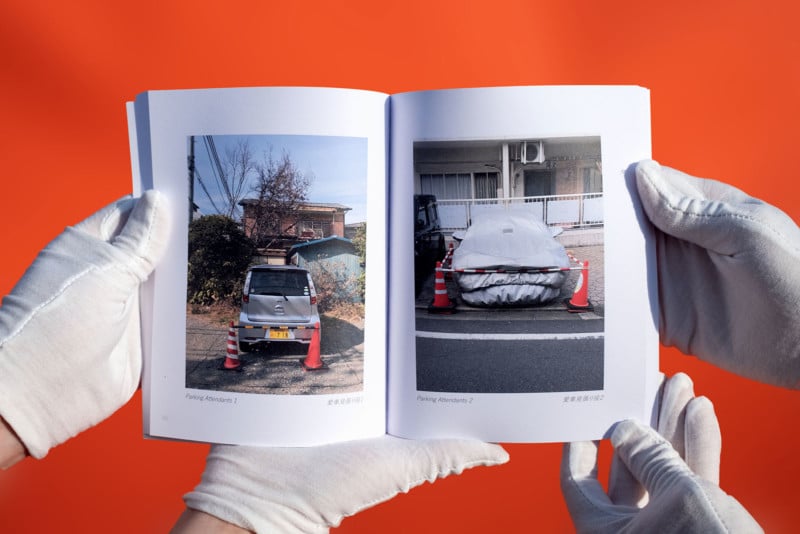 Formally based in London and a writer by trade, Cameron's affinity for photography was cultivated by his coworkers and their projects.
"Being surrounded by photographers and creators making art, zines and photobooks was really inspiring and made me want to put my own thoughts out into the world in some shape or form."
Later relocating to Japan, and before arriving specifically in Tokyo, Cameron had envisioned the city as a neon-lit, part modern, part traditional metropolis. But the creative copywriter and photographer soon discovered other intriguing sides to the city.
"Though you do see those things [like neon lights], that wasn't what I really experienced in my daily life. What surprised me most was the use of traffic cones. No potential mishap is left coneless here, with the pointy objects appearing in all kinds of unexpected places. I wanted to know, who put them there? What were they hoping to achieve? Why did they use so many?" Cameron says, speaking to PetaPixel.
In Cameron's distinctive point of view, the shots aim to take onlookers on an imaginative yet grounded journey of observation while recognizing the recurrent quirkiness found in our everyday surroundings. From multicolored cones, graffitied with caution tape, rebelliously lined up against an urban wall to solitary cones nestled under dainty Sakura trees in full bloom, Cameron's images artfully and skillfully personify the inanimate objects in a charming yet surprisingly sentimental way.
"I quickly started taking photos of traffic cones, but it wasn't until I started to imagine them as people that the photos started to work better. Creating a backstory for the cones made me realize what I wanted to highlight with each shot, and it became less about the people behind the cones and more about the cones themselves. Wow, that sounds so serious for something so daft," Cameron muses.
Mirroring the lightheartedness that can be interpreted in his works, Cameron's process tended to be equally free-flowing and easy-paced. From friends giving him tips about where to find interesting cone placements—for him to go investigate—to envisioning scenarios and journeying out and capturing the arrangement that caused amusement, it became an exhilarating but relaxing practice for the artist.
"It was a case of just being ready any time, any place, and I had plenty of time to eventually get the shots I needed. There were certain shots I knew I needed, such as a cone under the cherry blossom. But what made that shot even better was following it up with a shot of a tree with no blossom." He continues, "Though sometimes I would have my camera with me (a simple Nikon DSLR), more often than not, the cones would catch me by surprise and I would just have my iPhone with me… I know, sacrilege! The photos are by no means perfectly composed and there was minimal editing, but I think that adds to the real feeling of the images, and also the humor of them."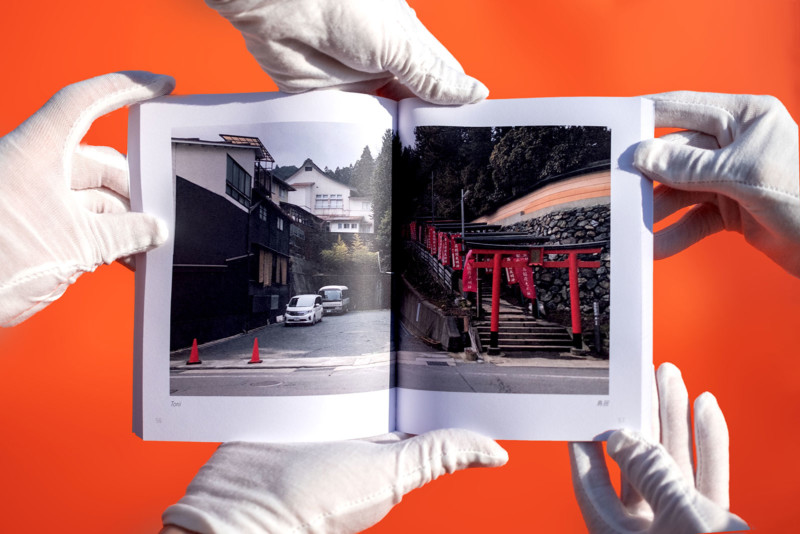 Cameron then chose to compile those shots into a book with written captions for each image giving a viewer a bit of perceived backstory and perspective of how the artist viewed the moment of capture. Traffic Cones in Japan was designed by Gareth Rowntree with written Japanese by Takuro Kobayashi, who worked in collaboration with Cameron to create a unique experience while showcasing the offbeat inanimate objects. Utilizing minimalism—in a variety of ways— Cameron was also intentional in giving the book a slight academic and serious aura.
"To create more of a gap between the tonality and the images themselves with their not-so-serious subject matter," he says.
The images in Cameron's book have triggered a variety of responses from its viewers, from joyful musings, to confusion.
"Often, people start off by saying, 'Wait, traffic cones? Why?' Which is fair enough! Some people stay in that mindset, but some come around to seeing them the way I do, which I love. I've had people say that now they see cones everywhere when they hadn't before. And of course, anything cone-related gets sent my way."
Cameron remains is content with viewers varied understanding of his fanciful perceptions of the cones, by way of having moments of reflection, or just a good laugh.
For more from Cameron, make sure to visit his website and Instagram
---
Image credits: Max Cameron