AI Time Machine Allows You to Picture Yourself in any Historical Period
AI Time Machine is a new tool that allows users to create images of a person in different time periods throughout history using AI-image generator technology.
Genealogy website MyHeritage announced the new feature that's based on the image synthesizer model Stable Diffusion and technology licensed from Astria, a company that tailer-makes AI image generation.
The app, available on desktop and mobile web browsers, asks the user to upload 10 to 25 photos of the same individual taken from different angles. A model is then made of the individual that can be cast into predefined themes set in different historical eras.
The person can then see themselves as an ancient Greek warrior, an Egyptian pharaoh, a medieval knight, a Victorian lady, or a hippie from the 1960s. The generated photos can then be downloaded and shared on social media.
"At MyHeritage, we're constantly developing cool new ways to connect people to their family history," says Gilad Japhet, Founder, and CEO of MyHeritage.
"Over the past three years, we released many successful features that use the power of AI to bring historical photos to life. AI Time Machine is a new twist on this theme, inviting you to travel to the past and see yourself as you might have looked at the time of your ancestors," adds Japhet.
"While developing this feature, the recurring question among our team was when it would be released so we could finally share our own mind-blowing images."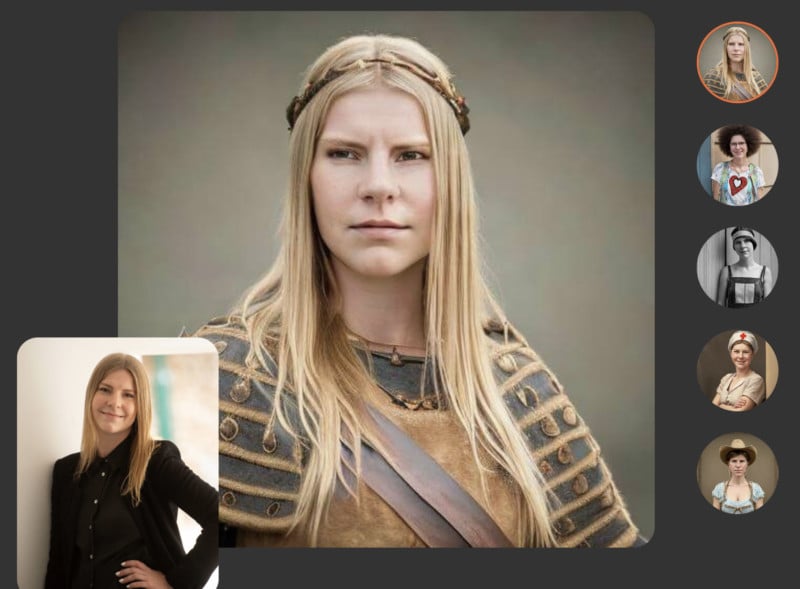 The generated photos will have watermarks added on to distinguish them from authentic photos as part of MyHertige's "commitment to responsible AI."
AI History Fun
AI Time Machine isn't MyHeritage's first foray into AI. Last year, the Israeli company introduced Deep Nostalgia which animates people who have long passed away.
After selecting or dragging and dropping a photo file from your computer, the AI will turn it into a deep-faked video that looks like a behind-the-scenes view of the subjects while the photo was being taken. The conversion process will typically take about 10 to 20 seconds.