The ALPAKA Elements Backpack is Made for the Traveling Photographer
Melbourne, Australia-based ALPAKA's new Elements Travel Backpack system is a 35L travel and camera pack that it says is designed for versatility, access, and organization.
The backpack is described as a "system" by ALPAKA because it is adaptable to any destination using customizable packing cubs and organizational pouches. The bag is primarily a travel backpack, but the company says it can be used as an everyday backpack for commuting and work or as a weekend adventure pack.
ALPAKA says the ELements Travel Backpack has room for between four and seven days worth of clothes in addition to a separate compartment for a laptop, tablet, and other similarly sized items. It has five zippered compartments, what the company describes as a "quick stash" pocket in the front for frequently used items, and an organizational front pocket for smaller items.
Similar to other backpacks before it, the Elements Backpack is able to work for multiple use cases due to what ALPAKA says is a compressed packing system. The packing cube fits inside the backpack and is lined with an odor-absorbing mesh fabric which the company chose to use so that it could store used clothes without spreading "funky" odors.
The external shell is made of "weatherproof" fabrics and is accessible with YKK AquaGuard waterproof zippers. The bottom of the bag is described as extra robust so that it keeps gear protected even when it is placed on the ground. The backpack also has an integrated sternum strap to reduce strain and a removable waist belt that doubles as a waist pack.
While the bag is designed to work for a variety of use cases — with the dominant function being travel — ALPAKA's interchangeable cube system means it also works as a camera bag.
The cube doesn't have any breakthrough design touches and is a pretty standard affair other than the fact it can be removed and worn separately when paired with an optional backpack harness for day use.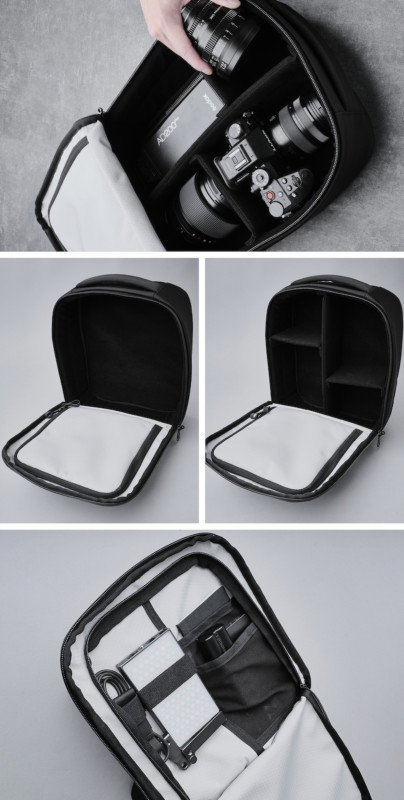 Basically, ALPAKA paints the picture of the cube living in the main backpack unit during travel, while the cube itself can be removed and worm separately for short trips after a photographer has reached a target destination.
The ALPAKA Elements Travel Backpack System can be backed on Kickstarter starting at $169. The company intends to deliver finished backpacks to backers by April of next year. At the time of publication, the company had raised well above its target goal.
---
Disclaimer: Make sure you do your own research into any crowdfunding project you're considering backing. While we aim to only share legitimate and trustworthy campaigns, there's always a real chance that you can lose your money when backing any crowdfunded project.