Colorized Photos of London Showcase its Turbulent and Magnificent History
London was founded by the Romans in the first century A.D. and is one of the most storied cities in the world. A new book of colorized photos breathes fresh life into the city's history.
Colours of London: A History has specially colorized black-and-white photos of the United Kingdom's capital city that stretches from the birth of photography in the early part of the 19th century.
The book features children playing in the River Thames while it is at low tide. The colorized image, taken on June 2, 1955, features Tower Bridge looming in the background.
From an idyll scene to a disastrous one, a photo from September 1940 shows the aftermath of a German bombing raid with a bus inverted against a terrace house in Mornington Crescent.
Ackroyd explains that the "first assaults on London from the air" began in July of that year, and they were initially aimed at outer London before the Nazi bombers began targeting central London.
"Some 30,000 bombs were dropped; almost 6,000 citizens were killed, and twice as many badly injured," writes Ackroyd.
"It seemed to some that the end of the world had come." Ackroyd says that at that time, the predominant colors in London were "of light and fire".
The Great Exhibition in 1851 consisted of 100,000 exhibits from countries around the world that showcased the era's technology.
Ackroyd says that "glass had never been employed on so large a scale, stretching over some 226 hectares (560 acres)". According to the book, the glass structure reflected the "light of the sun as never before seen in London".
Jordan J Lloyd of Dynamichrome coloroized many of the images in the book. According to the Daily Mail, he says: "What I found extraordinary was not how much, but how little has changed; the view would be as familiar to a Londoner during the reign of Queen Victoria as it would be today."
He adds that experts were consulted to create an "authentic color interpretation of the black-and-white original".
"I stress the word authenticity (rather than accuracy) because, like any period drama, we take clues from the real thing in order to inform a version which is not intended to be a substitute for a historically accurate original."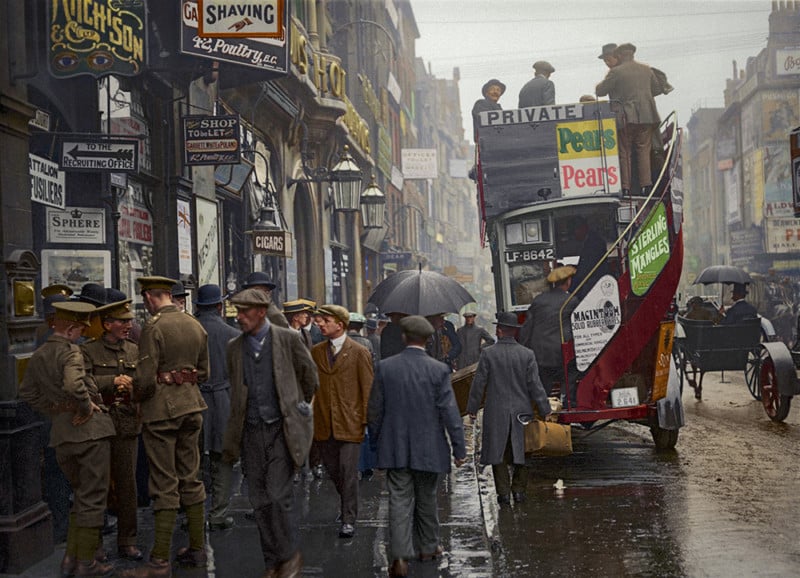 Colours of London by Peter Ackroyd is published by Frances Lincoln.