Dramatic Photos of a Glacier that Stands in Defiance of Climate Change
Photographer Blake Burton has created a photo essay that focuses on the Perito Moreno glacier in Los Glaciares National Park, Argentina which is an anomaly among global glaciers: it refuses to recede.
Burton, who lives in Atlanta, Georgia, describes himself as an architect and photographer who specializes in long-form documentary projects and travel. On one of his adventures, he found himself in South America and came face to face with the giant glacier known as Perito Moreno.
"A few years ago, I spent a month traveling across Chile and southern Argentina looking to photograph some of the region's most rugged and raw landscapes," Burton tells PetaPixel.
"None stood out to me more than the massive Perito Moreno Glacier in Argentina. Located in Los Glaciares National Park in Argentina, Perito Moreno is described as an anomaly among glaciers worldwide: it maintains a relatively stable size in a world where most glaciers are receding at an alarming rate. "
The Perito Moreno glaciers as tall as a twenty-story building and covers nearly 100 square miles, creating what Burton characterizes as a giant imposing wall of ice on the surface of Lago Argentino. It is one of the world's largest reserves of freshwater that, while its future remains uncertain, somehow stands defiant in the face of climate change.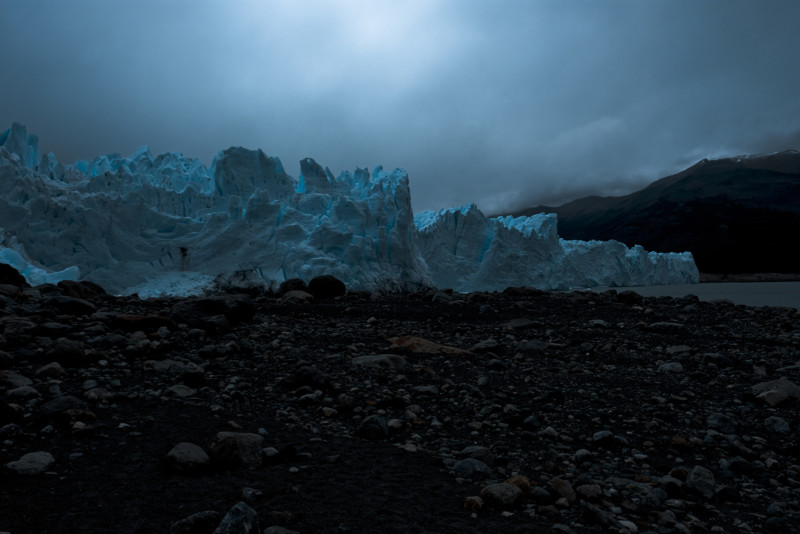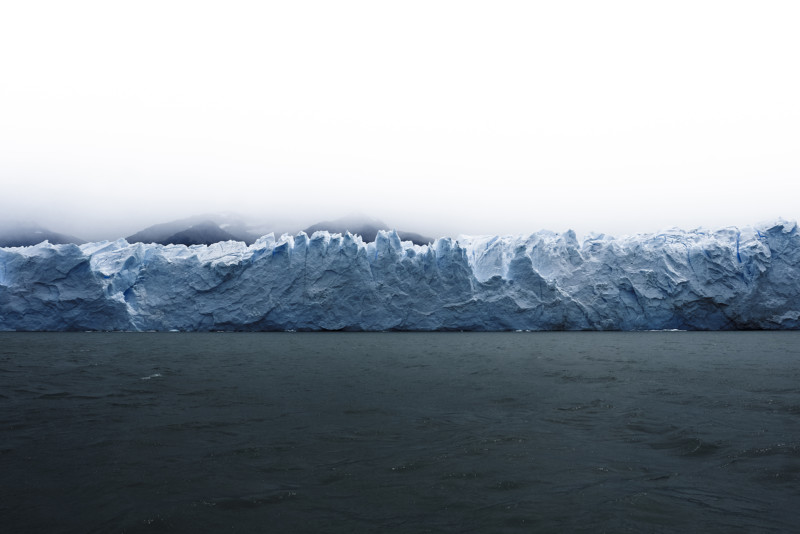 As rising temperatures have caused other glaciers around the world to collapse and recede, Perito Moreno does not.
"It is also a very accessible glacier, whether viewed from platforms on the shores of the lake, or on foot with various tour groups. After viewing it from a distance to capture its immense scale, I wanted to be as close as possible to the glacier to explore the tangled masses of ice on its surface," Burton continues.
"So, I joined a trek that would allow me to explore deeper into the glacier."
Burton's photos were captured with a Fujifilm X-T2, and he says he alternated between a Fujifilm 16mm f/1.4 and a vintage Topcon 58mm f/1.4 that he adapted to the body of the camera. With this setup, he was able to explore the glacier closely and says he strove to capture it in such a way that he could convey the feelings he had to others.
"The frozen expanse of this glacier is awe-inspiring and unforgiving, and I wanted to photograph it in such a way to capture the mystery and rawness of a landscape foreign to most people," he explains.
"Throughout the trek, the ice croaked and groaned beneath my crampon-covered boots as I stepped over each pressure ridge. It wasn't long before I understood just how alive this glacier was," Burton recalls.
"The ice moves fast here, perhaps a meter a day according to the guides. Because of this rapid movement, the surface of the glacier varies greatly. The sharp cracks and low rumbles of falling ice near and far were a consistent reminder that Perito Moreno is always changing, and its future is uncertain,"
While Perito Moreno stands uniquely in defiance of climate change, there is no telling how long it will be able to do so.
"Climate change poses a grave threat to the future of all glaciers, and Perito Moreno is no exception. Our guides on this expedition remain committed to ensuring the longevity of the glacier. For them, every trek onto the ice is an opportunity to educate and raise awareness of the threat facing this fragile landscape," Burton says.
"For me, it was an opportunity to connect further with our natural environment and appreciate just how fragile it is."
More from Burton can be found on his website and Instagram.
---
Image credits: Blake Burton