Pixieset Adds Online Booking and Scheduling to Studio Manager
Pixieset, the company known for its online client proofing and delivery system for photographers, has released a significant update to its recently released Studio Management service (launched just last year) that includes online booking and scheduling features.
After Pixieset released its business management tool for photographers last year, booking and scheduling has been one of the most requested features from their users, prompting them to very quickly address the issue with the launch of their Studio Manager. It's a fully-featured business module that is designed to help photographers enhance client onboarding, manage contracts, collect payments, send price quotes and invoices, and even help manage creatives calendars/schedule to ensure there is no overbooking and missed opportunities. The system is even integrated with Stripe or PayPal for online payments.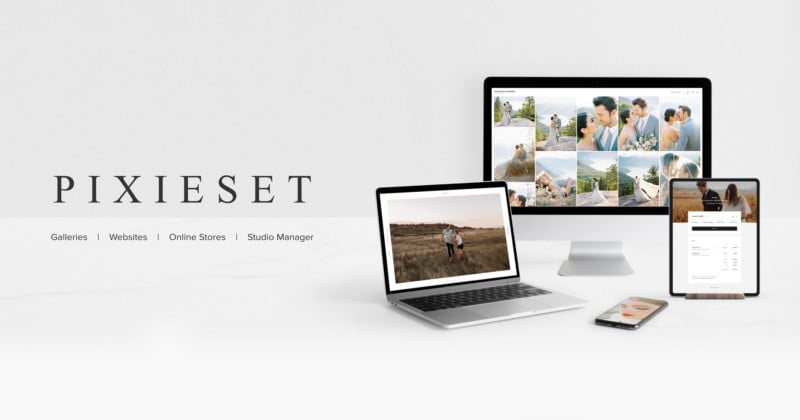 The new Studio Manager system was implemented to help simplify a creatives workflow so they can spend more time behind the camera instead of managing their business. Yes, the system does take some heavy up-front time investment to get set up, but once that is done, it practically runs itself. Once this is complete, users have access to a simple and effective way to broadcast their available services and packages along with their availability with potential clients. This allows the clients to book directly through the portal, and even collect payment (or deposits) upfront with a choice of integrated payment processors.
The built-in online calendar allows users to better manage their schedules, set up session availability, and manage their due-soon projects. In addition to the calendar, Studio Manager users can create and send contracts that can be digitally signed, send and manage invoices, price quotes, and even design and send questionnaires for potential clients to help better identify and meet their needs. The company says that with the introduction of booking and scheduling, Studio Manager comes full circle, strongly positioning itself among the best photography CRM tools.
"The release of booking and scheduling marks a new chapter for Studio Manager," Pixieset says. "It can fully power up your photography workflow — from the moment a client inquires and books a session, till the point they make a payment and sign a contract. If you're tired of juggling between multiple tasks and software, trying to figure out a new dashboard, worrying whether you forgot to reply to an inquiry, or reminding a client to pay — then you need to try Studio Manager. It allows you to stay organized, fully booked, and on top of your schedule."
The Pixieset Studio Manager is now available in a variety of subscription levels ranging from free up to $55 per month depending on the level of services, apps and features required.