Photographer Tackles Fan Who Ran on Field During College Football Game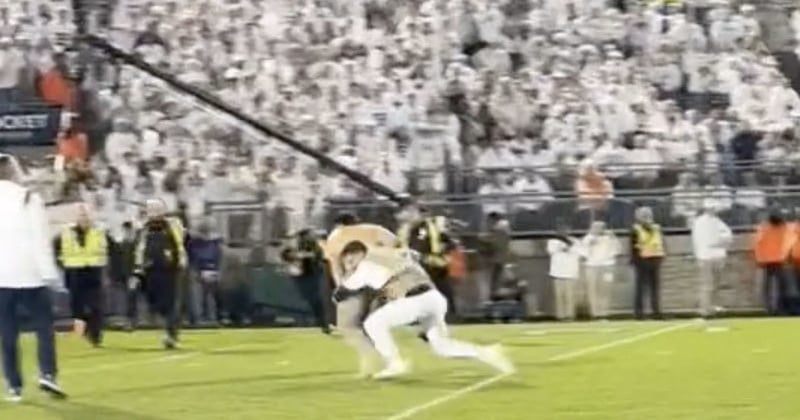 A photographer took matters into his own hands after taking down a streaker during a college football game yesterday.
The incident occurred in front of a highly-charged crowd at Penn State's Beaver Stadium during their annual White Out game versus Minnesota.
FAN ON THE FIELD! pic.twitter.com/bT4JlC3JWb

— Onward State (@OnwardState) October 23, 2022
Multiple angles show a man running onto the field and doing the Cristiano Ronaldo "Siuuu" celebration before a photographer wearing an official media jacket sprints toward him and tackles him to the ground.
The pitch invader manages to get up, losing his shirt in the process, but the determined photographer hangs on to him and deftly tackles him to the floor again as police arrive on the scene. The crowd can be heard cheering the entire time.
The streaker is put into handcuffs and escorted out of the stadium while the photographer runs back to the sidelines celebrating and pumping his fists at the rabid fans as he goes.
@OnwardState pic.twitter.com/RJhoJNgOLZ

— Josh Simmons (@Joshms95) October 23, 2022
The unidentified photographer won plaudits online with some praising the photographer's tackling skills. "Get this photographer a pair of shoulder pads," writes Jim Weber.
One commenter asked where the police were: "Pretty embarrassing to be shown up by a sideline photographer doing a better job than the police. They even were casual about eventually getting there."
"They've been training since the Davante Adams incident," adds Joel Zouflay in reference to the Las Vegas Raiders player who was charged with assault after he shoved a photographer after a game.
A photographer just took down a streaking fan at the Penn State game. He gives a fist pump to the fans in the student section after he makes the tackle. pic.twitter.com/gbubdxXF1A

— Kyle J. Andrews (@KyleJAndrews_) October 23, 2022
According to Nittany Sports Now, the incident took place late in the fourth quarter and the game had already been decided with Penn State comfortable winners, defeating Minnesota 45-17.
The White Out game is a tradition at Pennsylvania State University where all spectators come dressed in white. Even the pitch invader and photographer were wearing colorless garments. The lively game has been described as "the best atmosphere in college football."
Another Week, Another Photographer Fracas
Three weeks running a photographer has found themselves in the middle of a confrontation at a U.S. sports event.
As mentioned above, the infamous Davante Adams incident is in the hands of Kansas City Police who charged the wide receiver with a misdemeanor assault.
Last week, PetaPixel reported on NASCAR driver Chase Elliott losing his cool with a cameraman by pushing the lens away and then acting aggressively toward him.