This Macro Photo of an Ant's Face Looks Straight Out of a Horror Film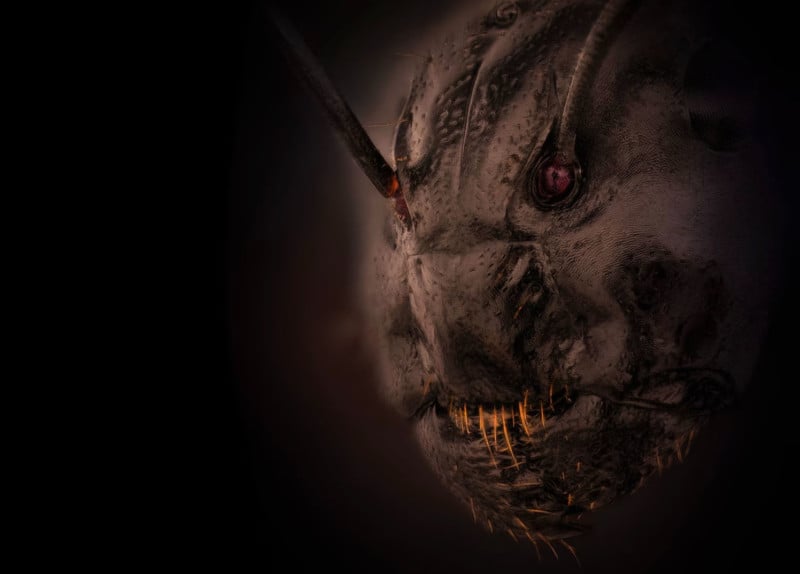 Eugenijus Kavaliauskas took this incredible, yet terrifying macro photo of an ant that looks like it's straight out of a horror film.
Kavaliauskas entered it into the Nikon Small World photo competition where it was awarded "Image of Distinction" status.
The photo, which received a considerable amount of attention on Reddit, appears to have been taken with a Canon R7 and a Mitutoyo 5X objective lens magnification.
Looks Can be Deceiving
The haunting image looks like a face. But, the "eyes" are not eyes at all. They are actually the base of the antennas. Clever cropping allows the viewer to see an anthropomorphic face, giving the ant a demonic look.
"It's because the way this image is shot and cropped makes it look like the base of the antenna are actually eyes," explains one Redditor.
"Those are just the rotating parts of the antenna. You can't see the eyes in this picture, so that's what gives it the more demonic look."
Another Reddit user explains that the angry face that humans see is thanks to a phenomenon called pareidolia, which is a tendency to see a pattern in an object where there is none.
"In reality, this is excluding the eyes and the mandibles, which isn't how anyone curious about IDing the ant would photograph it. It's a neat photo to look at, but worthless to a researcher," they add.
Many commentators say that the gruesome ant looks like a character from Lord of the Rings, specifically the orc characters that dwell in Mordor.
Maybe Ants are Just Sinister
Ants don't need to be cropped in to look petrifying in a macro photo. In July, PetaPixel reported on a set of ultra-detailed photos of the insects that Joshua Coogler took.
"I have to take anywhere from 30 to over 300 photographs to get one final image," Coogler told PetaPixel.
"This is because the part that is in focus is like a thin slice. I take all of those images and 'stack' them in a process called focus stacking. After that, I process the image to bring out some of the colors and make the image sharper."
More of Kavaliauskas's work can be found on his website and Instagram.
---
Image credits: Photo by Eugenijus Kavaliauskas.