Artists are Burning Their Work for NFTs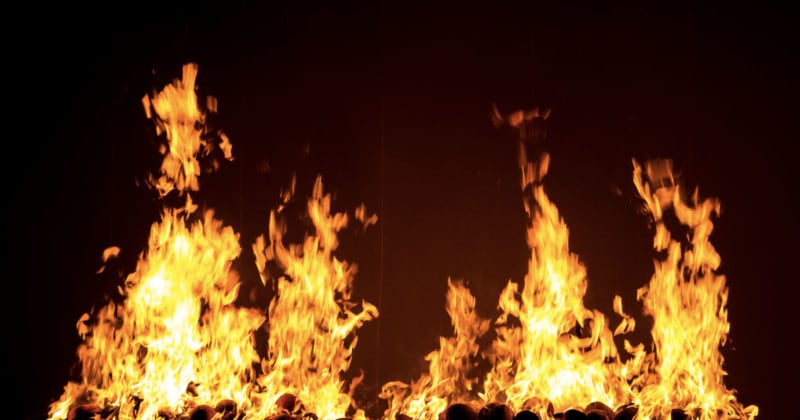 The intersection of art and NFTs keeps getting weirder. Painter Damien Hirst has joined other artists and burned 1,000 of his pieces this week, all in the name of non-fungible tokens.
Hirst posted the burning of artwork from his "The Currency" project on Instagram, saying they will live on as NFTs and that the value of the physical works will transfer to the digitized commodities. According to NPR, Hirst gave collectors the choice a year after their purchases of "The Currency" works to get the physical painting or hold on to the NFT, letting the painting burn in the exchange.
NPR also noted the patrons were pretty evenly split in their decisions, with just a few hundred physical piece owners edging out the NFT holders. The paintings, which were on display at London's Newport Street Gallery, will be burned during the Frieze London art fair running this week. And yes, people quickly pointed out on his post that this has harmful impacts on the environment, combining the unnecessary burning and the toll NFTs already have.
Hirst's flaming display is extreme, even among pro-NFT artists. It also makes the purchasing of art, and by extension the assigned value, nearly entirely transactional.
The destruction of the original work to seemingly transfer its "value" to its NFT is an even trickier question for artists of other mediums. Digital artists and photographers attempting a similar move, which is not recommended, can do what exactly? Delete the original RAW photo? Erase artwork created layer by layer in Procreate or Photoshop? Film the painstaking process of hitting "delete," on every SD card and cloud copy? The edited and final versions? This, all in the name of hoping the value transcends the art itself into an untested digital currency because, to be clear, though Hirst posits the idea confidently on his Instagram, this is in no way a sure bet.
"A lot of people think I'm burning millions of dollars of art but I'm not, I'm completing the transformation of these physical artworks into nfts by burning the physical versions, the value of art digital or physical which is hard to define at the best of times will not be lost it will be transferred to the nft as soon as they are burnt and I will be live-streaming the full burn here on instagram," he wrote (lack of punctuation and capitalization his own).
Never mind that the NFTs sold for a bargain compared to what his original artwork typically goes for, according to NPR. Hirst himself notes how difficult it is to assign value to art. Opting for a medium that is quickly plummeting doesn't seem to help matters.
---
Image credits: Header photo licensed via Depositphotos.