Match Your Favorite Style Instantly With Imagen Talent AI Profiles
Imagen has come a long way in the months since PetaPixel initially reviewed the service with the improved workflows and further enhancement of Talent AI Profiles. These AI profiles have been created by industry-leading photographers with unique editing styles so that any user can instantly edit their own images to match them instantly.
---
Full Disclosure: This sponsored story is brought to you by Imagen.
---
While there are other bulk-editing services out there, many of them still have actual people behind the computers doing the brunt of the work. The Imagen platform as a whole is designed with the photographer's "well-being" in mind and leaves the "grunt work" to artificial intelligence. This means it was made to help cut out the tedious work photographers face after a long set of shooting (things like white balance, color correction/grading, and exposure), allowing them to focus on the important details to get things just perfect for their clients, and more importantly, freeing up their time spent behind a computer and allowing them to move on to the next job, or simply enjoy a better work/life balance.
Why Use A Talent AI Profile?
The big question now is why would you use the Talent AI Profile section instead of editing teaching Imagen your own editing style? The answer is maybe you simply don't have the required 5,000 images to submit yet to build your own Personal AI Profile in the app. Another reason is the team at Imagen has built the Talent AI Profiles using a minimum of 40,000 images (Some using well over 100,000) to create an incredibly consistent and accurate profile that ensures no matter the style of the RAW file submitted, (dark or light), the resulting edited image will provide incredibly consistent looks. This extends to white balance and exposure levels as well!
In addition to the clear benefits for new users, experienced users may simply want to try a new style with their work and are bored or fed up with existing "preset" systems that never return consistent results. Leveraging the Imagen Talent AI Profiles will accommodate and adjust for changes in white balance, exposure, saturation, and more to ensure the entire series of images matches the style chosen. These profiles will allow users to edit entire sets of images in just minutes!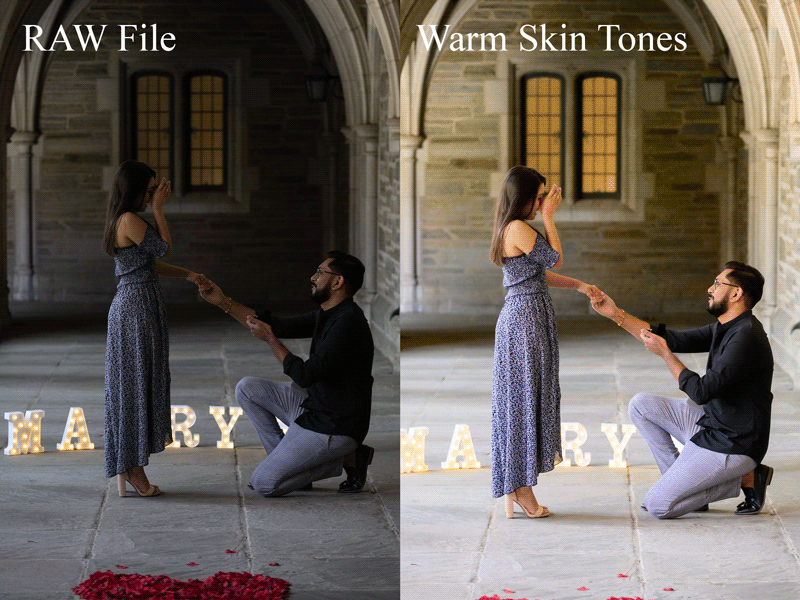 Effectively the Talent AI system is designed for Photographers who either haven't finalized a personal editing style or haven't got 5,000 consecutive past edited photos in order to build their Personal AI Profile. The Imagen Talent AI Profiles are simple to use and according to the company and its user base, the results are out of this world!
"We've partnered with various leading photographers with a unique editing style and built Talent AI Profiles according to each of their editing styles."
The Imagen Process
For those unfamiliar, the process/workflow for using Imagen and the Talent AI Profiles is pretty straightforward. Things start after users have imported their images into lightroom and then the best practice workflow is as follows;
Cull in Lightroom to remove any images not worth processing
Place selected images into a Lightroom collection so they can easily be found when opening Imagen. For example, call the collection "wedding name x – to edit"
Open the Imagen app and it will find the last Lightroom catalog used saving users time from having to search for it themselves.
Select the collection you want to edit.
Name the edit in Imagen and choose the Talent AI Profile of your choice.
Click upload and Imagen will upload the mini-dng files in the background. The time here depends on internet speed, but an average high-speed connection can result in around 10 minutes to upload a wedding. Once uploaded, Imagen starts processing the edits and will send an email when the files are ready. A full wedding usually takes no more than 10 minutes.
When the files are ready, click the download and review button. Once again, Imagen finds the relevant Lightroom catalog and collection to feed the edits into, which is very helpful and prompts users to open the catalog.
From here users can apply their own custom Lightroom creative color profiles on top of the Imagen edit and continue making any fine-detail adjustments as needed.
Talent AI Profiles Save Time
While I have used and endorse the product, you don't need to just take my word for it. Italy-based Portrait and wedding photographer Sarah Edmunds who crafted the "Love & Light" Talent AI Profile had this to say about the service and why she uses it.
"I first discovered Imagen when I saw a post by my friend and a wedding photography legend Yervant on Instagram. I had started up an editing business in 2019, so was immediately curious and wanted to try it out. At that time I was doing large volume color correction for various clients which meant I needed to speed up and be more consistent, as hours upon hours in front of the screen can mess with your perception of color," says Edmunds. "I was locked down pretty hard in Italy at the time during the pandemic, so all my work was editing and retouching then, done by myself and my assistant, as no photography was permitted during that period."
"I easily had the required 5,000 edits in Lightroom catalogs to get started, so I used the free trial, and instantly I was able to shift into high gear." she says "I found that having Imagen handle the bulk of the adjustments (especially color correction and exposure, which is the tedious part of editing and the part presets are unable to handle) meant that my brain was left free to focus on fine-tuning and tweaking, making it so much easier to tackle with a "fresh brain" on the set of images."
"Creating my first Imagen profile meant that, straight away, a good 85% of the hard work was done," Edmunds tells PetaPixel. "Let's say that after my free trial I just felt that there was no going back – Imagen was an essential part of my work, and from day one that was it – every job was run through the software as the first step after culling."
Edmunds told us that it didn't take long for Imagen to take notice as they contacted her within a few months to ask her about creating a new Talent Profile of her own for the site. She explained that this took a bit of time because, while she had tons of the images needed, since she was a perfectionist she wanted to be sure the images she provided were consistent and handled lots of different lighting situations (including both indoor and outdoor, and mixes of natural, tungsten, and flash) so that the machine learning could be more accurate with a larger number of files to learn from.
"I just knew that this would change photographers' lives, and for the better," says Edmunds. "When I saw how effective and powerful the technology behind Imagen was, I knew I wanted to be part of it. I'm proud to be able to tell clients I use a combination of my 12 years of editing and teaching experience with cutting-edge technology to provide a faster, better service. It makes me incredibly happy to hear from other photographers that my work together with Imagen has changed their lives. I know firsthand how exhausting and stressful trying to keep up with full-time wedding photography is, especially since editing is the most time-consuming part."
"The Talent Profile I created, Love & Light, was built using multiple systems including Canon, Sony, and Nikon. My style is very neutral, with little to no creative distortion of colour, which might be why it's popular with wedding and portrait photographers, as it's so flexible. It's easy to use as a basis for a clean edit, or if you want to get creative you can just pop on a preset or Lightroom profile on top and batch sync in seconds. My focus is on good white balance, exposure, and subtle raw settings that give back raw images pop and vibrancy while maintaining good skin tones (one of my main priorities). Above all, I've been fanatically consistent with color over the years, and this is reflected in the output of the Love & Light profile," She says.
"Now, on my own weddings, at least 90-95% of the editing is perfect straight out of the box, and with tweaking, I can edit a 1000+ image wedding gallery in half an hour or less. I've done it live in my free Facebook editing group (https://www.facebook.com/groups/loveedits), and will be teaching how to use Imagen and customize the results at WPPI and The Societies of Photographers in London. I'll also be teaching speed editing and retouching (including the Imagen workflow) next year at The Photo Creators conference in Arizona, alongside Roberto Valenzuela, Peter Hurley, and Chris Knight among others."
"The pros are evident. The ease, consistency, and speed are better than human editors (including me), and the human part of the editing, that huge beast I used to spend my life struggling with, is now where it should be: refinement and creativity once most of the heavy lifting has been done. Some might claim that the cons are that it's not perfect and it's not free. I don't see any cons personally. This technology is revolutionary and literally life-changing for me as a photographer. The cost is extremely good value – I can edit an entire 1000-image wedding for 50 USD including straightening, with results that are better than human outsourced editors ever gave me, and I have freed up at least 6/8 hours of my time, if not more, which is priceless," Edmunds continues. "If I sound passionate, it's simply because I am."
Edmunds says It's important to remember that the technology won't always get it right, "after all, even humans make mistakes". So don't be alarmed when the technology doesn't always read the image perfectly. She says "I don't look at that as an issue; I look at the overall improvement in speed and consistency and consider tweaking to be a natural part of the process and my work. Moreover, as I'm then re-uploading every fine-tune back to Imagen, my Love & Light profile is subsequently getting stronger and more consistent. When a certain number of edits have been fine-tuned, these improvements will then be made available to the public Love & Light profile (subject to testing)."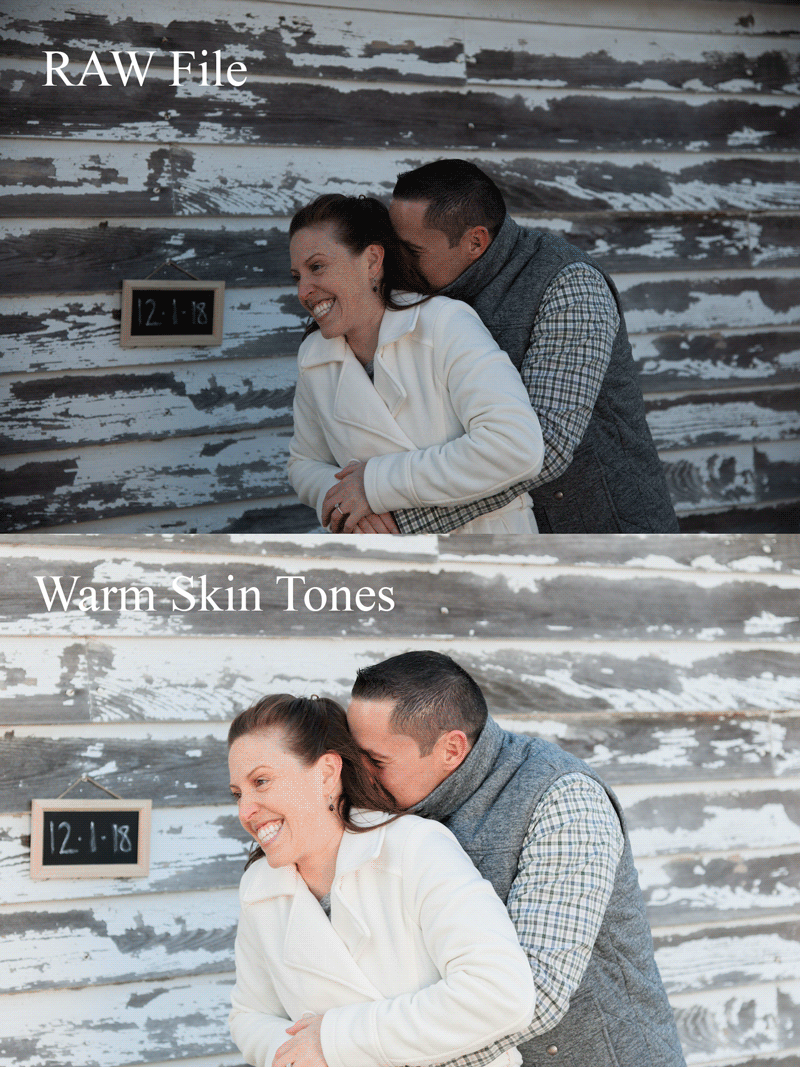 "As my Talent AI Profile is neutral and clean, there is no need to "dial it back", but occasionally the technology will have trouble if two different camera models were used for the same wedding, if the lighting is mixed or particularly tricky, and if the RAW file is way off to begin with. For the best results, getting it right in camera is a pre-requisite for good results, and that goes for human editors and all Imagen profiles."
"In these cases, the tweaking post-edit is part of the process along with the uploading of this fine-tuning to Imagen so the profile can continue to get stronger."
Edmunds adds "Overall I find that Love & Light does remarkably well in all the mixed lighting situations of the average wedding, with consistent skin tones even between indoor tungsten, outdoor natural light, and reception off-camera flash. The feedback so far has been extremely positive and seems to confirm this, which is wonderful to hear."
Talent AI Profiles Does The Heavy Lifting
While there are other services out there that provide bulk editing for wedding and portrait photographers, most of them use actual humans behind the computers to do the work. This means it will often take longer, and cost more for these editing services to accommodate your individual needs. Plus if you aren't happy with the results, the turn-around time (and cost associated with this) will also be much much higher when using something other than Imagen. Leveraging the Talent AI Profiles from Imagen will save photographers countless hours behind the computer, freeing them up to book more clients, spend more time working on the "print worthy" shots, or simply have a better work/life balance with that spare time.
Additionally, when covering events with multiple shooters, they will have different camera bodies/brands, lenses, color profiles, and even styles of shooting. Imagen Talent AI Profiles will take this all into account and return the entire set of images with a consistent-looking final edit. The colors, white balance, tones, and exposure should all be consistent across the entire batch. Using the Talent AI Profiles will let users edit like their favorite photographers instantly.
Having tested the Love and Light Talent AI Profile myself on a previous wedding I photographed over the summer, I can personally confirm the profiles work impressively well, surprisingly fast, and has me convinced that for every upcoming wedding and event, the Imagen Talent AI Profiles are more than worth the investment. Especially since I spent hours working on the set in Lightroom after I shot it, and Imagen Talent AI Profiles took less than 15 minutes to do a better job.
Imagen integrates directly with Adobe Lightroom Classic to apply these styles to each photo. The software/service is available for 5¢ per photo (pay-per-use) with a minimum fee of $7 per month. If the monthly usage is lower than $7 or 140 edits (USD7/$.05=140), the difference will be charged and used as credit for future edits. For more information visit the official product page here.
---
Full Disclosure: This sponsored story is brought to you by Imagen.