Close-up Images of Jupiter's Frozen Ocean Moon That Could Harbor Aliens

NASA has released images taken from Juno Probe after it passed close to Jupiter's frozen ocean moon Europa this week.
The Juno spacecraft beamed back the best images of Europa seen in decades. Beneath the surface of the intriguing moon is thought to be a water ocean that scientists speculate could harbor extraterrestrial life.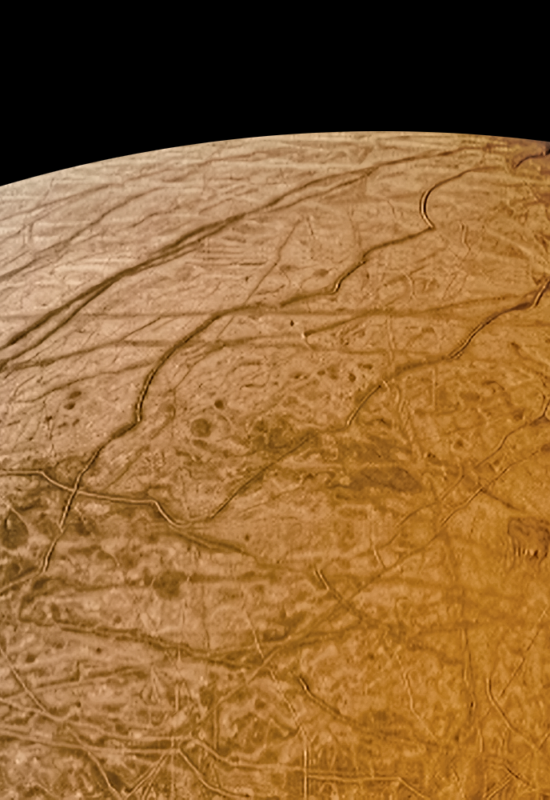 The Juno spacecraft has been orbiting Jupiter since 2016 and yesterday (Thursday) the probe made its closest approach yet to Europa, flying within 219 miles (352 kilometers) of its icy surface.
The last time NASA took a close look at the moon was NASA's Galileo which passed within 218 miles just after the new millennium in the year 2000.
Scientists had hoped to observe signs of life emanating from the moon, such as water plumes shooting from the surface, but initial findings have left researchers disappointed.
"We have to be at the right place at just the right time," Scott Bolton of Southwest Research Institute in San Antonio and Juno's chief scientist, says in a statement.
However, the exploration still resulted in the highest-resolution images ever taken of Europa's surface.
"Due to the enhanced contrast between light and shadow seen along the terminator (the nightside boundary), rugged terrain features are easily seen, including tall shadow-casting blocks, while bright and dark ridges and troughs curve across the surface," a NASA release says. "The oblong pit near the terminator might be a degraded impact crater."
Europa Clipper Mission
Juno's look at Europa will inform NASA's upcoming Europa Clipper mission, which will launch in two years' time and scout the moon further.
"Europa Clipper will study the moon's atmosphere, surface, and interior, with its main science goal being to determine whether there are places below Europa's surface that could support life," JPL stated of the mission, which is scheduled to reach the Jupiter system in 2030.
Europa is the sixth-largest moon in the solar system and is a similar size to Earth's moon but with marked differences in how it has formed and evolved.
Scientists will now compare and contrast the images of Europa taken 20 years ago by the Galileo spacecraft to see how the moon has changed.
---
Image credits: All photos by NASA/JPL-Caltech/SWRI/MSSS.