New Program Lets You Create Your Own AI Presenter from a Single Image
D-ID, the company which produced the technology for Deep Nostalgia, launched a new platform on Monday that lets users create artificially intelligent (AI) generated video from a single image.
With D-ID's new website, Creative Reality Studio, users can easily bring photos to life and seamlessly generate high-quality, presenter-led video content from just one image.
According to TechCrunch, users can upload an image of a presenter or select one from the pre-created presenters to start the video creation process. Paid users on Creative Reality Studio can access premium presenters who are more "expressive" and feature more advanced facial expressions and hand movements than the default ones available.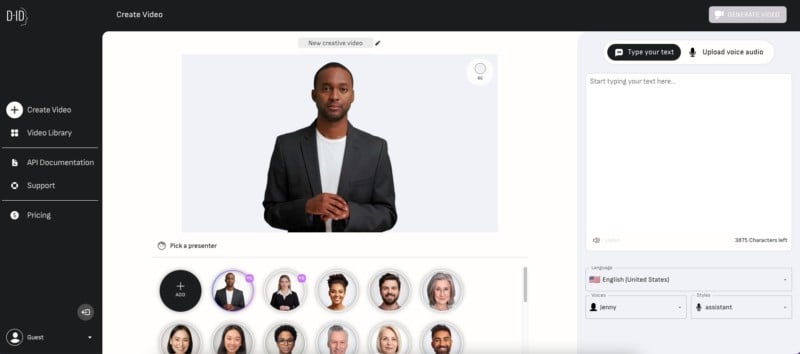 Users can then either type the text from a script or simply upload an audio clip of someone's speech for the presenter to say. They can also upload their own audio clips for voice cloning.
Users can then select from one of the 119 languages available on Creative Reality Studio and even choose voice and intonations like cheerful, sad, excited, and friendly for the presenter in their clip. The company's AI-based algorithms will then generate a video based on these parameters and users can distribute the footage as they wish.
Users will be able to sign up for free for a 14-day trial account of Creative Reality Studio and create up to five minutes of AI-generated 720p video. After that, they can pay $49 a month to have access to 15 minutes of full HD AI-generated video, a PowerPoint plugin, and email support.
D-ID is targeting sectors that produce corporate training, communication, and marketing videos with its technology. According to the Israeli AI company, Creative Reality Studio radically reduces the cost and difficulty of creating corporate video content.
However, TechCrunch reports that the company also has ambitions of facilitating real-time video call translation and clone presenters which enables a user to have an avatar appear on video instead of them while they dictate the audio. To prevent the technology being used to create offensive deepfake videos, D-ID has put guardrails like filtration of swear words and racist remarks, as well as image recognition to avoid the usage of famous people's faces.
Last week, video editing software company Runway also teased its own AI text-to-video generator with a promotional video.