'I Knew Bad Things Were Happening': Photographer Recounts Woodstock '99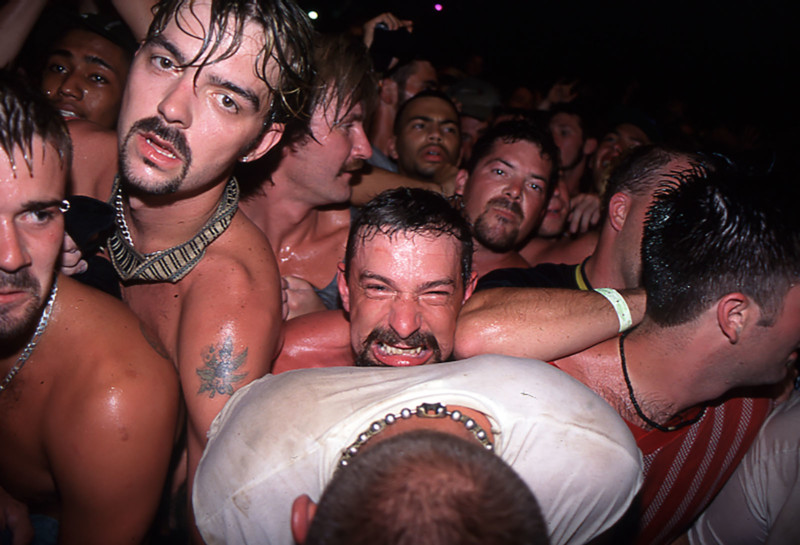 Photographer Mike Schreiber attended the infamous Woodstock '99 festival where he captured the mayhem, and controversy unfolding in front of him.
The end-of-millennia event was subject to a recent Netflix documentary, Trainwreck: Woodstock '99, which details the festival's degeneration into criminality, fire, and destruction.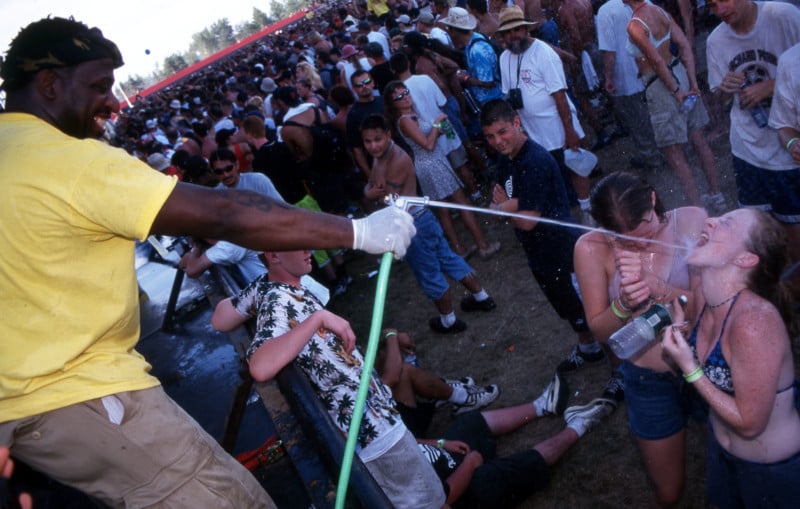 PetaPixel spoke to Schreiber, who recently released a book, about what it was like photographing the festival that took place on a former Air Base base in upstate New York, late July 1999.
"It was incredibly hot that weekend, so I remember it being physically uncomfortable," explains Schreiber.
"It was really dirty, mud everywhere. Super sweaty. Cameras were caked in mud too. And I had an all-access pass. I was able to get water and snacks backstage any time I wanted. I can't even imagine what it was like for the average concertgoers."
The intense heat meant that the crowd was fairly subdued in the daytime, but nighttime was a different matter.
"During the day was pretty chill. Acts like Jewel, Alanis Morrisette, and Willie Nelson performed during the day, but once the sun went down it was a totally different story," says Schreiber.
"Dudes, (the vast majority of the crowd seemed to be male), had been drinking and doing drugs all day in the sun, then bands like Rage, Chilli Peppers, Korn, and Limp Bizkit came on and it was pandemonium."
Perhaps none of the performances that weekend was quite so raucous as Limp Bizkit's set. The festival's organizer John Scher laid blame on frontman Fred Durst for stoking the crowd during the band's set on Saturday evening.
Even fellow performer Jonathan Davis, whose band Korn had performed the previous night, said that Durst and Bizkit "f***ed it up for everybody…. He instigated the whole damn thing — I was right there watching it."
"Like I said, it was pretty chill during the day, but then totally out of control at night. Especially on the last night. That's obviously when the fires started," adds Schreiber.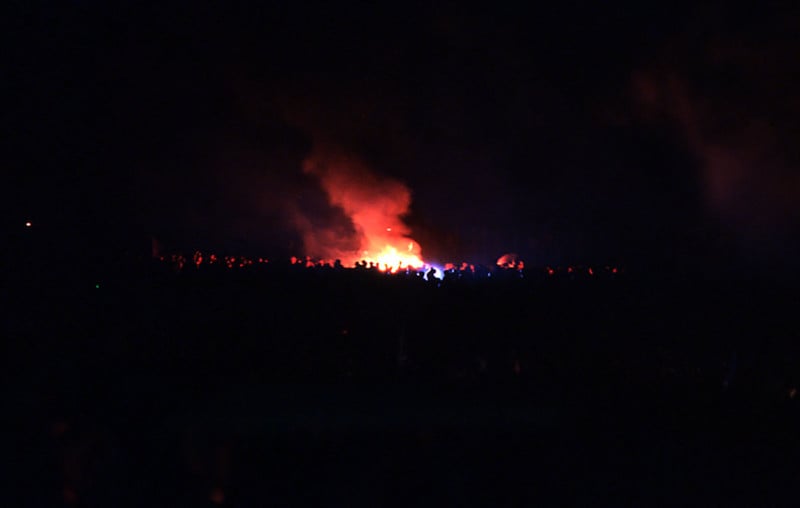 The lensman says that there were occasions when security had to step in to endure the safety of photographers.
"There were a few times I remember security hustling the photographers out of the pit because it was too dangerous. Bodies were flying over the barriers nonstop. It was the only way to get out of the crowd."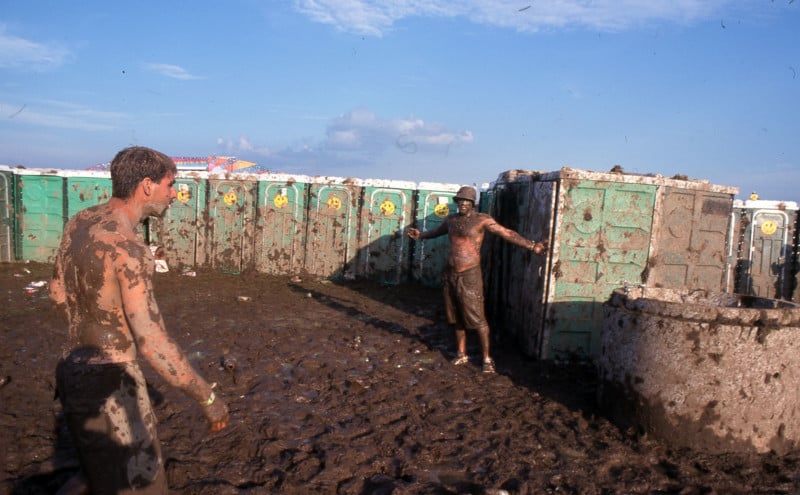 Wild mosh pits and bottle throwing may count as bad behavior but far more sinister were the reports of multiple sexual assaults that took place, with at least two women raped in the crowd during a live gig.
Carson Daly, who was MTV host at the time, called Woodstock '99 "male toxicity at its worst" and also said he thought he would die during the weekend after angry music fans took umbrage with him for the changing tone of MTV at the time.
"Everybody knew what was going on. Didn't know the extent of it, but definitely knew that bad things were happening," adds Schreiber.
Camera Gear
Despite battling with mud and filth on his cameras, Schreiber says that he used "minimal equipment" during the weekend, bringing two Canon EOS cameras and a Pentax K1000 film body. His camera choice reflects the camera industry at that time as it crossed from analog to digital.
"I probably had two lenses for the Canons. One long zoom and one wide."
A Dark Legacy
Woodstock '99 was supposed to be a celebration of the iconic Woodstock festival that had taken place 30 years earlier at the height of the hippy movement in 1969.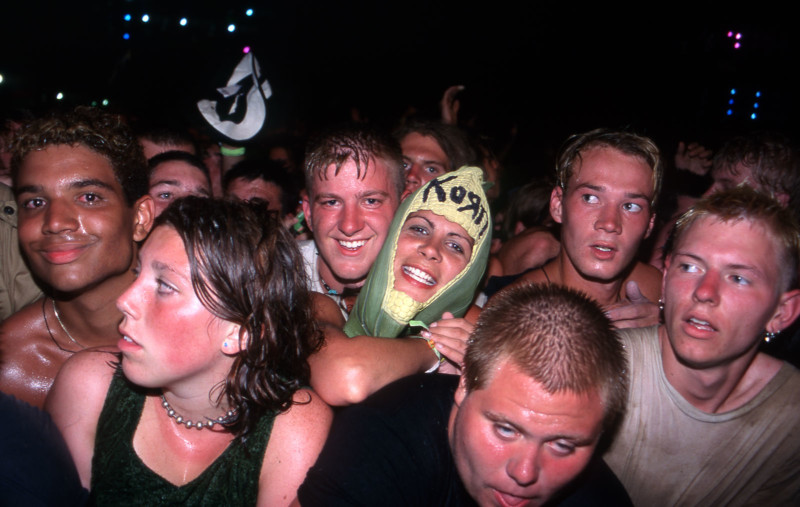 Whether it was poor planning (a military base is a questionable location for a festival), bad luck with the searing hot weather, or the culture of the attendees, some of whom were angry and had no respect toward anything, least of all women, Woodstock '99 was an unmitigated disaster and tellingly there has not been another Woodstock since.
Shcreiber's Woodstock '99 book is available now and can be purchased here. More of his work can be found on his website, Instagram, and Twitter.
---
Image credits: All photos by Mike Schreiber.