The Powchell Charger Both Powers and Protects Your Camera Gear
Australian company Yondaway has announced a Kickstarter campaign for the new Powchell Charger, a TSA approved portable 20,000mAH power cell that can protect and charge your gear while on the move.
While power cells and portable charging banks have become more common, most are designed to be particularly travel or "great outdoors" friendly. It is this that the Powchell Charger is trying to address, taking the idea of "DIY" battery projects and turning it into an off-the-shelf solution.
The new Powchell Charger leverages what the company claims is an intuitive design that provides power and protection for electronic devices while on the move. The Waterproof IP67 case is fully sealed, features external marine grade charging ports, has plenty of internal carrying space, and can even float if dropped in water.
Internally, the case features a 20,000mAH (74Wh) Panasonic lithium ion fast-charging battery that has both internal and external ports to connect and charge multiple devices. This includes two 18W QC USB-A fast charge (out), one 45W PD USB-C Fast charge (out), and one 65W PD USB-C Fast charge (In/out) for a combined 110W output. According to the company, the battery (when drained) only needs 72 minutes to get to an 80% charge.
The hardshell case includes two "marine-grade" external charge ports that can be sealed when not in use for full waterproof protection (and floatation) and features an intelligent cable management system on the interior to make storage and organization while charging easy to organize. Users can charge up to four devices at once with everything connected directly to the battery on the inside of the case, or by connecting two of the dedicated external-port cables to those aforementioned marine-grade ports on the outside of the case.
The battery itself features an LED charge level that shows how much power is left and the company says it is possible to even further expand the power supply by adding an extra power bank internally and connecting it to the external ports.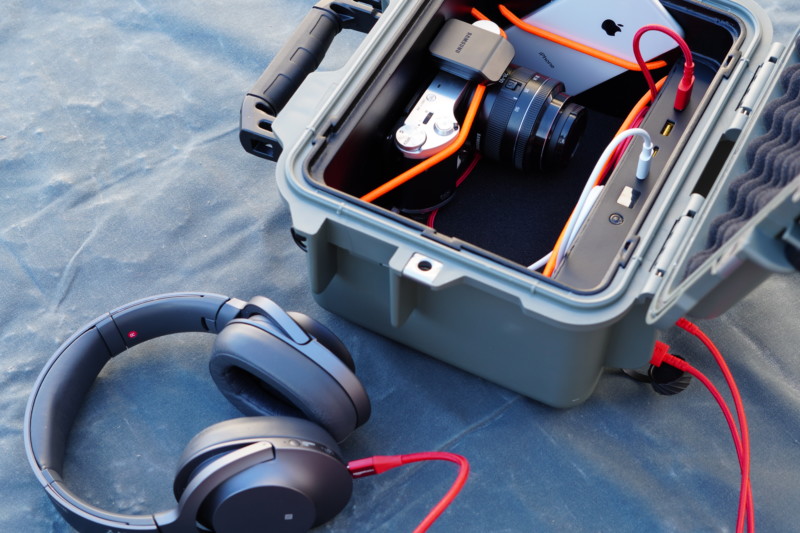 The case itself measures 9.37 (238mm) by 11.93 (303mm) by 6.42 inches (163mm) on the exterior allowing for approximately 5.11 (130mm) by 8.7 (221mm) by 6.18 inches (157mm) of storage, or 4.65 liters of carrying capacity and weighs approximately 5.7 pounds (2.6 kilograms) with the strap, battery, and cables.
The Powchell Charger case can be backed on Kickstarter until October 5th, 2022, and orders are expected to ship in January of 2023.
---
Disclaimer: Make sure you do your own research into any crowdfunding project you're considering backing. While we aim to only share legitimate and trustworthy campaigns, there's always a real chance that you can lose your money when backing any crowdfunded project.