Head of Instagram Gets New Profile Picture Taken by TikTok Photographer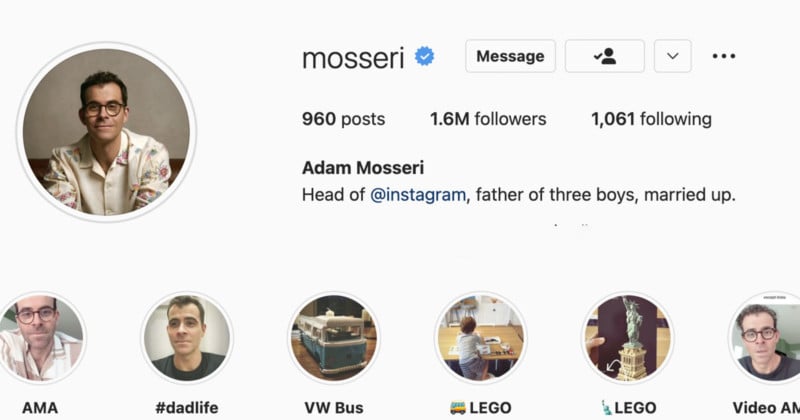 A photographer who made his name on TikTok has shot the new profile photo for the head of Instagram Adam Mosseri.
David Suh, a posing coach and portrait photographer, revealed a behind-the-scenes video where Mosseri visits his studio for a one-hour photo session.
@davidsuh

He could've chosen any photographer 🥹
"Adam Mosseri finally changed his Instagram profile picture. And I took that photo. But it was terrifying," Suh explains.
"Besides the fact that he is the CEO of Instagram. Adam isn't a big fan of getting his picture taken."
Suh goes on to say that he did not get a chance to chat with Mosseri before the photo shoot because "he is a busy man."
"And lastly, I only had an hour to photograph him. I did a fair amount of prep work by planning and doing some light tests," he explains.
"On the day of, Adam arrived at my studio and it was quite evident that someone of a public figure was in the area."
He described the much-maligned Instagram head as "super-chill and very friendly, but also freaking tall."
"I brought my A-game and did what I was best at: Creating a safe space for people to feel comfortable and guiding them into so they look their best in front of the camera."
Suh captured some relaxed portraits with Mosseri's new profile picture showing him looking into the camera with soft lighting.
"One of Adam's notes about photos was that he prefers looking away from the camera versus looking at the camera," says Suh.
"So to see that his profile picture was of the latter, I think we did a pretty good job."
Posing Expert
Suh rocketed to fame after he began posting photography videos on his TikTok page where he advises people on the best ways to pose.
@davidsuh

Just imagine me in a two piece (for educational purposes ONLY) 📚🍑
The 26-year-old has posted dozens of clips where he explains how to pose properly for different kinds of photos. He offers tips on how to "level up" Instagram selfies, how to pose for graduation photos, and explains the best outfits for photo shoots.
Eyebrows will be raised that Mosseri's team hired a photographer who made it big on TikTok after the Meta company has been criticized in its attempts to be more like TikTok with Instagram even offering money to TikTok creators in a bid to lure them away from the Chinese platform.