Photographer Shares Her Client's Wildest Editing Requests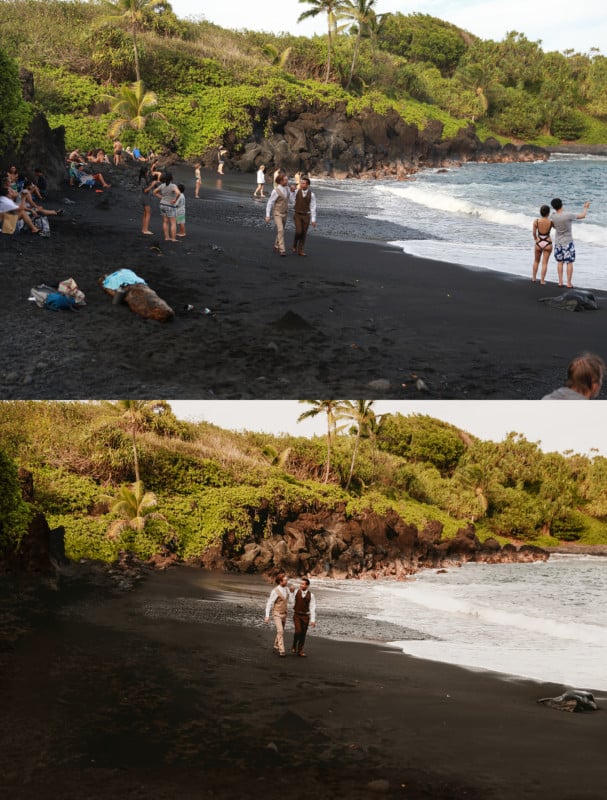 Working photographers will get crazy Photoshop requests from time to time but it appears Megan Kelly gets more than most after achieving fame for her video series: "Things people have asked me to edit."
In the outrageous series, Kelly details requests such as; take out my ex boyfriend, add in my dead grandparent, make me skinnier, remove all the people from the tourist spot, etc. But the portrait and wedding photographer tells PetaPixel that nothing phases her anymore.
"I understand what it's like to have something small that bothers you in the image and everyone has different things they are self-conscious about, and I have the skills to help them," Kelly says.
However, it's not all fun and games. Some requests that Kelly has received have been because of a serious incident.
"I had a bride who asked me to edit out one of the groomsman in all the images from the wedding as he had sexually assaulted her sister the day before.
"The edits were really tricky and intricate since he tried to be the center of attention a lot, but I managed to get him out of them.
"I didn't post this of course, I don't post unless I have permission and things like this are really sensitive for people even if the editing is interesting."
Covid Creativity
Kelly started the series during the early months of the Covid-19 pandemic after experiencing a slow season with people staying at home so she decided to try out a new social media platform called TikTok.
"I wanted to post something that was different than everyone else, something that would stand out. I tried thinking about what people thought was cool about my photography and I actually remember that most people would just sit over my shoulder in awe as they watched me edit," explains Kelly.
"People have done it for years and always said how fast I was and how good I was. I mean I don't really get it, it's just me editing.
"But I knew it was different than others so I tried posting about edits that I do that most photographers don't, and it quickly got to a million views.
"So I kept going, recording, and posting random things that I edit while running through my photos."
Kelly thinks that not only is entertaining for people to watch, but it also enlighten the lay person that not everything they see can be believed.
"It's also opened up some chances for people to send me images of theirs to edit if they run into something tricky.
"It takes up SO much of my time that I might have to stop doing that but I really try to answer everyone's messages even though it's hundreds of them every time I post a video about things people ask me to edit."

Kelly, based near Salt Lake City, has been shooting weddings and portraiture for 10 years and wants people to know that it's perfectly ok to be a photographer that doesn't do these types of edits.
Ethics in Editing
"There are always those people who feel (and comment on TikTok) that editing images is 'wrong' or 'isn't even a picture anymore' or 'fake' or 'not authentic,' she says.
"My husband put it in a beautiful way, he loves my epic style and editing tricks because it makes the images make you feel how you did during the shoot.
"I want them to look at the image and feel that happiness and adventure and bliss from our session and their time with their loved ones, not look at the image and see a bunch of tourists in the back, or that their dress is scrunched up or their hair had a bunch of fly-aways.
"Most of my edits are actually minor and I never change people to look totally different than who they are. I just remove the minor things that might distract them from that feeling. That emotional connection to the session."
For more of Kelly's work visit her website, TikTok, and Instagram.
---
Image credits: All photos by Megan Kelly