Rare Photo Captures Noctilucent Clouds and Aurora Borealis Together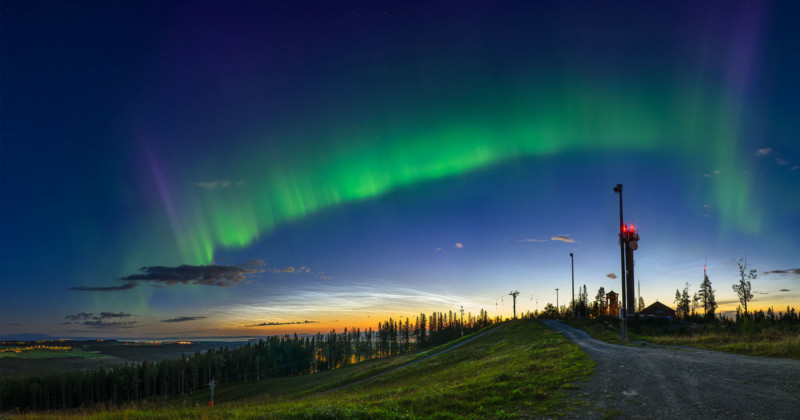 Astrophotographer Göran Strand captured not one, but two rare celestial phenomenons in the same image yesterday.
Strand was delighted to photograph noctilucent clouds that occupy the layer of atmosphere known as the mesosphere, and are higher than any other clouds.
But as he was out shooting the lesser-seen clouds close to the city of Östersund in Sweden. The northern lights, which he had not seen this season, burst into view allowing Strand to photograph the aurora borealis with the noctilucent clouds still clearly visible.
Noctilucent clouds are considered to be an extremely rare type of high cloud that is sometimes seen in the night sky, usually on clear summer nights. According to the Met Office, they become visible about the same time as the brightest stars and are usually bluish or silvery in color.
The resulting spectacular photo is a panoramic image made from seven photos stiched together. It was taken around 01:30 local time.
"It all started around 23:30 local time," Strand writes on his website.
"I saw the first glimpses of a faint northern light over a colorful sunset sky.
"It came and went a few times but never was that intense so I decided to change location to get another foreground since I've done this framing several times."
Strand uses data from aurora satellites to monitor the sky's activity. And the apps were telling him that the aurora was picking up.
"All of sudden the sky exploded above me with an intense Northern Light corona. It lasted just a couple of minutes before it faded away," he explains.
"And after almost three hours outside waiting for that perfect moment, it all the pieces came together. The northern light picked up in strength while the Noctilucent clouds still were clearly visible."
Strand says that he has not seen the aurora borealis so early in the year: "August 8 is actually a new personal record for me," he writes.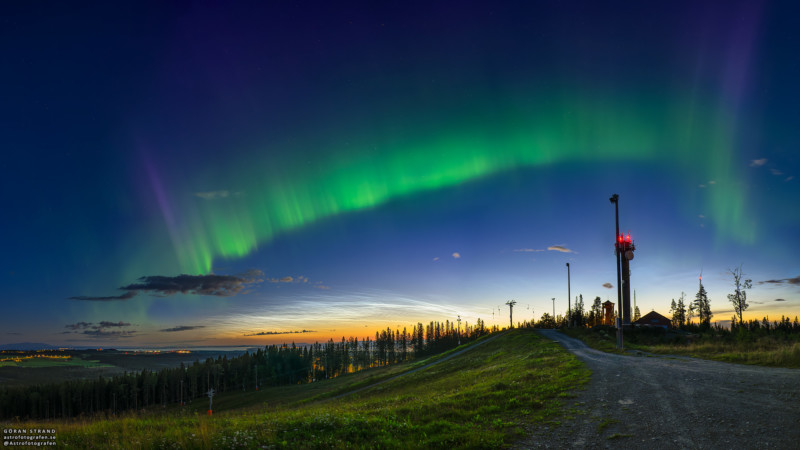 Practical Tips For Shooting the Northern Lights
Stand used a Nikon Z9 to capture the images and says that northern light forecast apps are essential in his workflow.
"Follow the northern night forecast through phone apps (search for aurora forecast) or websites like spaceweatherlive.com, noaa.gov, etc."
The Swedish photographer also encourages fellow lens creatives to "scout and decide your location during daylight."
"Look for interesting and exciting things to work within your foreground," he says.
"As for exposure, start with something like five to ten seconds at ISO 1600, it all depends on your surroundings and the intensity of the northern lights, it can vary a lot throughout the night."
Strand encourages photographers to bring warm clothes and hot drinks as it is impossible to say how long shooters could find themselves waiting for the show to start.
---
Image credits: All photos by Göran Strand.