This is What Advanced Memory Card Data Recovery Looks Like
Having a memory card die with priceless photos on it is one of the biggest nightmares in digital photography. If do-it-yourself fixes fail, the next step is often to turn to a professional data recovery service. But have you ever wondered how that advanced data recovery works?

The Polish data recovery company
Enter Serwis
has shared a fascinating 55-second video that offers a glimpse into how data is extracted from a seemingly dead MicroSD card.
In this case, the memory card presumably has a defective controller and the technician is accessing the card's memory directly using an external controller. After some technical setup, lost JPEG photos were recovered from the card.
While this type of recovery has traditionally been done by soldering many tiny wires under a microscope, the creepy-looking device seen in the video offers a much easier process.
It's called the Spider Board adapter, and it was unveiled by the professional data recovery tool company ACELab in March 2017. Instead of soldered wires, the device connects to a chip's traces using 25 carefully-placed contacts that look like the legs of a spider.
"PC-3000 Flash Spider Board Adapter is a universal solution for safe monolith recovery without tedious soldering!" ACELab writes. "Using it you don't need specific adapters to each monolith you deal with.
"It is designed for connection to internal contacts of NAND-based Flash drives manufactured as single-package chips (monoliths). The adapter consists of 25 universal contacts that support software configuration of their association with NAND interface signals in a corresponding task."
The Spider Board can be used to recover data from a wide range of damaged memory cards, including MicroSD, SD, MemoryStick, and more.
"Sufficiently advanced data recovery is indistignuishable from dark cybernetic ritual," writes @Esquiring.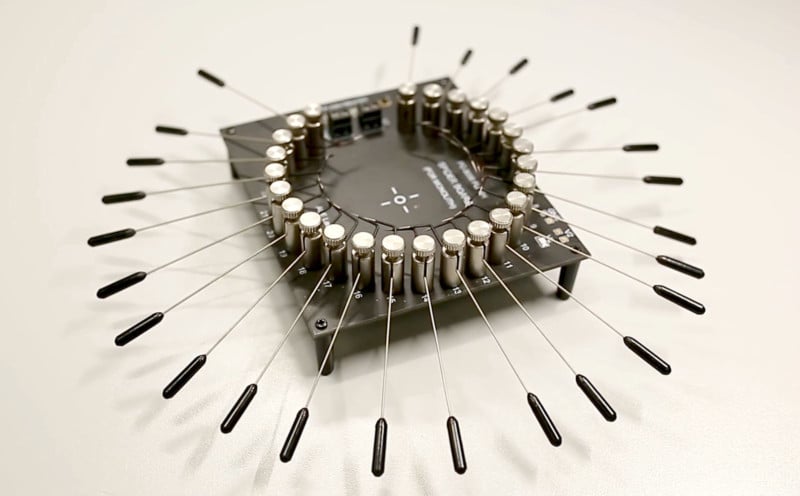 The Spider Board adapter isn't exactly cheap: it's priced at over $3,000 when bundled with a PC-3000 Flash for recovering the data, so it's definitely designed for professional recovery businesses rather than at-home use by photographers and consumers. If you're interested in picking one up, you can order it through the ACELab website.