Sunken Medieval Boat is England's Oldest Ever Shipwreck
A medieval shipwreck found off the coast of southern England has been declared the country's oldest ever.
The Mortar Wreck, as it has been called because it was found to be carrying mortar bowls used to grind grain for flour, is thought to be at least 750 years old and has been given protected status.
It was discovered by a local diver in Poole Bay, Dorset, in 2020. Made of Irish oak, the remains of the hull are still visible and the medieval vessel contains pottery, mortars, cooking cauldrons, and carved gravestones made of local stone. Eerily, the two gravestones found amidst the wreck are in immaculate condition and "look as if they were carved yesterday."
The wreck appears to be from the 13th century, according to tree-ring dating of the ship's timbers. This means the wreck is around the reign of King Henry III who sat on the throne from 1216 until his death in 1272.
An Amazing Find
The shipwreck was discovered by local charter boat skipper Trevor Small. "Recent storms had revealed something unknown on the seabed. I was granted permission to dive the wreck. The rest is history! I've found one of the oldest shipwrecks in England," he says.
Small reported the discovery to maritime archeologists at Bournemouth University and Tom Cousins was assigned to uncover and preserve the wreck.
"Very few 750-year-old ships remain for us to be able to see today and so we are extremely lucky to have discovered an example as rare as this, and in such good condition. A combination of low-oxygenated water, sand, and stones has helped preserve one side of the ship, and the hull is clearly visible," he tells Bournemouth University's website.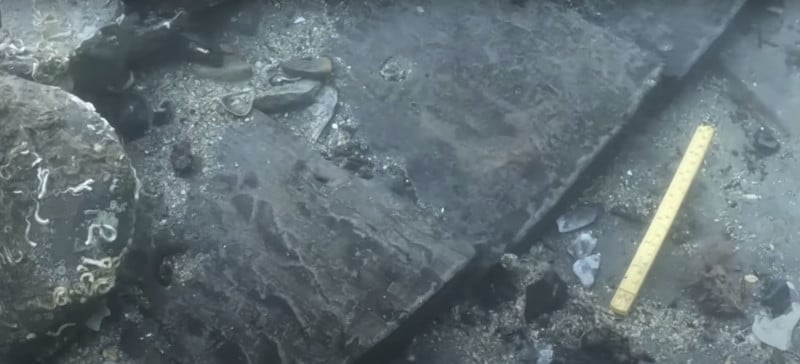 The vessel is known as a clinker ship, a method of boat building where the edges of hull planks overlap each other. Despite the boat being constructed from Irish Oak, it doesn't necessarily mean that the craft was made in Ireland because Irish oak was widely exported for shipbuilding during the medieval period.
The archeologists from Bournemouth University are hoping to raise funding to do a full excavation of the wreck.
---
Image credits: All photos courtesy of Bournemouth University.