Haunting Footage of Titanic Shipwreck Released for the First Time
Footage filmed in 1986 of the Titanic lying at the bottom of the ocean has been released to the public for the first time.
The 80-minute video was released yesterday and marks the first time humans had set eyes on the storied ship since it sank in 1912.
In July 1986, cameras on a human-occupied submarine captured the wreck with help from the remotely operated Jason Junior vehicle.
Finding and Filming the Titanic
For the best part of a century, technical limitations and a vast search area made finding the wreck impossible.
That was until 1985 when a team of French and American scientists pinpointed it beneath more than 12,500 feet (3,780 meters) of water some 350 miles southeast of Newfoundland, Canada.
The Jason Junior camera was controlled from Alvin, a deep-ocean three-man research submersible operated by the Wood Hole Oceanographic Institution (WHOI).
WHOI has only now released the historic video (below) in its entirety in conjunction with the re-release of James Cameron's blockbuster movie Titanic; the movie that portrays the sinking of the largest ocean liner in service at the time.
The grainy footage is cobbled together from 11 dives in total and shows the bow of the liner and the railings that lined the decks.
Oceanographer Robert Ballard who descended 2.5 miles beneath the sea in 1986 says he saw a "giant wall of riveted steel that rose over 100 plus feet above us."
"I never looked down at the Titanic. I looked up at the Titanic. Nothing was small," he adds.
Ballard says the only clues he saw of the terrible human suffering were shoes, including the footwear of a mother and a baby.
"After the Titanic sank, those that went into the water that didn't have life jackets died of hypothermia," he says.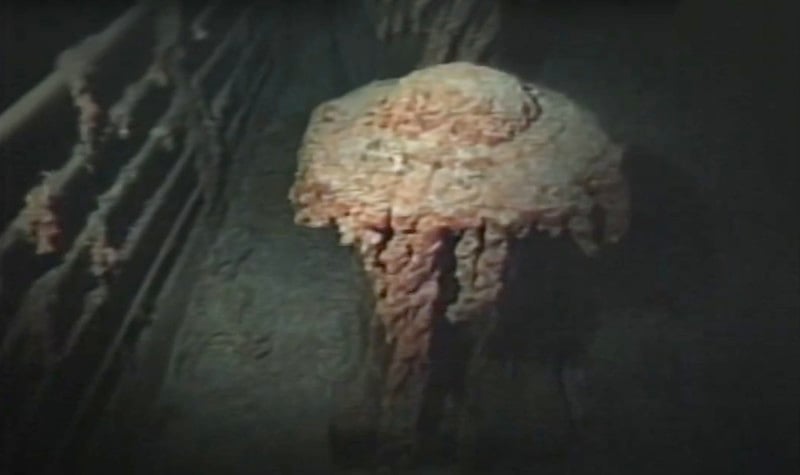 Ballard says on one occasion the batteries on his submersible began taking water forcing them to rise back to the surface. As he did, he recalls being left spooked while looking at the ship's portholes.
"It was like people looking back at us. It was pretty haunting actually," he says.
The Titanic was sailing from England to New York City when it hit an iceberg in the Atlantic Ocean in April 1912, killing more than 1,500 people. It remains one of the deadliest and most significant maritime disasters of all time.
---
Image credits: All images courtesy of Woods Hole Oceanographic Institution.