Samsung's Galaxy Enhance-X is an AI-Powered Photo Editing App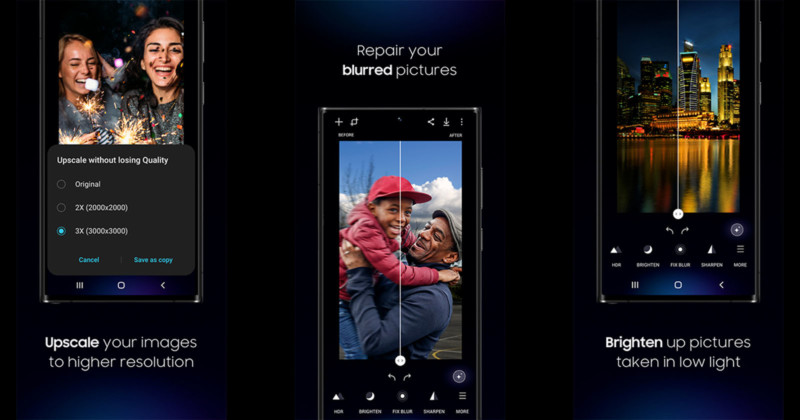 Samsung has quietly released a new photo editing app called Enhance-X that promises the ability to repair blurry pictures, brighten dark images, fix photos taken from digital displays, and upscale images to higher resolutions.
The app is free and available from the Galaxy Store, but it does require at least Andoird 10, according to Android Authority. Since it isn't available on Google Play, the app is only available for Samsung Galaxy devices, but the operating system restriction also means that older Galaxy smartphone users might be unable to use the enhanced editing features available within the new app.
The company says the Galaxy Enhance-X app is a "one stop shop" for all media enhancements and with a single tap can analyze a photo for imperfections and offer the tools to enhance them.
The company specifically notes that the AI is able to unblur photos, brighten up those that are taken in low light, fix photos that are captured from digital displays, and upscale images to a higher resolution. Enhance-X has a whole suite of tools that can also remove reflections, fix moire, sharpen, and more.
"AI based techniques can be invoked by a user to both repair and enhance the images stored in the gallery. One can remove unwanted Blur, Reflections and at the same time also Sharpen and Upscale Resolution, Improve Dynamic Range and brighten photos captured in low lighting conditions," the company explains.
The app edits non-destructively, so any changes made to photos creates a new save and the original image remains available even after Enhance-X performs its AI-powered magic.
Samsung has made some rather notable leaps in AI-based editing performance since it announced the Galaxy S21 Ultra last year. At launch, the company's flagship smartphone came with an Object Eraser tool that could remove unwanted subjects from backgrounds.
The AI-powered tool appeared to work by combining object recognition with something like Adobe's Content-Aware Fill. While the feature originally launched exclusive to the S21 Ultra, Samsung made it available via a software update to a range of older devices the following month along with a few other display and camera-related features.