California Man Uses Billboards to Show Photos of the State's Decline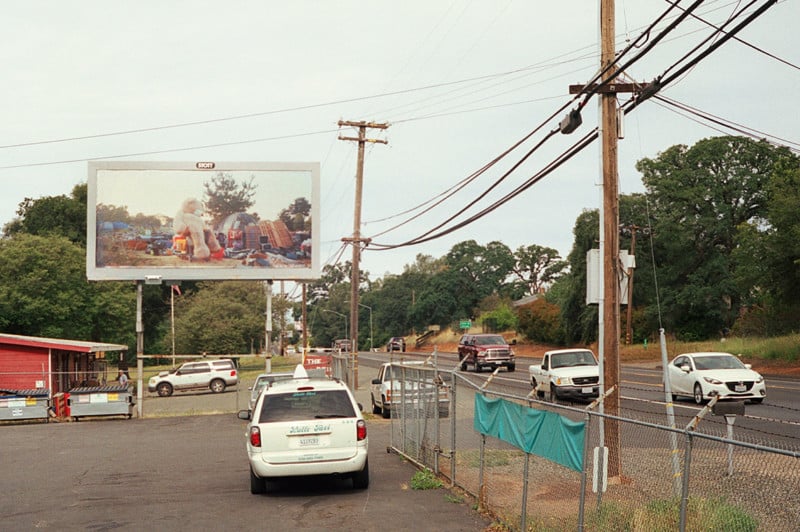 A photographer has paid to put his own images of Californian decline on giant billboards, focusing on the state's problems with wildfire, drought, and housing.
Thomas Broening's 35mm project, The End of the Dream, has hit the headlines after Broening paid for his photographs, that depict a bleak and gritty California, to be displayed on billboards.
"I started shooting it a year and a half ago. Since then I have driven tens of thousands of miles from the Oregon border down to LA. I have slept in my car behind national guard checkpoints at wildfires that burn hundreds of thousands of acres," he tells PetaPixel.
"I have returned over and over again to reservoirs as the water levels get lower and lower and have been to countless homeless encampments all over the state."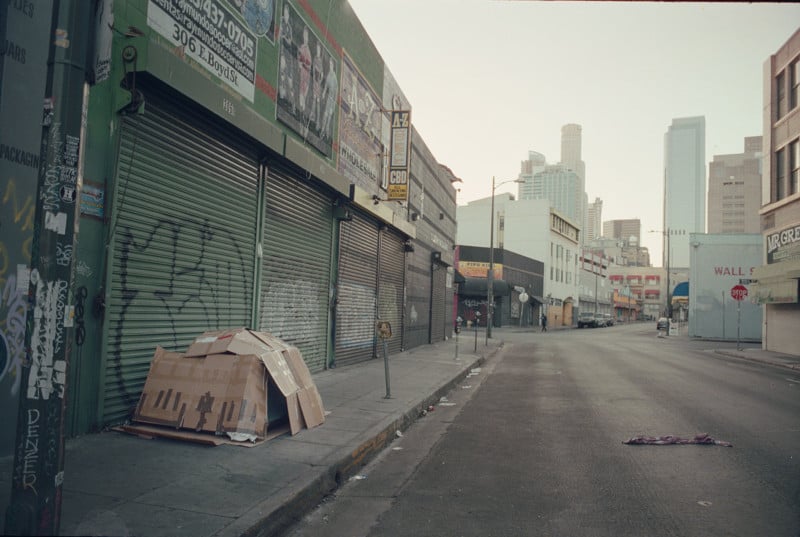 Broening's attention-grabbing images paint an apocalyptic vision of the Golden State, that is, as Broening says, the "richest state in the richest country in the world."
"I am not advocating a particular solution to the three issues affecting our state: wildfire, drought, and housing. But I do believe the obstacles to solving the problems are not scientific or financial.
"For the last 100 years, we have been the birthplace of more innovation than anywhere else. The solution is political which means it is a problem of communication. And if it's a messaging problem then it has to be visual.
"Throughout our history, radical change only became possible when we have seen visual evidence of the problem. It wasn't until the world saw Charles Moore's images of Bull Connor turning hoses and dogs on protestors in Birmingham that the Civil Rights Bill made progress.
"Eddie Adam's photograph of the Vietcong prisoner execution hastened the end of the Vietnam war.
"The images of George Floyd's murder forced the country to begin facing its racist history. If we are going to begin to address our problems in California we are going to have to literally look at them."
Broening has used thousands of dollars of his own money to buy six billboards in Oroville. He's paid for eight more billboards in Oakland and plans to buy six more in Southern California next month.
"There's no text, there's no call to action. These are simply photographs of the problems," Broening tells CBS.
He says he's not pushing any political agenda, not trying to blame anyone or any party.
"Before we can talk about solutions, we need to acknowledge it. I really feel like, in California, we're in denial. We're thinking this will pass. Eventually, the water's gonna come. The fires are going to die out. People will find homes. And if we ignore it, nothing gets done. I think it's 'cause we don't see it. We become desensitized to it," Broening says.
35mm Film Project
Broening used four Leica M3s with 21mm, 28mm, 50mm, and 90mm lenses. "I think I used the 28 and 50 the most," he says.
"I shoot on Kodak vison 3 5219 500t with 85c filter. I think the 5219 has a particular naturalistic feeling to it. I want the photographs to look unadorned and unmanipulated. I don't move anything in the landscapes, retouch or crop the images."
Broening says he's been a photographer since he was 16 years old and says the billboards came about because he thought that would be the best way of showing people the issues within California.
"Last year I went to an opening of a show by a prominent California documentary photographer. I have admired his work for years. But I walked into the gallery and saw people who looked just like me. Middle-aged men with beards. This was not the only audience I wanted to reach.
"If this project was going to be successful it needed to be seen by as many people as possible. I thought billboards with no text or call to action were the best way for me to reach my goal: To have people look at the crisis we are in here in California."
More of Broening's work can be seen on his website.
---
Image credits: All photos by Thomas Broening.