Creatively Simple Abstract Photos Made with Food
When asked to present food in a natural yet humorous manner, photographer Dwight Eschliman and his team brought the concept to life through a series of well-lit, colorful, and styled photos for the supermarket chain Lidl.
From the Concept to the Photo Studio
Eschliman has developed a way of working with a strong team to create consistent results for his clients. One such client was the German multinational retailer Lidl which approached Eschliman through the advertising agency VMLY&R.
In addition to his own team, which ranges from a studio manager with "the best lighting diagrams on the planet" to an experienced retoucher, the project also introduced a key talent — food stylist Anna Keville Joyce. The main concepts were to add a touch of humor to fresh food, while avoiding an unnatural look or over manipulation, with a caption of "suspicious food imagery for suspiciously low prices."
"What was unique to Lidl was that we were faced with very formal challenges to make the concepts work," Eschliman tells PetaPixel. "For example, how do you make a banana look like the Loch Ness monster but still appear natural?
"If the executions lacked subtlety, they simply wouldn't be funny," he adds.
Working With Food on Set
The general approach to shooting food with a very short shelf life is to carefully pre-light it with stand-ins, Eschliman says. This allows the team to focus on styling, not lighting, when the hero food arrives on the set.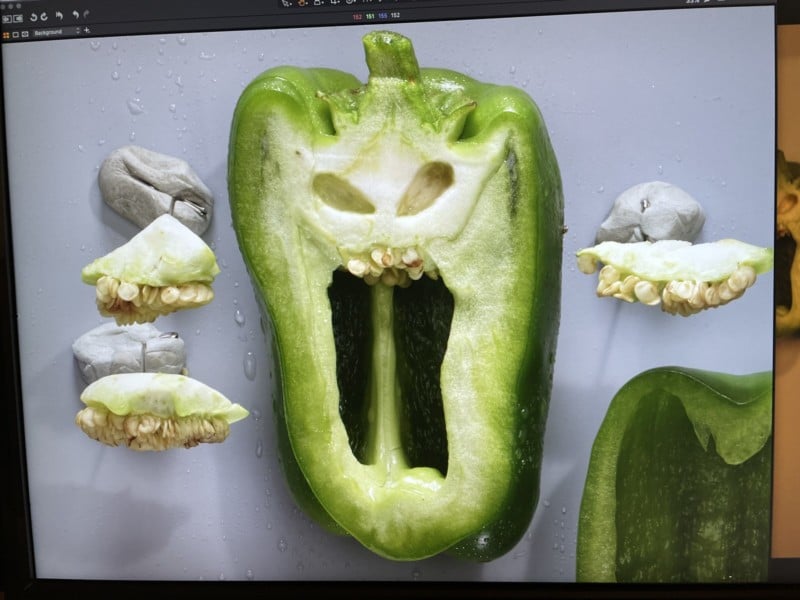 "I think the greatest challenge with fresh food ingredients is that you're working with something that generally does not cooperate," he explains. "Not only that, it does not last. Working with good ingredients is refreshing for those same reasons though."
The process can be unpredictable but at the same time, it brings something unexpected to the table. For Eschliman and his team, it forces them to let go of certain expectations and encourages efficient working.
Bringing the Concept Alive With the Right Setup
The bright yellow background is an integral part of the series and an instantly recognizable brand characteristic but it's not always as easy to work with such a vibrant color on the set.
"In as many cases as possible, I prefer to shoot on the final background color," he says. "Often, as it was in this case, there is too much color influence from the final background color to be able to take this approach."
"In these situations, we shoot against a neutral tone and shoot plates with color influence," he continues. "This approach allows us to have authentic color influence without giving up control."
Using a PhaseOne XF camera with a PhaseOne IQ4 digital back, the team shot the series with a 120mm LS f/4.0 macro lens and used Broncolor lighting. For studio shots like the Lidl project, the team typically uses a mix of hard and soft light.
The whole project took two days of shooting with an extra half a day set aside for pre-lighting the set. The team almost didn't get to finish all of the planned concepts in time but managed to successfully execute the plan in the end.
"For a time it looked like we were going to have to let one concept go. In the end, however, everything came together," Eschliman says.
More of Eschliman's work can be found on his studio's website and Instagram.
---
Image credits: Photos by Dwight Eschliman and Eschliman Studio.