Incredible Money Saving Offer! Upgrade to SpyderX Elite Today from Any Brand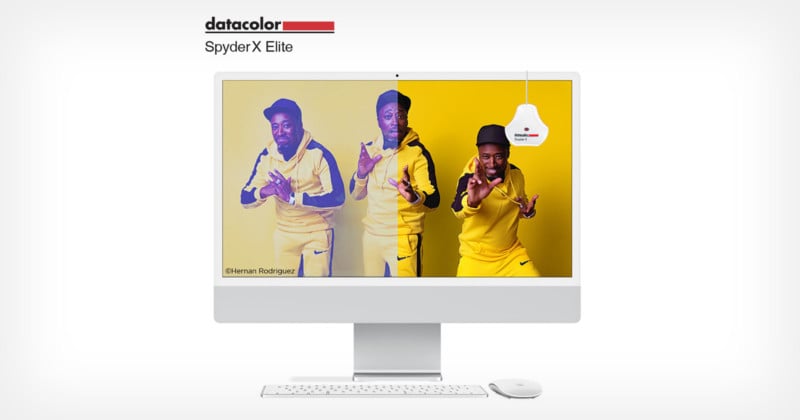 Do you own a monitor calibration device? If you do you can upgrade to Datacolor SpyderX Elite for only $149.99 today (originally $269.99). That's an unbelievable $120 savings directly from the manufacturer. But hurry—this amazing offer ends June 24, 2022!

Full disclosure: This article was brought to you by Datacolor.
If you now own a monitor calibration device, you already know how important it is to objectively verify that the colors on your screen are exact and authentic. And if you're not calibrating, then you know that you're missing something. (In fact, you are missing a lot.) Calibrating with a high-quality, precision instrument is the only way you can be certain that the colors in the images you share with the world are the most accurate representations of the scenes you captured.
Upgrade To The Best For Only $149.99
The SpyderX Elite is from Datacolor, the company that has been helping global brands, photographers, and designers get color right since 1970. From viewing, to editing, to printing, the multiple award-winning SpyderX Elite helps you confidently control every aspect of your image to achieve your creative vision. And now if you currently own any monitor calibrator you can save $120 off the normal $269.99 price.
I've Read Enough, Where Do I Sign?
If you've already decided that this amazing offer is too good to miss, follow this link. Enter the information about your current device to take advantage now! Limit one per customer. Valid through 6/24/22.
What Makes SpyderX Elite So Special?
Photography is an art that few can truly master. Getting the colors exactly right is a science that doesn't happen by chance, and cannot be achieved without the right instrument. Not all calibrators are created equal. SpyderX Elite provides a higher level of color accuracy with more precise screen color, shadow detail, and white balance because it uses a lens-based optical system with the latest sensor technology.
If color is important to you, which calibrator to use is a big decision. SpyderX Elite gives you the confidence that your colors are true and accurate.
SpyderX Elite is Datacolor's fastest calibrator. You can typically calibrate a monitor in less than two minutes. Two minutes is the average time a traffic light is red, by the way. So in less time than it takes for a stop light to turn green, you can confirm that your greens are green, your reds are red and your colors are right.
Advanced Monitor Performance Analysis
How does your monitor perform? And if you use more than one, how do they compare? It's crucial to know how your monitors perform during color-critical work. With the SpyderX Display Analysis feature, you have a better understanding of the color, brightness, contrast, screen color uniformity, gamut, tone response, and white point of your monitors.
StudioMatch creates a target that is shareable between attached displays and other computers, so it removes the guesswork from making all connected displays look the same. And if you take your work on the road, SpyderX Elite is the top choice for traveling and calibration of laptops on location in changing light conditions, partly because of the integrated protective lens cap and because it is fast and easy to operate. You can calibrate an unlimited number of monitors and match multiple displays.
SpyderTune helps you to make adjustments when screens have technological differences that make them difficult to achieve an alignment. If you are using multiple displays and they work with different backlight technologies and different panels, it can become aggravatingly complicated to make them match. SpyderTune helps to solve that problem.
Raise the Color Bar with SpyderX Elite
These days we encounter the buzzword "workflow" so often that it's lost its luster. But if you make color prints with any regularity—or sell images to others who ultimately print them—SpyderX Elite has advanced features that bring sanity to your working day.
Softproofing Saves Time & Resources
Softproofing is a feature that is only available with SpyderX Elite. As you know, sometimes on-screen images look different when printed or viewed on other devices like tablets or field monitors. Softproofing empowers photographers to simulate and view images on their calibrated screens. Furthermore, you can see how prints will look on a specific printer model, paper, and ink, and upload ICC printer profiles. Additionally, the Expert Console allows for fully custom targets. In the Expert Console GUI, you have access to all of the settings on one screen. Choose a custom target that you created previously, or choose a standard target from the list. Convenient, easy, and accurate.
SpyderProof Shows You The Improvements
The first time you see how your screen looked before and after calibration makes you a true believer. With SpyderX Elite, just one click allows you to compare your monitor colors before and after adjustment so you can see the nuances and corrections. You can use it with a Datacolor composite test image or upload your own favorite photos. And with SpyderX Elite, you can even see images full screen.
Help When You Are In The Trenches
Wouldn't it be great once in a while to get some assistance from someone with hands-on experience and genuine knowledge of photography? Datacolor's customer support is legendary. Their in-house support team is made up of professional photographers who share a high level of expertise and are as passionate about getting the colors right as you are. That's why SpyderX products have legions of satisfied customers.
Ready To Step Up to SpyderX Elite?
Currently own a monitor calibration device? Upgrade to SpyderX Elite for only $149.99! (Regular price is $269.99). Follow this link and enter your current device information to take advantage of this amazing offer. Limit one per customer. Limited Time Offer is valid through 6/24/22.
One Closing Story
Tom and Bill are photographers. Tom has never calibrated his monitor. Tom says he likes what he gets. Bill calibrates his monitor regularly. Bill knows that he gets what he likes.
The difference between getting what you like and being forced to merely like what you get is what Datacolor SpyderX Elite is all about.
---
Full disclosure: This article was brought to you by Datacolor.