SanDisk's Pro-Blade SSD Makes Storage Thin, Small, and Modular
SanDisk has announced a new solid state drive (SSD) system called the Pro-Blade. Billed as a modular ecosystem, the company says that it is designed to allow creators to easily swap high-capacity "mags" into one enclosure that dramatically reduces bulk.
The Pro-Blade Transport portable SSD enclosure pairs with Pro-Blade SSD mags to create a "modular ecosystem" that SanDisk says is built to scale with a workflow by allowing a user to carry terabytes of storage in a small footprint while also being more convenient for use on location or in a studio.
The Pro-Blade SSD is best described as a small stick of SSD memory that can vary in capacity.
At launch, SanDisk will offer them in 1 TB, 2TB, and 4TB sizes. These SSDs offer up to 3,000 MB/s offloading speeds in a tough aluminum casing that also helps keep the unit cool when in use. SanDisk is positioning these drives as able to carry more capacity without the typical bulk associated with portable or external SSDs. While smaller, they aren't usable without a SanDisk enclosure.
These small SSD mags are readable one of two ways, the first of which is a SanDisk Pro-Blade Transport, an enclosure that is closer in size to what photographers might expect from a single external SSD. Just as was the case with the mags, the Transport features an aluminum exterior. SanDisk says that Pro-Blade mags that are loaded into the Transports will deliver up to 2,000 MB/s read and write speeds when using the USB-C connection, but it gets even more performant when paired with the SSD enclosure.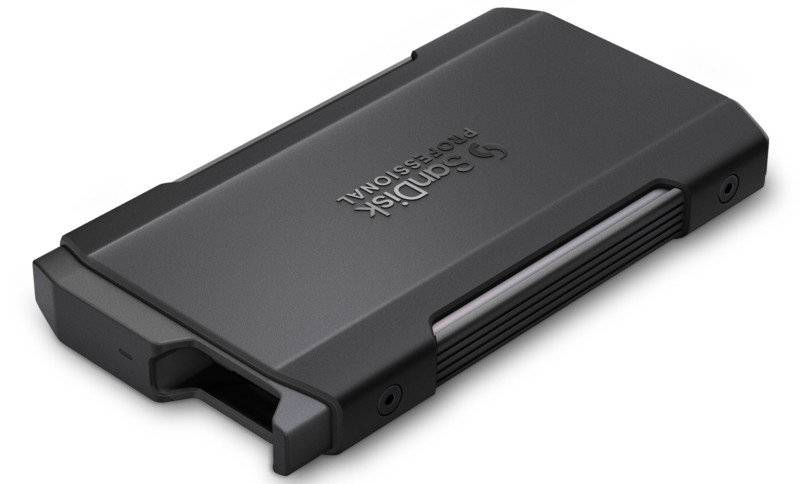 The third and final piece of the Pro-Blade system is the Pro-Blade Station, a desktop SSD enclosure that supports up to four Pro-Blade SSD mags at once and transmits data through a Thunderbolt 3 connection.
It is presumably with this arrangement that peak speeds available on the SSD mags will be realized. The desktop SSD enclosure allows those four drives to work with a computer simultaneously and has enough bandwidth to support 4K, 8K, and 12K editing.
The PRO-BLADE SSD mag is offered in 1TB for $180, 2TB for $290, and 4TB for $600. The Transports can be bundled with any of those options but can also be purchased empty for $70. Both the mags and the Transport will be available in June of 2022. Pricing for the Pro-Blade Station wasn't revealed, but the company says that information will be made available closer to the planned launch date of "late 2022."