Trexo is the World's Most Compact Camera Slider
Delaware-based company Trexo Innovation has announced the Trexo Slider, what it claims is the world's most compact camera slider designed with modern-day content creators in mind.
Unlike many other sliders on the market, Trexo Slider does not use a belt-operated system. Instead, the Trexo Slider uses a lead screw to operate. Trexo claims this should help limit the causes responsible for problems such as vibrations, jitters, bumps, and noise.
"Trexo Slider does not include a gearbox and belt mechanism," the company says. "Our unique leadscrew design eliminates all the issues of belt-operated sliders such as jitters, jumps, and vibrations and allows you to have precise speeds as slow as 0.001mm/second and as fast as 3cm/second."
Additionally, the company says that this lead screw design is highly energy-efficient and allows it to operate for up to six hours with the onboard battery (3,250 mAh). The Trexo Slider can also be powered via the included USB-C cable.
The Trexo Slider can be operated both by the Trexo Motion App and via the onboard menu. Users can program movements by hand, which can then be saved and used again as presets or shared with others also using the Trexo Motion App.
Outside of the programmable moves, the slider also has the standard loop mode (bounces back and forth at a given speed) and a mode designed to work at an incline. All the modes support speed adjustments either via the onboard menu or through the app.
As mentioned, the slider is very compact. Its has a footprint of 12.9 x 1.9 x 2.2 inches, weighs 1.9 pounds total, and its operating length is a scant eight inches (20 centimeters). Despite its small size, it can successfully operate horizontally with a load of up to 11 pounds, inclined at a 22.5-degree angle with a load of 5.5 pounds, operate vertically with a load of 3.3 pounds, and descend vertically with a load of 5.5 pounds.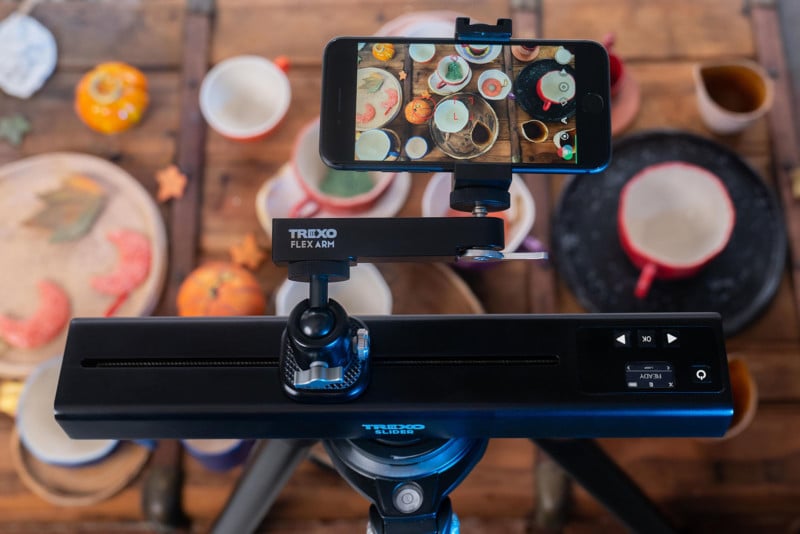 Trexo Slider in CNC Machined aluminum with stainless steel parts and weights 870grams | 1.9lbs and can carry up to 5kg | 11lbs.
With the upcoming add-ons, Trexo Slider can be upgraded to a 3-axis motion control system.
The Trexo Slider is available to back on Kickstarter starting at $295, which includes the slider, the charging cable, and access to the motion app. Higher-priced backing options include accessories like a flexible arm and ball head as well as multiple Trexo Sliders.
---
Disclaimer: Make sure you do your own research into any crowdfunding project you're considering backing. While we aim to only share legitimate and trustworthy campaigns, there's always a real chance that you can lose your money when backing any crowdfunded project.