Smartphone Stops Bullet, Saves Ukrainian Soldier's Life
A video has surfaced online that depicts a Ukraine soldier showing the camera his mobile phone with a bullet lodged into it, which apparently saved his life during the Russia Ukraine conflict.
The 30-second clip shows a Ukraine soldier taking cover in what appears to be a trench, as gunshots ring out nearby, indicating an active battlefield, while the snow falls from the sky.
The soldier digs into his pockets and fishes out his broken mobile phone and says, "smartphone saved my life." He then shows the phone, which appears to be a Samsung S21 Ultra, which has a bullet lodged into it, piercing out the back of the phone.
The bullet is thought to be a 7.62x39mm bullet fired by Russian forces, which would have ended up in the lucky soldier's body had it not been for the smartphone.
It's unlikely that the phone would have protected the soldier from a direct shot, so it's possible to bullet ricocheted into the device.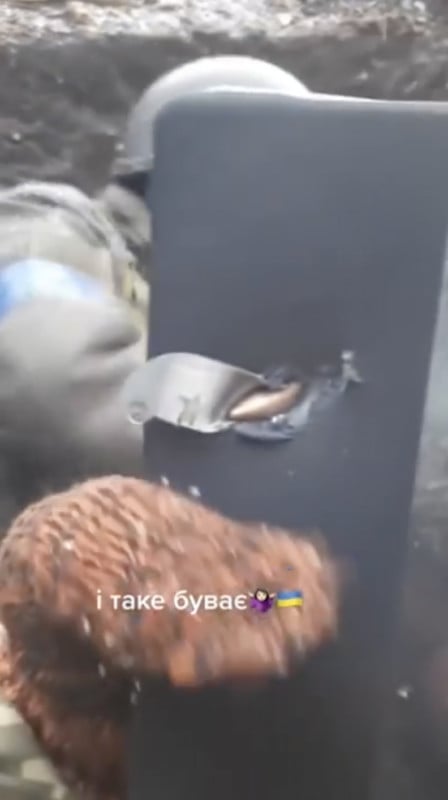 If the video is genuine, which all indications point to, this isn't the first time an unlikely object has saved a soldier's life during a war. Private John Trickett had his life saved during the First World War thanks to a penny in his pocket that deflect the bulled away from his heart.
Unfortunately, Private Trickett, from the Northamptonshire Regiment of the British Army, was left deaf when the bullet rebounded towards his ears, and he was discharged from the front line.
The coin came back to England with the injured Private Trickett, the penny bared a bulge where it was hit. The coin was sold at auction for £4,500 (about $5,675) in 2019.
Two months into the war, Russian forces are focussing their efforts on eastern Ukraine, as the wider invasion faltered thanks to staunch resistance from the Ukrainian military and help with weaponry and aid from the West.
United States defense secretary Lloyd Austin has promised more help as he convened a meeting of officials from around 40 countries at the Ramstein Air Base in Germany. Germany itself has cleared the way for delivery of Gepard anti-aircraft guns to Ukraine with Austin remarking, "this gathering reflects the galvanised world."