OWC's 'Copy That' Software Assures Fast and Secure Data Backups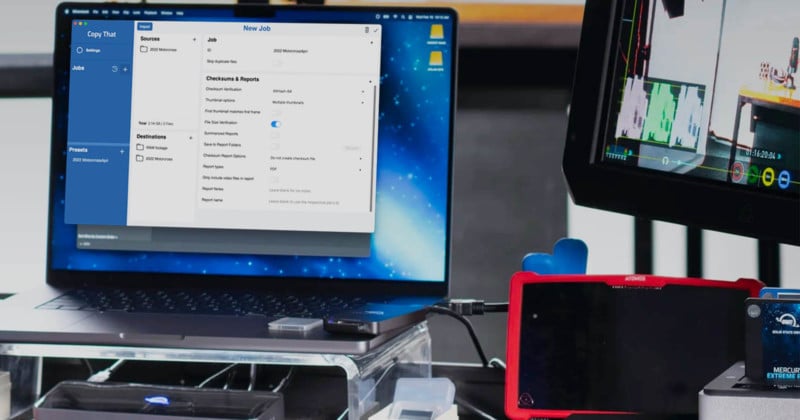 OWC's Copy That software is a workflow tool designed to quickly and accurately transfer video footage to backups, editors, producers, and directors.
With Camera to Cloud, which offers secure wireless transmission of video files up to the cloud for post-production, it may be tempting to think that backing up data using a copy and transfer utility is becoming outdated. However, things can happen during transfer to the cloud, like lost packets, or congestion that could cause a file not to arrive or be incomplete.
OWC says its new Copy That software streamlines the ingest process with fast, verified copies of files from RED, Blackmagic, ARRI cameras, and other storage media.
"Copy That streamlines the process of copying media from cameras quickly, accurately, and securely to your storage solutions," OWC explains. "Not only is your data copy incredibly fast, but it is also secure with checksum and file size verifications giving you peace of mind the copies are completely intact."
The software is designed to handle tremendous amounts of data with higher bitrate transfers, and can also perform multiple file transfers from multiple camera connections. Not only does Copy That backup and ingest data for archiving and post-production, but through a variety of checksum protocols, Copy That will verify every bit of your file's transfer to ensure that it is being copied accurately with no dropped packets.
"Copy That for Mac is built on speed, optimized to complete the copy process using every available resource at its disposal, whether you are copying an entire card/disk or moving select files," the company says. "Copy That for Mac's intuitive interface enables you quickly select your media, destinations, reporting, and type of verification needed to begin the duplication process. Once set, Copy That gets to work — Copy, verify, complete."
OWC argues that while speed is great, data integrity is more important. Through multiple protocols including XXHash-64, MD5, SHA-1, SHA-2 256, SHA-2 512, and file size verification, content creators can ensure that the media data they transfer arrives intact, and with Copy That's reporting feature, the app will provide detailed reports in PDF, CVS, TXT and other formats that include all relevant information, including file name, status, checksum verification, start and finish dates, location, etc.
"​Once you've moved your media, you need to know precisely where it's located at a moment's notice. Copy That for Mac builds detailed reports (MHL, PDF, TXT, CVS) that include all relevant information," OWC explains. "Reports also include thumbnails to find the shot you need in seconds. Copy That also makes sure you know where you are in the copying process with a Job Archive list that keeps track of copy jobs."
Copy That also has custom presets, which can be set in order to perform the same task multiple times. Consequently, a production can preset the utility to transfer from the same camera setup, complete with the name, location, and file naming prefix and suffix details for use on multiple transfers freeing the camera assistant to perform other tasks.
The software is launching in Beta for Mac computers starting today, and interested users can sign up for it on OWC's website.