Photographing the Diverse Wildlife of Kenya's Masai Mara
I hear the soft familiar thud of footsteps, followed by the slosh of hot water filling a canvas water bucket. "Jambo!", Swahili for "Hello," comes the disembodied voice in the dark. "Jambo," I replied. Every morning in the Masai Mara begins at 5:30 am with this friendly wake-up call. Wiping the sleep from my eyes, my desire to stay beneath the cozy warmth of my wool blanket surrenders to my excitement for the coming day. I unzip the flap of my tent and breathe in the cool, crisp air.
Fifteen minutes later, I'm shuffling with my camera gear along a narrow, tree-lined path leading to the campfire where I'll indulge in my usual: two crunchy, slightly sweet rusks and a mug of creamy hot chocolate. With the twilight comes a cacophony of bird chatter, punctuated by the tuba-style baritone grunts from resident hippos soaking in the Mara River, just a stone's throw from camp.
---
This article is brought to you by Wild Eye Destinations and Photographic.
---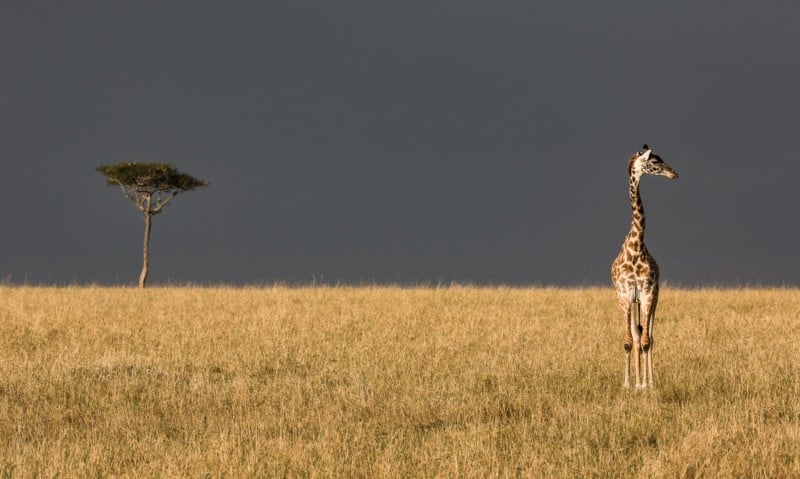 Seven Days in the Mara Triangle
It's late October, and I am part of a group of five on a wildlife photography tour with Wild Eye. During the famous Great Migration from late June through early October, that number swells to twelve. For this trip, I'm taking advantage of visiting later in the season. The sightings are still magnificent yet there are fewer travelers.
Enkishui, the company's Mara camp, sits on the southern edge of Kenya's Mara Triangle Conservancy, not far from the Tanzanian border and the Serengeti. A region made famous by the late, legendary lion, Scarface, who used to roam these parts.
It's hard to imagine that it had been seven years since I've been on a safari with Wild Eye. I traveled the world during that time, but I never forgot about the incredible experiences that I had, nor the photographic guides who first taught me how to craft powerful photos of the region's spectacular wildlife.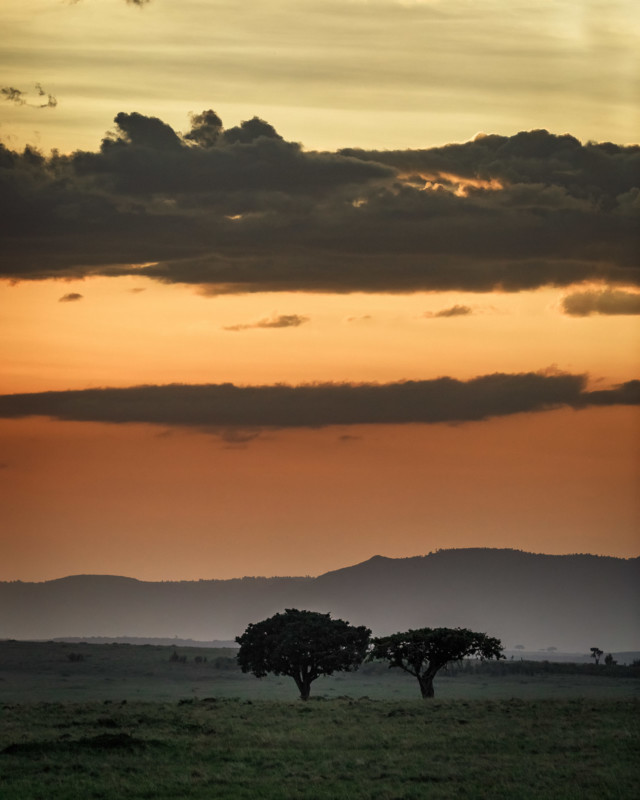 During this expedition, our leader and photographic guide is Trevor McCall Peat. Trevor is an amiable South African with a boyish grin, a quick wit and 15 years as a safari guide and wildlife photographer. A pedigree I look forward to learning from as I endeavor to improve my own skills.
The camp staff, predominantly Maasai, have been with the company for as long as I can remember. They are as much a part of why I've returned as anything else. The Maasai are warm and generous people, and it was wonderful to receive a wave of smiling faces and hugs upon my arrival. Dickson Sakaya, the Camp Manager is a tall, lanky fellow with bright eyes who keeps everything running smoothly. Over the years, he's become an expert at herding us guests like cats in the kindest possible way.
Let the Game Drive Begin!
I climb into the customized Toyota Land Cruiser I share with Cicily, an athletic clothing brand executive. My two Canon Mark 5D IVs are ready and waiting for action, one fitted with a 200-400mm f/4L x 1.4 extender, the other with my 24-70mm f2.8L II, which I use for wider shots. With my camera bag at my feet, we head into the bush.
Trevor rides with us today. Tomorrow, he will ride with Clive and Guy, a British father and son duo, and Oliver, a Swiss tech executive. This rotation will continue throughout the week. Our vehicles stay in relative proximity as we explore the Triangle. We can cover more ground yet meet up quickly should one of us spot something. For Clive and Oliver, this is their first Wild Eye safari experience. It's my fifth, Cicely's third, and Guy's second.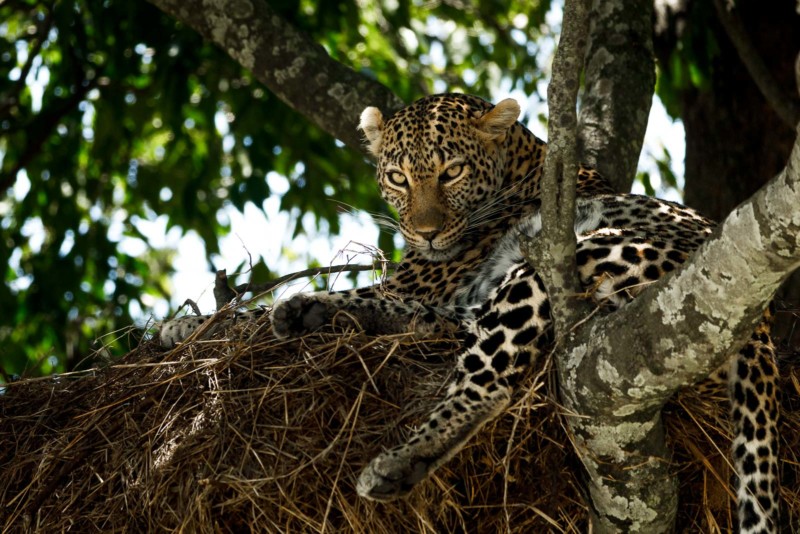 The night before, we spotted a leopard. She was nearly invisible, guarding a kill that she tucked into the dense canopy of a tree. Her location was given away by a solo hyena circling the trunk hoping for scraps. Trevor thinks we might be able to photograph her coming down if we time it right, but she is already gone when we reach the tree. "She's around here somewhere," says Trevor. "What do you think, Sammy?" Trevor turns to Sammy Ngotho, our field guide and driver who's worked the Triangle for ten years and knows every nook and cranny. "I think she's somewhere there," he answers, pointing toward yellow tufts of high grass.
As our jeep hiccups over the uneven terrain, Trevor suggests we bump up our ISO to at least 1600. He explains the need for a faster shutter speed to capture the cat in low light and have wiggle room if she accelerates when we approach. Sure enough, Sammy was right. We find her power walking toward a stream so potbellied from last night's meal she looks pregnant. No matter how many safaris I've been on, seeing a leopard in the wild is always exciting. Embodied in one sinewy creature is the perfect balance between power and grace. Looking at her, I am in awe of the splendor of her coat glistening in the sunrise.
The sighting is relatively fleeting, but we do not lack photographic opportunities. During the week, we see big cats and other wildlife in abundance––including a few instances of enthusiastic lion porn. We find a leopard using a massive hamerkop nest as a Barca lounger and a precocious three-month-old elephant too cute for words. Hoping to catch a little action, a lone cheetah stalking an oblivious impala keeps us on our toes, though it escaped to live another day. The chance to photograph a rhino and calf is a special treat, given their critically endangered status. And a sky-high giraffe takes us completely off guard when he ditches the species' usual skittish code of conduct to walk within a few feet of our jeep and peek at us through the open top. Finding us completely underwhelming, he moseys on his way, leaving us utterly amazed and giddy.
A Typical Day in the Bush
Wildlife sightings are always unique, but our daily schedule remains relatively the same. When animals are most active in the early mornings and late afternoons, we are on a game drive lasting three to four hours. Breakfast is served in the field in the shade of a towering tree with spectacular views. Lunches and dinners are in camp, though on one occasion, we are surprised with a sumptuous candlelit supper in the bush. On another evening, Dickson taught us about the Maasai culture during a traditional BBQ followed by stories, songs, and dance.
When I'm in Enkishui, I spend most of my downtime in the media tent, post-processing photos and riffing with the others about our last sighting or relaxing by the campfire. In truth, the days flow like water, and way too soon, our adventure is over.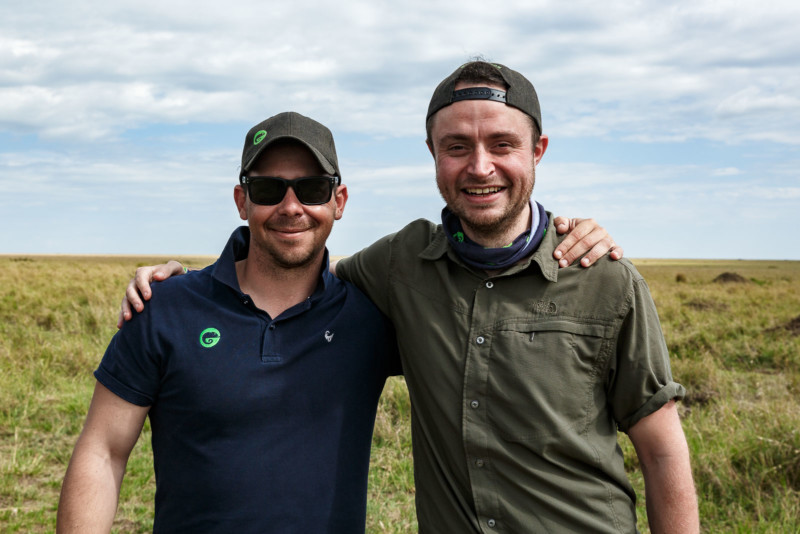 The Story of Enkishui
On my previous tours with Wild Eye, the camps didn't have the rustic glamping vibe Enkishui has now. Guests' tents weren't as big, nor did they sport solar power, flush toilets, mahogany twin beds, or personal bush showers. Amenities such as the monogrammed waffle robe and towels and a fully decked lounge and bar didn't exist. At the time of my previous tour, the conservancy leased a fixed number of campsites in two-week increments. Every 14 days, they had to move everything to another location. The setup was all about keeping things simple.
However, in 2017, the conservancy approached Wild Eye with a unique proposal. Thousands of wildebeests during the migration were drowning, trying to cross a section of the Mara River with an exit impossible to climb. Their corpses became trapped in a gauntlet of rocks downriver and decomposed in the sun. The carnage and smell were overwhelming. The conservancy needed a deterrent. If Wild Eye were to invest in a semi-permanent sustainable camp on the offending peninsula, the wildebeest, they felt, would avoid the area. They were right. In return, the camp could stay put five months a year. It was a no-brainer. Enkishui (meaning "life" in Swahili) opened in 2018. Taking full advantage of the extended timeframe, Wild Eye was able to add refinements to the camp that were previously unrealistic.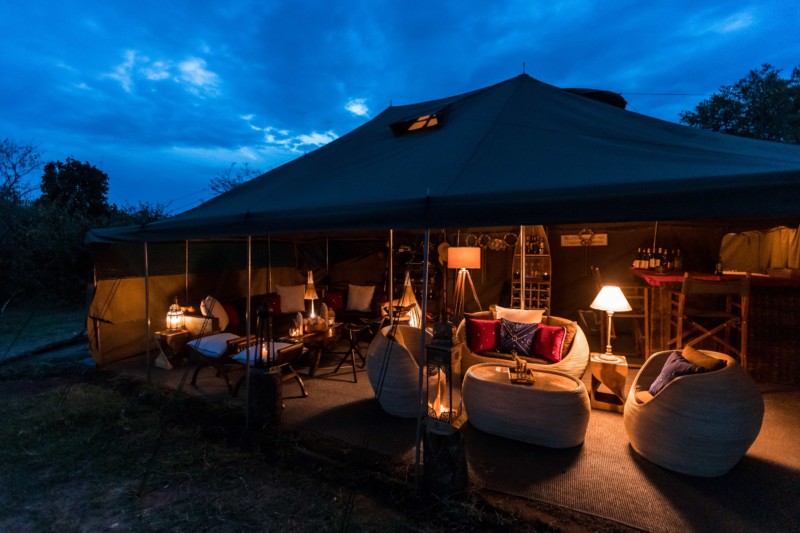 What Hasn't Changed
What hasn't changed at Wild Eye is the core culture––an intangible energy of excitement and positivity. A passion for wildlife that equals the genuine desire to help photographers of all skill levels be successful. It reminds me of the summer camps I stayed at as a kid that encouraged camaraderie, a sense of wonder, and good ole fashion belly laughs.
As senior safari guides and photographic mentors, they've taught me how anticipating animal behavior gives me time to move, recompose or adjust settings. Over time, I've picked up little nuggets like lions in the same pride nuzzle after being apart, or when little green bee-eaters hunt, they typically return to the same twig again and again. It's like having access to Doolittle's playbook.
Say Good Night
It's late, and almost everyone has gone to bed. Guests cannot walk alone at night without an escort, so Trevor leads the way. As we turn toward my tent, the beam of his flashlight skims over a surprising mass of grey, stopping us dead in our tracks. It takes me a second to register that we're looking at a truck-sized hippo butt. "Move on," says Trevor with a wave of his hand. Hippos can be dangerous, but this big boy is used to the humans who occupy this space and departs without a fuss, disappearing into the night. There's never a dull moment on safari.
Snuggling into my bed, exhausted but elated from my adventures, I look forward to my morning wake-up call and the start of a new day.
---
Wild Eye Destination and Photographic is a South African company specializing in wildlife safari photography expeditions. Wild Eye's destination offerings span six out of seven continents and 25 countries. Whether through group tours, custom itineraries, or privately guided safaris, their trips appeal to nature lovers, photographers, adventurers, and travel enthusiasts.
---
About the Author: Susan Portnoy is an award-winning travel photographer and writer based in New York City and the founder of The Insatiable Traveler. Her work has been featured in Newsweek, AFAR, The Globe & Mail, and The Telegraph, among others.