iMovie's New Storyboard Templates Help Creators Nail the Perfect Shot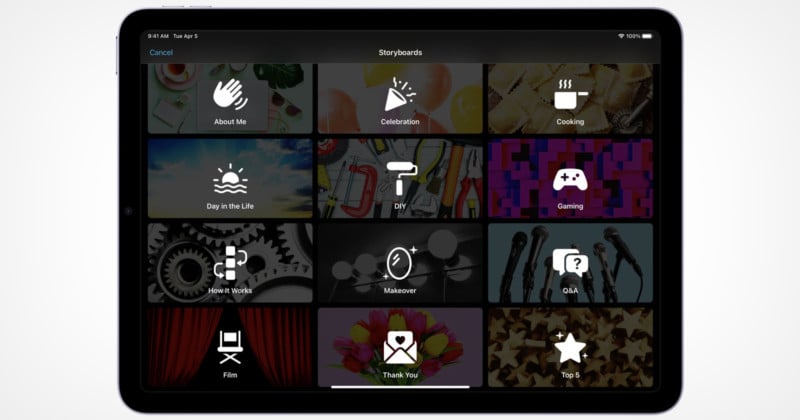 Apple's iMovie 3.0 update adds new storyboard templates that let editors visualize what is needed and gives them instructions on how to capture the perfect shot for a given narrative.
The iMovie update is centered on features that are designed to make it easier for burgeoning editors to create more meaningful edited finished products: storyboards and Magic Movie. Apple says the new storyboard templates will help aspiring content creators and moviemakers learn to edit and improve their video storytelling skills, while the Magic Movie mode simplifies the process even further by creating a finished edit from user-selected photos and videos.
iMovie StoryBoards
Apple positions Storyboards as a way to provide step-by-step guidance on which clips a content creator should capture in order to make a complete video on a range of topics. Instead of starting with a blank timeline, editors are able to choose from 20 storyboards that are based on a variety of popular video types such as cooking tutorials, Q&As, product reviews, news reports, "how it works" explanations, and more.
Each storyboard option has a shot list that helps organize clips to tell a given narrative and each has a placeholder that includes a thumbnail that illustrates the concept. These provide creators with tips that ask questions or make suggestions for how to shoot a particular clip to make it more interesting or informative. The storyboard isn't set in stone, either, and can be customized as needed.
Magic Movie
For those who enjoy the automatic slideshows that are generated in the Photos app on iOS or iPadOS but want a bit more control, Magic Movie fits the bill. The feature helps editors make a completed edit that includes photos or videos (or a mix of both) by automatically generating a finished product from a selection of media.
Apple says Magic Movie is able to automatically select what it determines to be the best parts of footage and edits them together with music. Once the edit is generated, it can still be customized as well, giving editors the ability to add or remove clips, change cuts, or add Styles.
iMovie 3.0 is available as a free update on the Appe Store for devices running iOS 15.2 or later and iPadOS 15.2 or later.