Grand Teton Axes Controversial Plan to Require Portrait Photo Permits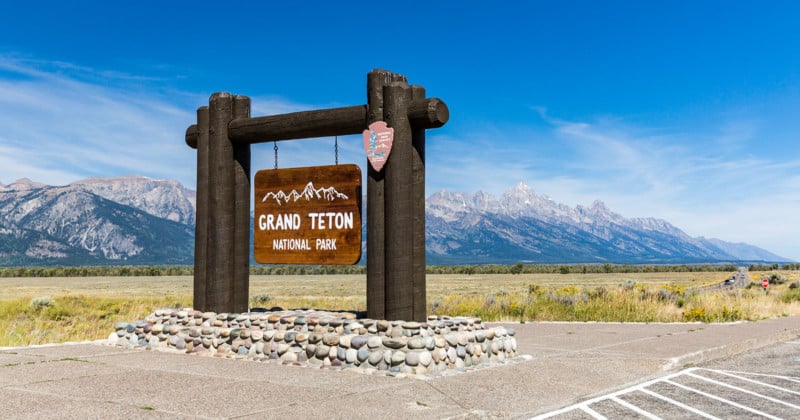 Grand Teton National Park has canceled its plans to require permits from photographers looking to shoot any kind of portrait for clients in the Wyoming park. The changes had been met with criticism from both photographers and First Amendment lawyers.

Park authorities had originally planned to implement new photography policies this summer in response to increased visits from photographers, particularly those shooting wedding photos.
Jackson Hole News&Guide reports
that wedding permits more than doubled from 150 in 2020 to 325 in 2021, and that complaints had grown as well — wedding parties were reported for things such as bringing non-native plants into the park as well as asking other visitors to leave the area.
One of the proposed changes that sparked controversy was new permitting requirements for photographers seeing to provide "portrait services" to clients. Those photographers would be required to not only pay $300 for a permit for photo shoots but also send at least 3% of all their earnings in the park back to the park, wear an identifiable uniform during the shoot, and limit their shoots to within half a mile of roads or established trails.
Authorities also planned to prevent wedding photographers from accompanying smaller weddings attended by 12 or fewer people.
First Amendment Lawyers Push Back
Four prominent photography organizations — the National Press Photographers Association (NPPA), Professional Photographers of America (PPA), North American Nature Photography Association (NANPA), and the American Society of Media Photographers (ASMP) — responded to the proposed changes by voicing their concerns and sending a letter to Grand Teton National Park to protest the plans.
"This new policy directly violates federal law regarding when a photography permit may be required in national parks and is a violation of the First Amendment," the letter reads before it goes on to explain how the changes would violate established law and freedom of speech.
"The further requirement that professional photographers may only document 'site-specific' weddings, which are not permitted during the winter season, and the ban on photographers at smaller wedding ceremonies that are allowed elsewhere in the park and during the winter, results in a complete ban on wedding photography during seven months of the year as well as a complete ban on wedding photography in the vast majority of the park locations where wedding photography can take place.
"[…] Please confirm as quickly as possible that you will be rescinding these illegal and unconstitutional policies."
Federal Law on Photography in National Parks
The federal government passed a law over a decade ago that outlines exactly when US National Parks can require a permit and/or charge a fee from photographers.
The Parks "shall not require a permit or assess a fee for still photography in a System unit if the photography takes place where members of the public are generally allowed," reads U.S. Code § 100905. "The Secretary may require a permit, assess a fee, or both, if the photography takes place at other locations where members of the public are generally not allowed, or where additional administrative costs are likely.
"The Secretary shall require and shall establish a reasonable fee for still photography that uses models or props that are not a part of the site's natural or cultural resources or administrative facilities."
Thus, if a photographer shoots where the general public can shoot without using models or props — wedding parties are not considered models — they can do so without any permit or fees.
"The law is now clear—a permit is not required for low impact, handheld photography in national parks," the NPPA writes. "[…] Taken on their face, and as a whole, it is clear that Congress intended for photographers—including commercial portrait and wedding photographers—to be allowed to take photographs in national parks without a permit."
In the end, the appeals from photographers and First Amendment lawyers successfully caused Grand Teton park authorities to reverse their plans. Permits will no longer be required of all portrait and wedding photographers whose activities do not meet federal requirements for photography permits.
Grand Teton National Park's policy on photography is "essentially reverting to the way it was," Grand Teton Chief of Staff Jeremy Barnum tells the News&Guide.
---
Image credits: Grand Teton sign and photographer photos from Depositphotos