Photographer Captures the Essence of Classic Architecture
London-based photographer Alixe Lay specializes in capturing interiors and infusing them with an ethereal spirit through her signature style.
Seeking Out the "Spirit of Place"
Lay is primarily a street and architecture photographer and on Instagram showcases her signature style — moody and soulful images of buildings that look like cabinets of curiosities, filled with unique objects and decor.
Lay has always been intrigued by photography and started her official photography journey when she got her first DLSR at the age of 15.
"It was during this time that I started to experiment with Photoshop and I was obsessed with downloading action packs on Deviantart and playing around with all the different tools in Photoshop to color grade my images," she tells PetaPixel.
"Fast forward to 2017 I started to take photography more seriously when I lived in Bath. Being surrounded by some of the finest examples of classical architecture in the world has really inspired a lot of my work and I've since then been very much into finding and photographing historical and design-focused interior and architecture during my travels."
As she refined her skill in photography, she started feeling the mobile editing apps she used at the time no longer served her. It was at this time Lay started using Adobe Lightroom and it has been an integral part of her creative process ever since.
"It has really transformed the way that I work in my editing process. The control it gave me to get down to the finest details of the tones and colors really helped me develop the style that I'm known for today," she explains.
In describing her photography style, Lay brings up the idea of "genius loci" or "the spirit of place." She often finds herself captivated by interiors and places "with a soul, buildings with traces of age and history."
Besides interiors and exteriors, Lay also enjoys seeking out the ordinary moments that uncover something magical, beautiful, and extraordinary — "like the way a sunray hits the wall or the movements of a curtain in a breeze."
Becoming a Lightroom Ambassador
Adobe has unveiled its class of 2022 Lightroom Ambassadors, each with a unique background and talents. Adobe's program highlights their work and gives photographers a platform to share their best tips and practices, particularly for post-processing with Adobe's Lightroom and Photoshop.
After being invited as a Lightroom Ambassador, Lay plans on using the given platform to share her "love for the poetics of space" and to inspire people to see their cities and lived environments through a different lens. The program also gives Lay an opportunity to share different parts of her process, like what goes through her mind when she's shooting and editing.
"I felt and still feel very honored and grateful to have the opportunity to work with the hero of my creative journey," she says. "I'm also generally very excited to help people get to know Lightroom better, and inspire people to start or help them along their own journey in photography."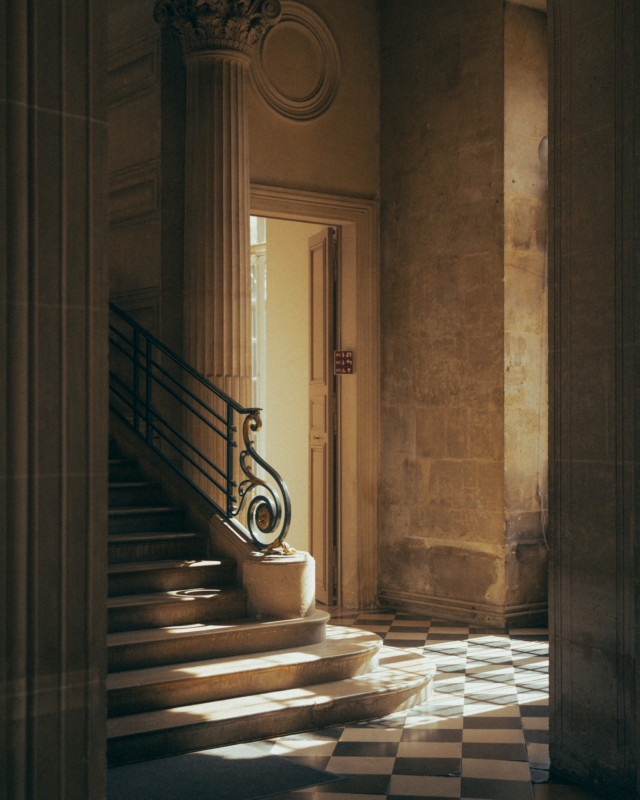 Looking ahead to the future of her photography, Lay wants to incorporate new ways to photograph historical and design-focused interiors.
"I'm looking forward to finding and incorporating new ways to photograph historical and design-focused interiors. I'd love to continue telling stories about forgotten places as well as using my photography as a way to help shine a light on architects, designers, craftsmen, and all of the people working behind the scenes to preserve and honor the history of the buildings that carry the stories of our cultural heritage."
More of Lay's work can be found on her Instagram and website.
---
Image credits: Photos by Alixe Lay.