Canon Unveils Lacquered Wood Tableware Inspired by its Lens Hoods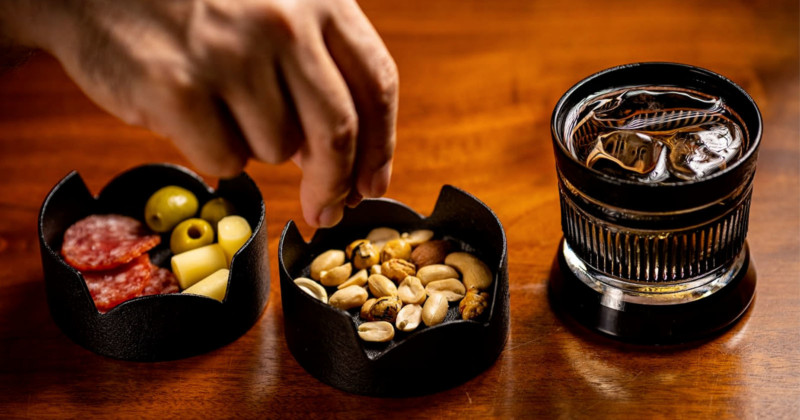 Canon has partnered with a family of artisans who specialize in a specific type of lacquered woodwork to produce a limited run of tablewear inspired by its lens hoods.
Canon Marketing Japan Inc — which engages in the marketing in Japan of Canon products and related solutions — worked jointly with the Alvori Company and Shozu Shikko Inc. to create the set of lacquered wooden dishes and cups.
Alvori has been working with craftsmen to create unique products that utilize traditional Japanese techniques. One other example of Alvori's work with Canon was its Edo Kiriko Lens drinking glasses that were released in late 2020. This time, Alvori partnered with Shozu Shikko Inc..
Wood Laquer Artisans
This particular method of lacquered wood is called Yamanaka and is a traditional craft made mainly in Kaga City in the Ishikawa Prefecture of Japan and records of the practice date back to at least 1609.
As described by Kogei Japan:
Yamanaka lacquerware (called Yamanaka shikki in Japanese) is a type of lacquerware made in the Yamanaka Onsen (hot spring) district of the city of Kaga, Ishikawa prefecture. It utilizes an original Yamanaka technique for grinding wood. The main objects produced are round utensils like bowls and saucers. Many of the wood bases for tea ceremony utensils such as tea caddies are ground in Yamanaka. This lacquerware is special because it combines the beauty of the natural wood grain and elegant maki-e which is a technique of sprinkling powder of gold, silver, or various other colors onto a lacquer drawing.

Yamanaka lacquerware comes in two forms: mokusei shikki which is traditional lacquerware with natural wood that has been processed and painted with lacquer, and kindai shikki or modern lacquerware which consists of a urethane coating on a plastic base.
The lens hood laquerware and Raden were jointly developed by Al
Three Lens Hood-Inspired Designs
The project features three different lens hood-inspired dishes: one in the petal shape, one with a slightly cylinder, and one straight cylinder made in what is known as Raden process.
The "hana" design, which means "flower" in Japanese, features what Canon describes as a "wavy silhouette," like a flower. It can be seen side-by-side with the inspiration for the design below.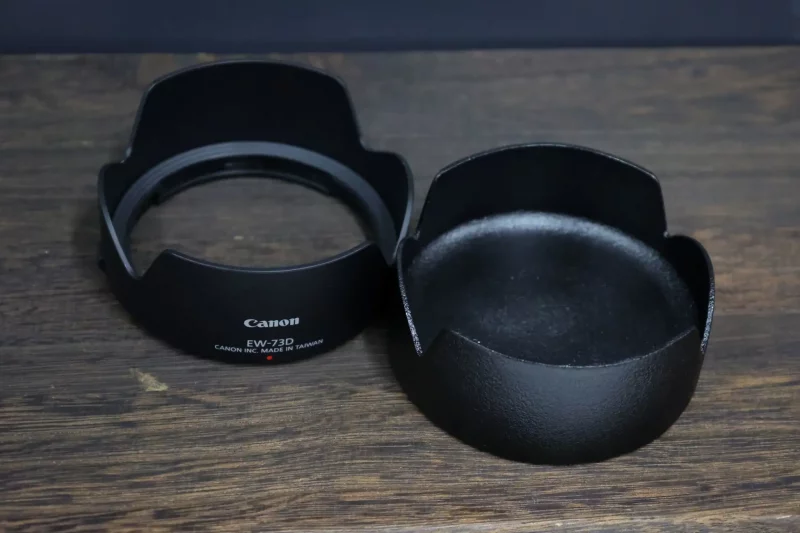 The next design is more akin to the standard Canon lens hood and features a slight taper at the bottom. It is described as having a simple tubular shape. It is best suited for beverages.
The last item uses a technique known as Raden, which is the process of embedding shells that have been polished to a very thin 0.1mm and can therefore showcase the "brilliance" of the shell's rainbow colors.
The three items are described as having multiple uses. For example, the petal-shaped dish can be used for snacks, as a coaster, or even as an ashtray. The Raden cup and the standard tubular cup are both best suited for enjoying beverages.
The photo below shows one of the Edo Kiriko glasses inspired by Canon lenses sitting neatly inside the petal-shaped lacquer bowl.
Canon is offering these artisan wooden dishes through Makuake, a crowdfunding site in Japan. The petal dish is available for as low as 8,800 yen (about $73), the standard cylinder for as low as 6,600 yen (about $55), and the Raden cup for as low as 17,600 yen (about $145), depending on pledge level. These prices are limited to the early buyers as part of the crowdfunding effort.
The project is limited to a total sale of 80 pieces across the three designs and each will be produced by a craftsman and is to be delivered by July of 2022.
---
Update 3/31: Additional information has been added and some errors caused by machine translation have been corrected.