Photographer Spots Giant Bite Mark on Huge Great White Shark
Shark conservationist, filmmaker, and photographer Jalil Najafov was on a great white shark expedition in Mexico and could not believe his eyes when he noticed a 15-foot shark with a huge circular scar from a bite mark, the size of which he had never seen before.

Najafov had been invited to shark dive onboard the Pacific Fleet boat for the five-day great white shark expedition to
Isla Guadalupe,
Mexico, in August 2019.
Guadalupe Island
is a volcanic island 130 nautical miles (~150 regular miles) off the west coast of Mexico's 
Baja California Peninsula
 that's known for its scuba diving experience and encounters with great white sharks.
"On the second day of the trip, I was lucky enough to meet and film Seabatch," Najafov tells PetaPixel. "On the last day, I saw this shark from the boat. Before we left the island, she swam past our boat as if she wanted to say goodbye."
The Largest Bite Mark on a Shark?
After spotting the scar, Najafov conducted a dive underwater in a cage to get a better photo of the mark with his GoPro HERO7.
The scar on the passing shark sparked a "heated discussion" among the team. The filmmaker was very surprised to see such a huge bite mark — he understood that it was a shark bite but could not believe that it was as big as it was.
"I guessed that it was an act of aggression since mating usually leaves scars in the gill areas," he reasons. "I knew that I had filmed very rare footage, and it could go viral on social media."
Mating Scar or an Attack?
The shark photographer used multiple cameras and ended up losing track of the memory card with the bite mark photos on it. When he finally found the card on July 17, 2021, he posted to @discoversharks and his Instagram to ask his followers their thoughts–was the unusual wound caused by mating, aggression, or something else?
The photo, in which he named the shark Survivor, was very well received and was the most liked photo on his Instagram page. He sent this photo to the company that distributed his content to the media, but they were "not interested" in distributing this particular set.
On December 13, 2021, the diver published other female shark photos with mating bite marks. On rare occasions, during mating season among sharks, Najafov explains, "mating scars" appear on female sharks' bodies due to male sharks biting to hold onto them.
"The video of mating scars on sharks went viral, and I started receiving media inquiries for more information on the subject," says the conservationist. "I thought it was a good chance to show the 'real' bite marks.
"Before I posted Seabatch (Survivor) again on my page, I decided to ask my friend, scientist Dr. Tristian Guttridge's [VP/Director marine nonprofit Saving the Blue and Discovery Channel's Shark Week presenter] opinion, and his answer was the same as mine. So, I posted the photo, and it went super-viral…"
Michael Domeier, another friend and Shark Week presenter, who is President/Executive Director of the Marine Conservation Science Institute, also felt it was an attack from another shark.
The shark diver believes it to be a bite mark, as this is a scar on the shark's underside that shows the circular shape of the jaw. It could not have been from getting caught by a boat's propeller or rocks because of the circular shape.
Aggression is Common with Great Whites
Sharks frequently change their habitats but are not territorial by nature. There is evidence that great white sharks assume dominance hierarchies around feeding territories, and the largest sharks usually get the best hunting spots.
Sharks live in harsh conditions, and therefore the showing of aggression is quite normal for the species. They often fight for prey, during the mating season, and to protect themselves from larger species.
"Regarding many comments on social media that they believe this scar could have remained from the shark's juvenile period, given the speed of wound regeneration in sharks, such a theory is incorrect," says the shark enthusiast. "It has long been noted that sharks' wounds heal remarkably very quickly. I have seen photos of injured sharks before and after injury from other photographers.
Was the Shark Attacked by a Killer Whale?
"Another theory from the comments is [that the scar is from a] killer whale bite mark, but the shape of the orca's jaws and teeth is different," Najafov says. "I think this shark's scar is about a year old, and it was the result of a bite from another great white shark.
"It's hard to say what size this shark could have been. We will try to draw a 3D model of the great Deep Blue shark [a female great white shark estimated to be 20 ft long and is said to be over fifty years old] and see what bite size she could leave on a [shark of this size].
"Of course, there may be white sharks larger than the Deep Blue that have not appeared in front of humans. I don't believe in the megalodon [literally big tooth] theory, as many are now publishing it. Unfortunately, we will never know for sure what happened to Seabatch. The only thing for sure is that the bite was massive."
Great white sharks generally measure up to 13 feet (4m) for males and up to 16 feet (4.9m) for females, on average.
The Photographer and his Gear
Najafov grew up in Azerbaijan, a country located at the boundary of Eastern Europe and Western Asia. He has always had a passion for sharks and the ocean, which led him to leave the government job that he had worked for several years.
He soon found himself traveling and six years ago he decided to dedicate his life to filming and photographing sharks in their natural habitat. Today he often stays in the United States, but his hometown is still in Azerbaijan. He has set himself a goal of educating people about sharks and the importance of preserving them.
It is hard for the conservationist to believe that hundreds of sharks are killed every single minute for their fins, just for a "bowl of soup." He feels we need to raise awareness for sharks and is trying his best to attract attention to the cause with his videos and photos.
The filmmaker who "loves all the animals in the ocean" likes GoPro cameras. He uses GoPro 7, 9, and 10. He also has a Canon, with an 18-135mm and 50mm, and a Paralenz Vaquita underwater camera.
Najafov shoots mostly with available light but has used artificial light a few times on a night dive.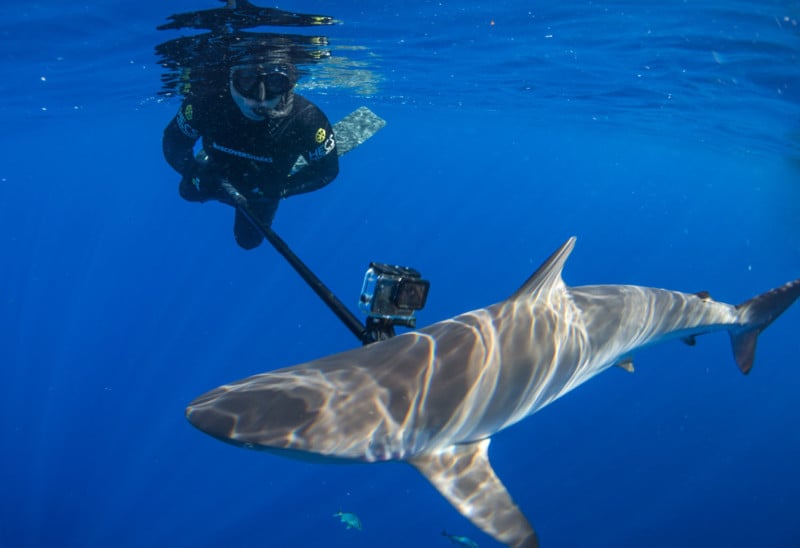 People Think of Sharks as Monsters
Sharks are not man-eating monsters, emphasizes Najafov, and he cautions against believing what is portrayed in movies. The risk of being attacked by a shark is very low, but of course, it depends on what species one swims with.
He advises divers not to forget that they are among wild animals. Instead of looking through the camera viewfinder continuously, his advice is to always turn around, look everywhere and enjoy the sharks in their habitat while also taking amazing photos and videos.
The underwater explorer uses a shark cage only in Isla Guadalupe, Mexico. In most other places, he free dives and is generally 2-5 meters (7-16 feet) below the surface.
"Always listen to your shark guides," cautions the shark diver who has also photographed orcas, whales, marlins, and more. "Don't forget that the ocean is their home. Always give them respect! Between 70-250 million sharks are killed annually! We need to save them!"
You can see over 1,000 amazing photos of sharks on Najafov's Instagram.
---
About the author: Phil Mistry is a photographer and teacher based in Atlanta, GA. He started one of the first digital camera classes in New York City at The International Center of Photography in the 90s. He was the director and teacher for Sony/Popular Photography magazine's Digital Days Workshops. You can reach him here.
---
Image credits: Header photo and the following two photos by Jalil Najafov.