Photos from Inside the Russian Invasion of Ukraine
On February 24th, 2022, Russian President Vladimir Putin launched an all-out invasion of its neighboring country Ukraine following years of escalating conflict and failed diplomacy since 2014. The world has watched as ordinary Ukrainians have taken up arms to join soldiers in the defense of their nation.

These photographs captured by photographers in the midst of the war-torn areas offer an inside look at what the ongoing war has done to life in Ukraine and how it has overturned the lives of Ukrainians running and hiding from the violence.
Russia's invasion is one of the largest military attacks on European soil since the conclusion of World War II.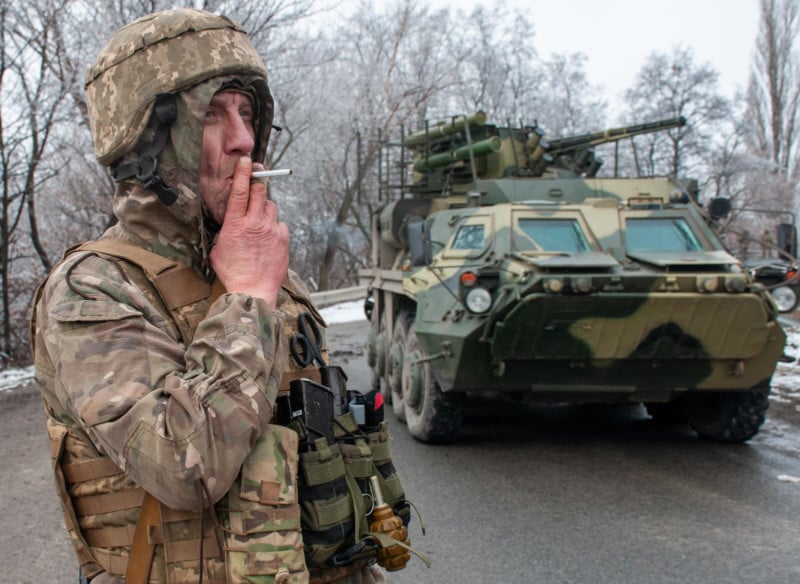 Russia boasts the world's fifth-largest standing army of around 900,000 active duty personnel and 2 million reservists compared to Ukraine's 196,000 active troops and 900,000 reservists, but ordinary Ukrainian civilians have volunteered to be equipped and trained on short notice to join the fight.
The UN estimates that over half a million Ukrainians have fled their country since the start of the war.
"UNHCR [the UN Refugee Agency] is also working with Governments in neighboring countries, calling on them to keep borders open to those seeking safety and protection," UN High Commissioner for Refugees Filippo Grandi says in a statement. "We stand ready to support efforts by all to respond to any situation of forced displacement."
Other Ukrainians who are unable or unwilling to leave have taken refuge in makeshift shelters across cities that are being bombarded.
Barricades have been constructed to slow the invasion of troops and tanks into major city centers.
Ukrainians who are staying put have been met with lines and shortages at gas stations and supermarkets.
One of the weapons of defense taken up by civilians is the Molotov cocktail, an improvised incendiary weapon created with a bottle used and thrown to create fireballs and flames. Ukrainians are gathering and creating Molotovs in large numbers.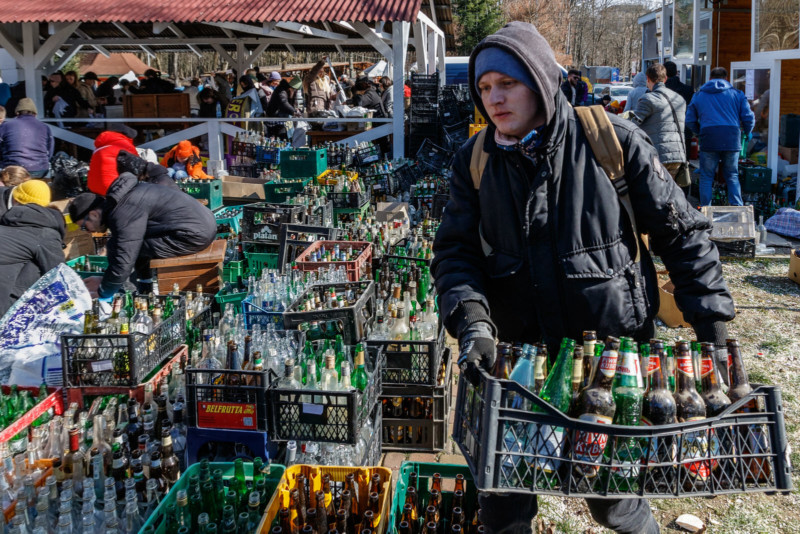 Signs of war and destruction can be found throughout cities and landscapes that just days ago were bustling and peaceful areas.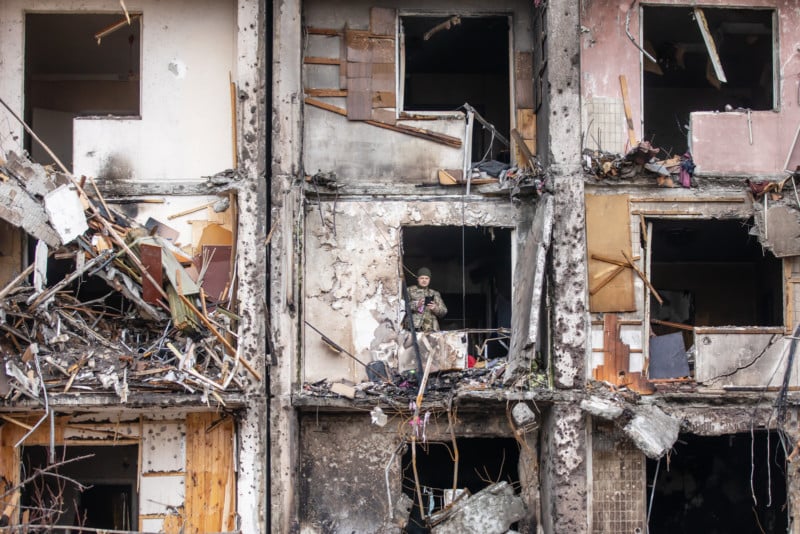 Russia's invasion has been condemned by much of the international community, and anti-war protests have erupted around the globe, including in Russia. Many countries have imposed sanctions on Russia, pushing the nation into a financial crisis that has caused the ruble to plummet against the US dollar.
Depositphotos, a stock photo agency founded in Kyik, Ukraine, has launched a new free-to-share image collection titled Say No to War to show "the brutal truth of what's happening in Ukraine."
"State-controlled Russian media continues to spread 'information' using phrasings such as 'special military operation on Donbas' and 'protecting civilians from the genocide carried out on the behalf of "Kyiv's regime"'," Depositphotos tells PetaPixel. "At the same time, the Russian military is bombing housing blocks, hospitals, kindergartens, and schools in Ukraine. Innocent civilians are dying and thousands have lost their homes already.
"We are watching this terror unfold with our own eyes, as a big part of our Depositphotos team and the VistaCreate team is currently in Ukraine," Depositphotos says. "This war is a direct threat not only for Ukraine, but a threat to the freedom of speech, finances, movement, and the rights of each citizen. Everyone deserves to know the truth.
"Everyone deserves to know what is really happening right now."
---
Image credits: Header photo by Stand With Ukraine!. All photos licensed from Depositphotos.