Photographer Captures the Brutality of the MS-13 Gang in El Salvador
Tariq Zaidi is a British photographer who has spent three years between 2018 and 2020 studying and documenting the savagely violent gang Mara Salvatrucha (MS-13) and others operating in El Salvador.

Prior to
becoming a photographer
, Zaidi lived in Venezuela, Brazil, and Argentina, working in event management or teaching for around four years and traveling across almost all of North, Central, and South America.
"When then-President Trump was calling Central American migrant caravans 'criminals' and the like, I wanted to explore what kind of life these people were leaving behind…" Zaidi tells PetaPixel. "I wanted to show the world just how dystopian El Salvador has become and how the extent, scale, and savagery of violence is unlike anything most of us have ever known."
Giving Up a Cushy Job for the Passion of Photography
In 2014, Zaidi gave up an executive management position in an events business to pursue his passion for photography — of capturing the dignity, strength, and soul of people within their own environment. Since then, he has worked in 21 countries across four continents, mainly in the developing world.
In 2018, the British photographer visited El Salvador for the first time and started the project, but only after eight months of gaining the trust of local contacts through emails and phone calls. In that initial experience, he documented mainly wakes, funeral parlors, and prisons. He went back in 2019 and then finally in 2020 when he managed to get greater access to crime scenes and police work to round out his project.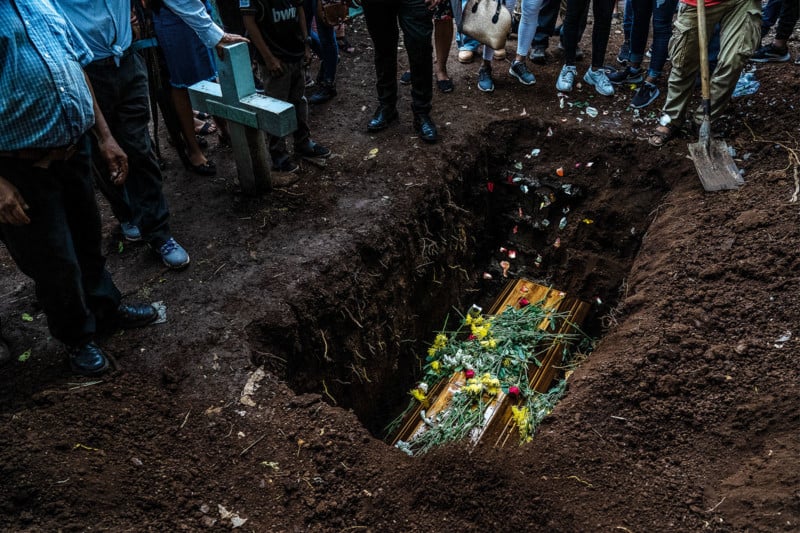 The photographer focused on El Salvador because it had the highest murder rate of any country not in a war zone in 13 of the 22 years between 1995 and 2017. The murder rate spiked in 2015 and 2016 at 103 homicides per 100,000 residents, well above the second and third highest countries, Venezuela and Honduras (which had 90 and 57, respectively).
Spanish Conquistador Pedro de Alvarado named the country after Jesus Christ, literally "The Savior" in Spanish in the 16th century, but today the gangs have made life a living hell for the inhabitants.
Becoming the Eyes of the World in a Hostile Place
Zaidi was invited by Paul (name changed), the mayor of a small municipality outside of San Salvador, to see what he was doing to protect his community against the gangs.
"We got into the car and cruised around doing security checks, speaking to people about whether they've had any problems with gangs," recalls the photographer. "He then got a call from another car saying that they had detected gang activity and to get ready for action. It was pitch black, and we were speeding down mountain roads around 2 a.m. in the morning. The other guys in the car wore balaclavas and had guns.
"Paul gave a gun to my fixer and tried again to get me to take a revolver. He said, 'If we get in a firefight, they'll rape the female journalist in the car and chop off her arms and legs before they get to you. Put down your camera and take this gun'."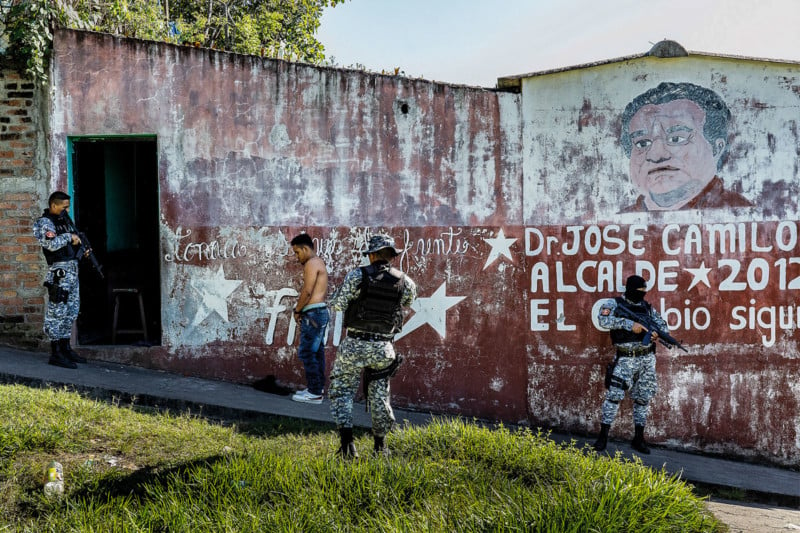 Zaidi wants his imagery to show how much the gangs control day-to-day life in this Central American country bordered by Honduras, and Guatemala. The extent, scale, and brutal violence are impossible for an outsider to imagine. It may even be dangerous to cross certain streets as a different gang may control the other side. When a driver enters a new neighborhood, he may have to flash his lights and roll down his windows to offer allegiance to the gang, lest he becomes a target of attacks.
Zaidi had to work hard with numerous authorities to gain photography privileges to prisons, police centers, and murder sites. He liaised with government officials, the police force, STO (Tactical Operational Section), and emergency services to join night raids and be one of the first to arrive on murder sites. He usually worked alone or with a fixer.
There were many challenges in making contact with victims and their families. The police would block access to photojournalists at murder sites, so the best alternative was to trawl WhatsApp and Twitter to reach crime scenes before the police did.
Often, Zaidi waited outside morgues to meet those who were grieving, like Suzy (name changed), who had just identified the body of her 25-year-old son Brian (name changed). She told me her son had been strangled by members of Barrio 18, a rival gang of MS-1, for not fulfilling the missions they had asked of him. The mother was understandably distraught, and the photographer talked for a while and stayed in touch. A few days later, she invited him to the wake.
When the documentary photographer talks to families who have experienced this violence—murders, disappearances, extortion, death threats—he understands that most people live out their days in fear. He wishes to amplify the voices of those Salvadorans who fight for fundamental human rights, security, and safer life for their children and families.
Coming Face-to-Face with MS-13
"I think it is important for the viewer of the book to see and perhaps even 'feel' the presence of a gang member up close and personal," says Zaidi. "The portraits put a face to the story and the violence that is unlike anything most of us have ever known.
"The only way to meet them 'safely' is in prison. Even though, according to the former Minister of Justice and Security, Rogelio Rivas, incarcerated gang leaders are responsible for ordering 80 percent of all attacks in the country."
Zaidi, who speaks Spanish, worked with a fully staffed admin team on the ground in El Salvador who helped get him access. He asked the various government ministries to grant permission to visit all possible gang-related (men and women) prisons in the country but was given access to only six.
"In 2018, after eight months of repeated requests and meetings, I was granted access to 6 gang prisons," he says. "In 2019 and again in 2020, permission for prison visits was denied."
Photographing inside prisons was important as that is the primary place to talk to and photograph gang members. Because of the way gangs work, it is impossible to contact them outside. These images inside prisons also show how President Nayib Bukele is dealing with gangs by boarding off cells or mixing gang members.
"When visiting Penal Center of Quezaltepeque, I was shown the 'nicer' parts of the prison only," says Zaidi. "I knew there were special sections in the prison – high security and under the 'extraordinary measures' scheme which I wanted to see.
"Eventually, after a long discussion with the prison director and staff, I was granted 3 minutes in this area of the prison. The main reason given to me was that it was for my own security as there had been some murders inside the prison around the time I was visiting.
"3 minutes is not a lot of time, but I managed to make a few images showing this part of the prison and the conditions in which the prisoners were living."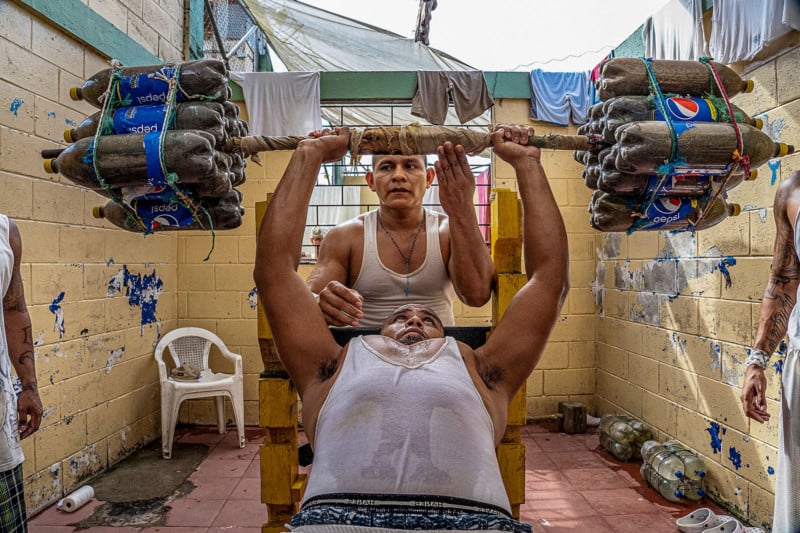 Publishing the Project as a Photo Book
Most of the images were made using a Sony a7 III mirrorless camera with a Sony 24-105mm lens. The electronic shutter has helped the photographer operate quietly and without drawing attention. He finds flash too intrusive and does not like the look/feel of flash unless used in a studio-type environment. He also does not use tripods.
Zaidi captured around 70,000 files between stills and videos in the three-year project and almost entirely in RAW. He keeps multiple hard drives on location to keep the images safe as there is not enough Internet bandwidth to upload to the cloud.
After he showed images from his first trip to photo editors from news agencies, they thought the work was strong and suggested that he keep working on the project. It was not till his third and final year that he was quietly confident a book should be made from this work.
The most challenging and most time-consuming part of the process has been the editing down of the 70,000 images to the final 100 to 200 photos that have been considered for the book. The book publisher did the post-processing and color management.
"I feel a tremendous and heavy responsibility with this work, for the people I worked with, my local team, the people I interviewed and photographed, and their families," says Zaidi. "I worked very closely with the publisher in terms of balancing which images should go in the book – vs. which could go in but may create security issues with the person in the image or for their family.
"All images that we deemed to have any security concerns were not used in the book, even if they could have visually enhanced the work. Names and personal details have also been purposely omitted from the book to protect the person and their families. It was also essential to show gang members but without glorifying them in any way."
The project was published in November 2021 as Sin Salida ("No Way Out") by GOST Books.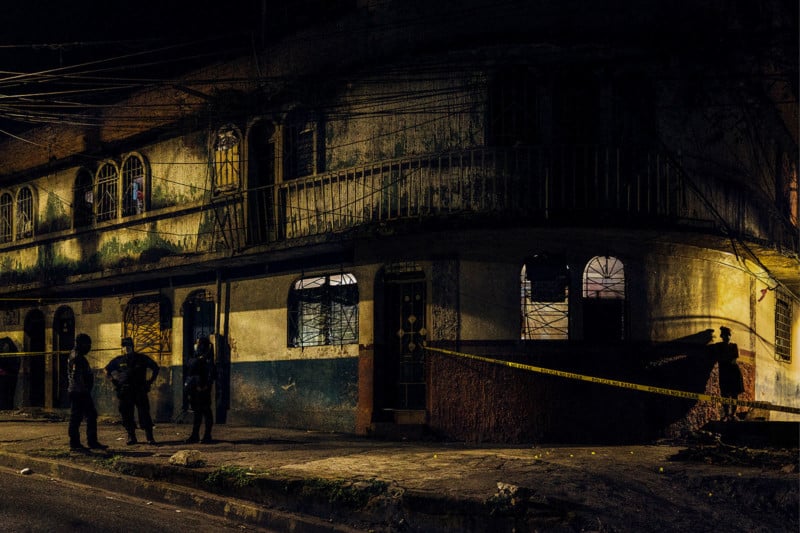 Zaidi hopes to return to El Salvador and make a short video documentary to accompany the book and future exhibitions to provide a more holistic learning and viewing experience for those interested in understanding these issues in the country and Central America broadly.
You can find more of Zaidi's work on his Instagram, Facebook and website.
---
About the author: Phil Mistry is a photographer and teacher based in Atlanta, GA. He started one of the first digital camera classes in New York City at The International Center of Photography in the 90s. He was the director and teacher for Sony/Popular Photography magazine's Digital Days Workshops. You can reach him here.
---
Image credits: Header photo – A member of MS-13, aged 27, at the Chalatenango Penal Center © Tariq Zaidi and courtesy of GOST Books