Report Shows Instagram Makes it Easy for Teens to Find Drugs Online
A report alleges that despite Instagram prohibiting the sale of drugs on its platform, minors have been able to easily find sellers of illegal substances, adding to the growing list of ways that the app endangers young users.
Tech Transparency Project (TTP) conducted an investigation into the safeguarding practices Instagram employs to keep minors away from finding accounts that sell potentially deadly drugs, Engadget reports. TTP is an information and research hub for journalists, academics, policymakers and members of the public interested in exploring the influence of the major technology platforms on politics and policy. The main goal of TTP is to hold large and powerful tech companies accountable.
During the research, TTP created multiple fake Instagram accounts as teens aged between 13 and 17 and used them to test what it takes to find accounts that sell illegal substances.
NEW: For years, @Instagram has said it prohibits drug sales. But TTP found that minor users as young as 13 had access to a range of deadly drugs on the platform—and it was easier to connect with a dealer than to log out.

THREAD
https://t.co/ioKZgsGdxx

— Tech Transparency Project (@TTP_updates) December 7, 2021
TTP found that these accounts could easily search for drugs and the app's algorithm even recommended other drug dealer accounts once the account followed one. It took as little as two clicks to find an account that sells Xanax and other drugs — twice as long as it takes for the hypothetical teenager to log out of the app.
Although the app restricts the use and search of certain hashtags, such as #mdma, if the user typed in #mdma in the search bar, the app would bring up recommended auto-filled hashtags containing the name of the drug in combination with other words or letters.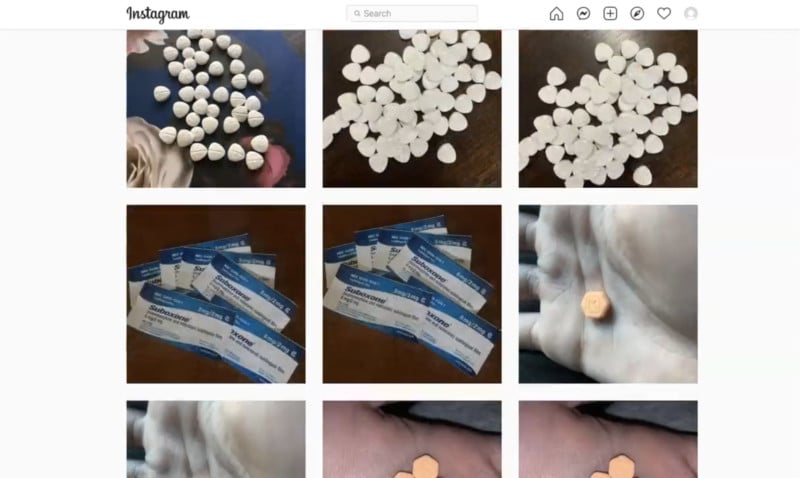 Some drug dealers reached out to TTP's teen accounts, while some received unsolicited phone calls. In one case, an account selling drugs sent a direct message to the teen, listing out all products available for sale, including shipping, even though the teen hadn't initiated a conversation.
TTP reported 50 posts that the organization believed violated the app's policies, however, Instagram responded that 36 of the posts did not violate its Community Guidelines, despite the clear evidence of drug dealing activity.
Back in 2018, Facebook vice president at the time, Carolyn Everson, explained that the app wasn't always able to distinguish between posts that sell illegal drugs and those users who post about taking drugs, such as Xanax, for relief. This was in response to Washington Post's 2018 report that found Instagram facilitates an easily accessible marketplace for illegal drugs.
TTP also run into another issue. Although Instagram promised to make it harder for accounts to find young people, by default the test account created on the app for a 15-year old teen allowed strangers to tag it, although it was set as "private". Similarly, TTP created an account for a 15-year old on Instagram's website and it was set to "public" by default.
The head of Instagram, Adam Mosseri, is making an appearance before Congress today to testify and defend the app among growing concerns of the platform's harmful impact upon young users. The company has hastily added some child protection features and has promised others to come early next year ahead of that appearance.
TTP's full report can be viewed on the organization's website.