These Gloves Keep Photographers' Hands Warm Yet Nimble
The Heat Company has developed a line of warm and functional gloves for photographers who travel and shoot in extreme temperatures and for those who simply want to keep their hands warm during the colder seasons.
With headquarters in Austria, the Heat Company originally developed its gloves for special forces and has continued to design products for outdoor enthusiasts since 1994.
In recent years, photographers have also discovered the benefits of using the company's gloves that have been built to allow sensitive handling of equipment yet remain extremely warm at the same time. This makes it a good combination for adventurous photographers who shoot in freezing temperatures.
The company hasn't let this go unnoticed and has created a page designed specifically for photographers. The page describes the company's Heat Layer System that allows photographers to find the right combination of gloves based on their individual needs.
The first layer is the Liner. These are thin under-gloves that allow photographers to comfortably handle the camera without having to take them off. All Liners also have touch-sensitive fingertips for touchscreen displays and shooters can use them alone or wear them under the second layer, the Shell.
The Shell is an extra warm mitten designed to be worn over Liner gloves. The mittens can be opened with a zipper and folded back if required. This way, photographers can continue shooting with the thinner Liner gloves without taking off the mitten.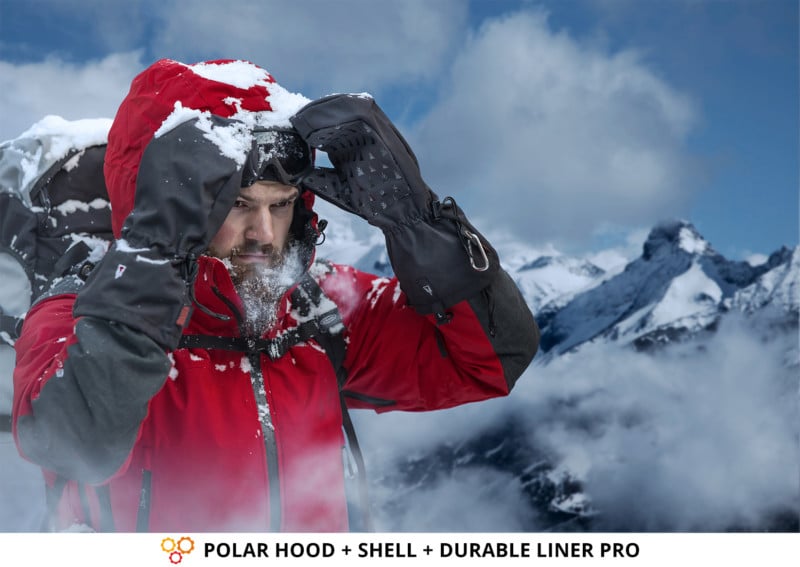 The final layer, the Hood, is used in extreme conditions. It is a thin and light mitten cover that doesn't take up much space and can be rolled up to store in a bag. It adds extra protection against wind and moisture and can be combined with all other glove models.
The company offers several combinations of these gloves depending on what kind of equipment photographers use and what weather conditions they are likely to endure during their photo trips. Some of the options include gloves that are already permanently sewn together.
A small but handy detail is the silicone print on the palm of the gloves which helps keep a tight grip on the lens when changing it and a pocket on the back of the hand to store small accessories like memory cards or lens wipes.
The company ships its gloves worldwide and the prices start at $28 for the Liner gloves, with the full collection available on the Heat Company's website.