Superhooks Aims to Be a Better Way To Store and Display Photo Gear
Superhook, an Ireland-based storage and organization accessory company formed in 2013, has launched a new set of hooks that it says can be used to hold and organize just about anything, from household items to photography equipment.
Photographers and videographers often struggle with storing and organizing the large number of accessories and equipment needed to successfully do their jobs, and Superhook wants to change that through its simple yet effective Kickstarter. At first, the offering looks just like any standard pegboard system for hanging equipment on walls, but Superhook claims it improves on the idea by designing a set of robust hooks that can hold just about anything.
The system comes in a variety of shapes and sizes, designed to allow for hanging and holding awkward items that would not normally be able to cleanly hang on walls. Superhook says its system is useful for a wide range of items, from keys, glasses, and handyman tools, to more hard to hang items like baseballs, electric razors, gaming controllers, and even gaming consoles and controllers.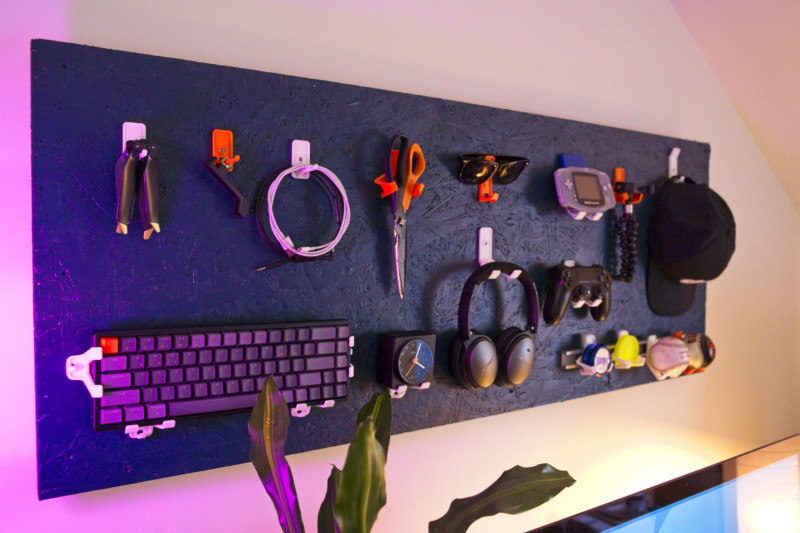 Speaking to PetaPixel, the company notes that there are a host of photography items that the hooks are excellent for holding including tripods, action cameras, straps, plates, drone batteries and controllers, and bags.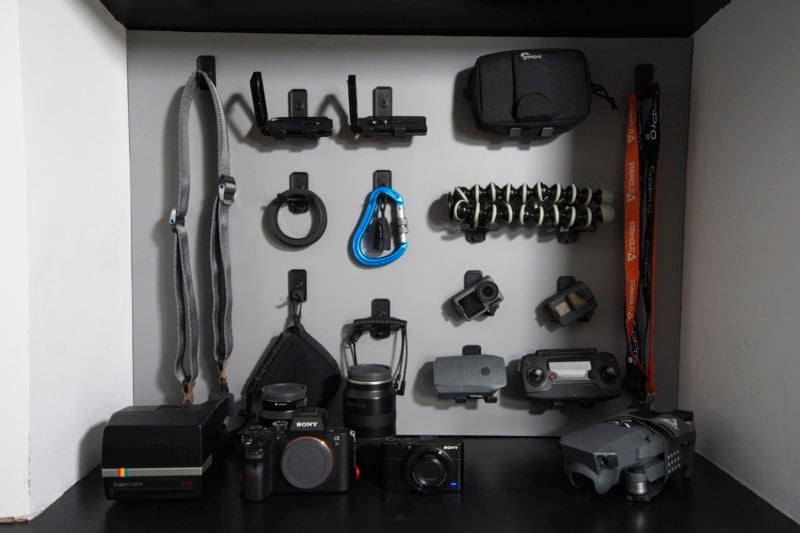 The initial launch features five hook designs: Nimble, Tech, Capture, Everyday, and Multi. Each hook has its own use cases and can hold different items.
Superhook says its hooks are made from a fully recyclable engineering-grade polymer and features a professional-grade double-sided tape, which it bills as designed to never fail. The hooks can also be screwed directly to the surface if a stronger and more secure attachment is required or used in tandem with an aluminum rail. The current range of hooks has a maximum hold strength of 11 pounds and is supposesdly highly resistant to breaking or cracking, which the company says ensures a long lifespan.
The smaller Nimble hook is capable of holding up to 2.2 pounds and is meant to hold items that most other hooks or the type are too large to, such as small precision screwdrivers, jewelry, and cables. The Tech hook can be used to hold more personal items like a smartphone or tablet thanks to its two angled hooks. The design also allows space for charging while an item is hung.
The design the company seems most proud of is the "Capture" hook, which is meant for holding handheld items such as pliers, scissors, shovels, hammers, or wrenches.
In the end, these are just hooks, and they compete with popular choices from brands like 3M that are widely available in stores around the world. Some might argue they could be easily 3D-printed as well, for those who have access to the equipment. The company bills its hooks as stronger and more durable than the competition, so they do command a bit of a premium. Backing options start at the low end of $8 for three smaller hooks and a bundle of 15 costs $37. Visit the company's Kickstarter to see all of the options.
---
Disclaimer: Make sure you do your own research into any crowdfunding project you're considering backing. While we aim to only share legitimate and trustworthy campaigns, there's always a real chance that you can lose your money when backing any crowdfunded project.