Finally, Everyone Can Upload Photos to Instagram from Desktop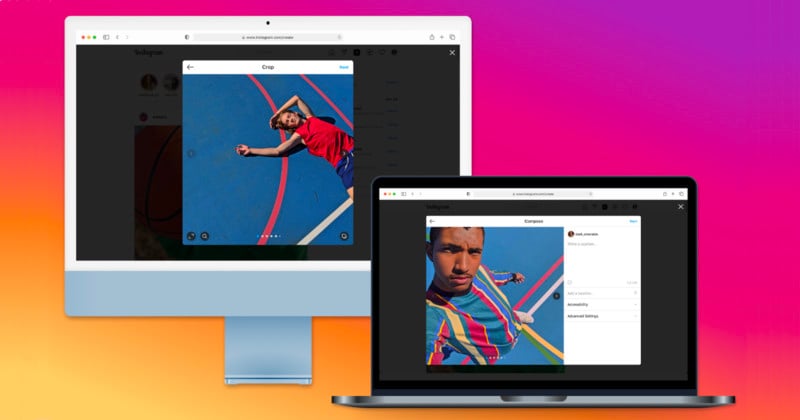 Instagram is finally adding the option for everyone to upload photos to the platform directly from their browser. The long-requested feature was tested this past summer but not made widely available until today.

Official support for desktop uploads to Instagram
was tested in late June
and because the social media platform generally makes major, well-publicized tests public features in the following weeks or months, the full availability of browser-based uploads was expected to arrive to all users at some point, it just was not clear how long the wait would be.
It turns out the wait was almost exactly four months. While it may not yet show up as an option for all users, Instagram is set to roll out support for browser-based uploads to the social media platform to global audiences starting today. Users will be able to upload photos and videos that are less than a minute in length using any supported desktop web browser.
Also launching today are new effects called Superbeat and Dynamic Lyrics for Reels. Superbeat supposedly will intelligently apply special effects to music to the beat of a chosen song, while Dynamic Lyrics will display 3D lyrics that "flow with the song's groove." These features follow similar ones found in TikTok, one of Instagram's main competitors.
Tech Crunch reports that other new features are coming this week as well, starting with what are called Collabs. While described as a test, Instagram says it will allow users to co-author Feed posts and Reels. Users can invite another account to be a collaborator on a post or Reel from the tagging screen, and if the other person accepts, both accounts will appear in the post or the Reels header and the content will be shared with both sets of followers.
(1/3) Collaborating is a huge part of how people connect on Instagram. To make that easier, we're testing a new way for people to co-author Feed Posts and Reels, called Collab. pic.twitter.com/YD1SaSYHOl

— Vishal Shah (@vishalshahis) July 21, 2021
Instagram is also testing new ways to create fundraisers for nonprofits, including a way for them to start a fundraiser directly from the plus button on the top right of the app screen. The feature was originally spotted back in December by developer Alessandro Paluzzi:
#Instagram is working on adding the "Fundraiser" option to the Create menu 👀 pic.twitter.com/Od4dcdkHaO

— Alessandro Paluzzi (@alex193a) September 18, 2021
Instagram did not specify when, or if, these two new tests will roll out globally as fully supported features.
---
Image credits: Header image via Instagram.