Apple is Selling a $19 Polishing Cloth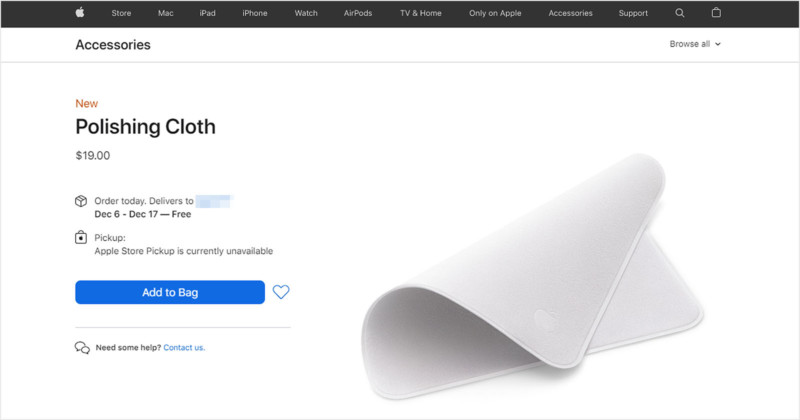 Want a glass cleaning cloth, love Apple products, and have deep pockets? Apple has a new product just for you. It's called the Apple Polishing Cloth, and it will cost you a cool $19.

Cleaning cloths are handy to keep in your
camera bag
for cleaning the lenses and displays on cameras and smartphones, but they are ordinarily free (bundled with products) or cost just a few dollars — Nikon's official cleaning cloth comes with a convenient attached carrying case and
costs just $4.50
.
But Apple will be Apple.
The new Apple Polishing Cloth comes with the Apple logo debossed in one corner and is designed to clean all the company's devices, from iPhones to iPads to Apple Watches to MacBooks.
Apple does note that it's specially designed to be compatible with its special glass found on the Pro Display XDR and 27-inch 2020 iMac.
"Made with soft, nonabrasive material, the Polishing Cloth cleans any Apple display, including nano-texture glass, safely and effectively," the product page states.
Unveiled in 2019, the Apple Pro Display XDR with nano-texture glass retails for a hefty $5,999, $1,000 more than the display with standard glass. The special matte texture is "etched into the glass at the nanometer level" and cuts down on glare, and Apple has said that only its special polishing cloth can be used to wipe the display.
Read more: Apple's Nano-Texture Pro Display XDR Can ONLY Be Cleaned with a Special Apple-Provided Cloth
The Polishing Cloth comes bundled for free with those nano-texture devices, and customers who lost the cloth were previously asked to contact Apple for a replacement. Now the product is available to all.
Given that this new Apple Polishing Cloth is safe to use on its delicate high-end displays, the cloth is presumably perfect for cleaning the front element on camera lenses as well… as long as you're willing to pay $19 for that privilege.