Apple's Nano-Texture Pro Display XDR Can ONLY Be Cleaned with a Special Apple-Provided Cloth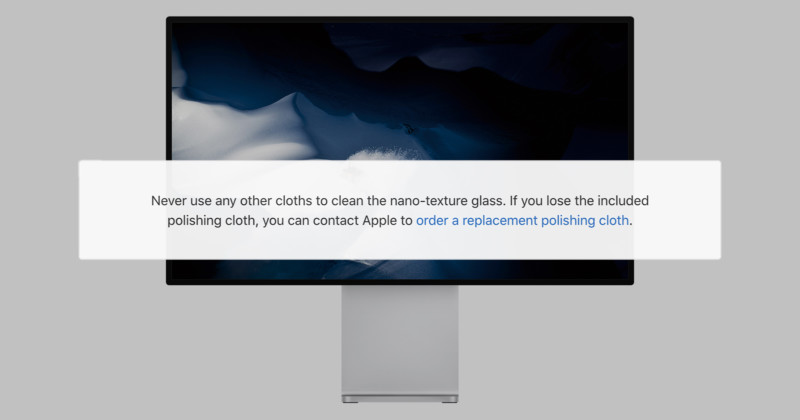 Apple's incredible Mac Pro and Pro Display XDR—the top-of-the-line, flagship "pro" products in the Apple lineup—finally went on sale yesterday. But while most people used the opportunity to see how much a fully loaded Mac Pro costs (hint: a lot), Mac Rumors uncovered something a bit stranger. Apparently the nano-texture version of the Pro Display XDR can only be cleaned with a special, Apple-made cloth. No exceptions.
The revelation comes courtesy of Apple's own support website, where a new entry on "How to clean your Apple Pro Display XDR" includes this tidbit:
To be clear, this only applies to the special nano-texture version of the Pro Display XDR, a $1,000 upgrade that cuts down on glare using a special matte texture that is actually "etched into the glass at the nanometer level." Further down the page, Apple provides instructions for cleaning the regular glass version, on which you can safely use "a clean, dry, micro-fiber cloth" of any make or model.
It seems the nano-texture is delicate enough that Apple is taking no changes: damage it at your own risk.
The support document doesn't say how much a replacement cloth will cost, or what makes this cloth so special and why exactly it needs to be exclusively used when cleaning the nano-texture display, but the page does give instructions for cleaning the cloth after use:
Apple will no doubt take a lot of flack for this little development, but if you're dropping $6,000 on one of (the?) most impressive monitors on planet Earth, including that extra $1,000 for the nano-texture and potentially another $1,000 for the special aluminum stand, the need to use the Apple-provided cleaning cloth is probably not going to be the "straw that broke the camel's back."