Photographer Paraglides Over West Virginia for Breathtaking Aerial Photos
Photographer Bernard Chen felt that there was more to aerial photography than drones and learned how to paraglide so that he could fly across West Virginia and capture the area in a new way.
Based in Northern Virginia, Chen grew up on a farm and developed a strong connection with all things nature. An adventurer and explorer at heart, Chen views his work as born out of the harmony between his fascination with the visual image and his wonder at the natural world.
"My photography allows me to explore and encounter the world around me," he tells PetaPixel. "I feel most connected with the natural world in those moments when I'm waiting for it to reveal something to me — waiting for a cloud to move, the light to change, a breeze to lift or drop. I believe in discovery, wonder, and the infinite power of nature to surprise us."
Chen's story is similar to others who felt the same call to the sky, like photographer George Steinmetz who flew a motorized paraglider across Africa, or Alexandre Buisse who did the same in France and Italy.
It was this deep fascination with breathtaking landscapes that led Chen to buy his first drone in 2013 before they exploded in popularity. Although this opened up a whole new world for his photography, it didn't make as big of a turn compared to when he began spending time with adventurous people — rock climbers, skydivers, base jumpers, and other adrenaline seekers.
"I would tell you if you want to improve your photography, befriend these kinds of active people, and they will show you a world you never thought was possible," says Chen. "Most landscape photographers wish to shoot from the top of the mountain or deep in a cave, and that group of active adventurers knows how to get you into that position for that shot."
The introduction to this active adventure world led Chen to backpack up Seneca Rocks, descend down in a cave in Alabama, jump out of a plane, and climb giant 300-feet redwood trees in California. All of which, unbeknownst to him at the time, prepared Chen for the future of flying across a place close to his heart — Dolly Sods, Wilderness Area in the Allegheny Mountains of eastern West Virginia.
"I thought skydiving would be my ticket to filming from the air. But that's a one-way ticket down to the ground, which doesn't match what I wanted to do," he says. "I started paying attention to this sport, which looked very exciting, and this is a sport I could see myself flying with a camera."
The process of essentially becoming a human drone took ten months of flying training at Almost Heaven Power Paragliding, West Virginia to gain over 130 hours of flight time. This commitment wasn't easy — Chen's first seven attempts of free flight experience were not successful.
After spending some time contemplating what is mentally blocking Chen to succeed, he came back ready and launched successfully.
"I didn't want to stop; flying was exhilarating!" says Chen. "I went from a shaking body to a fantastic state of bliss in a matter of seconds. It was an incredible feeling of accomplishment."
Once he become more comfortable in his training, he started to experiment with a GoPro. Once he mastered that in flight, he added more cameras to his motor, eventually strapping his Sony A7R IV and Sony 24-105mm lens to his chest.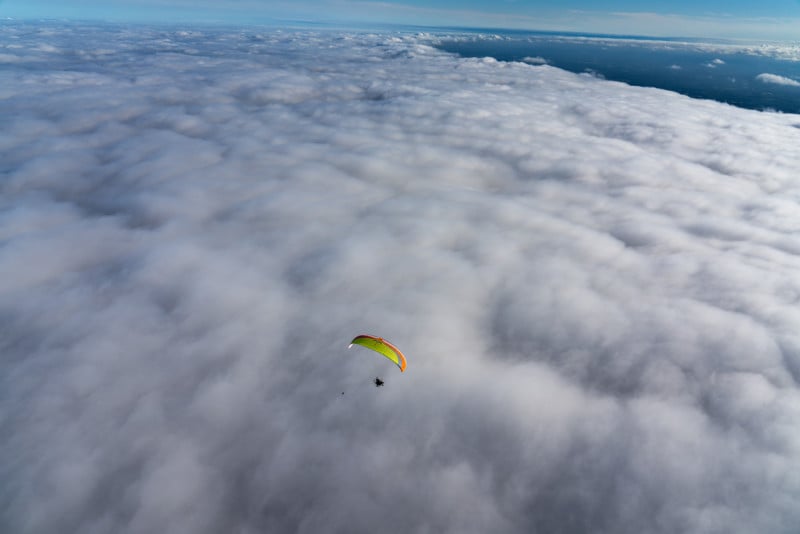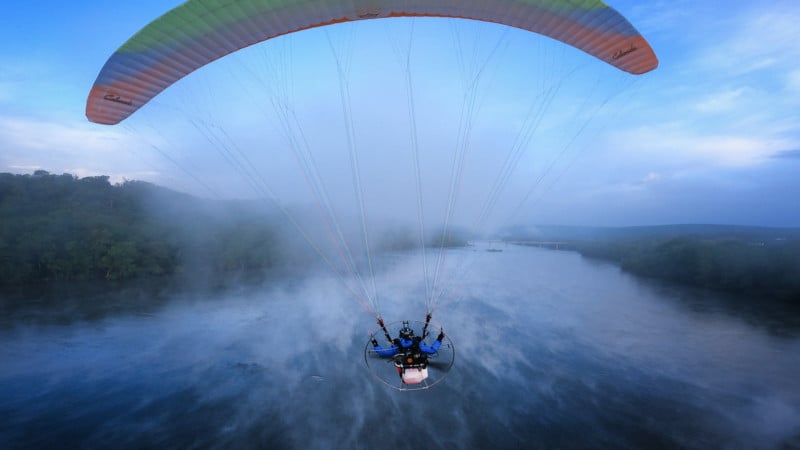 "Flying with cameras was finally coming together, but learning to take pictures while flying was not an easy task. Unlike drones, I'm always moving; any adjustments to settings have to be completed with one hand. Flying low gets you the best compositions and brings the most danger. Once I put all this together, I can start planning flights for some incredible locations, and Dolly Sods was at the top of my list of dream flights."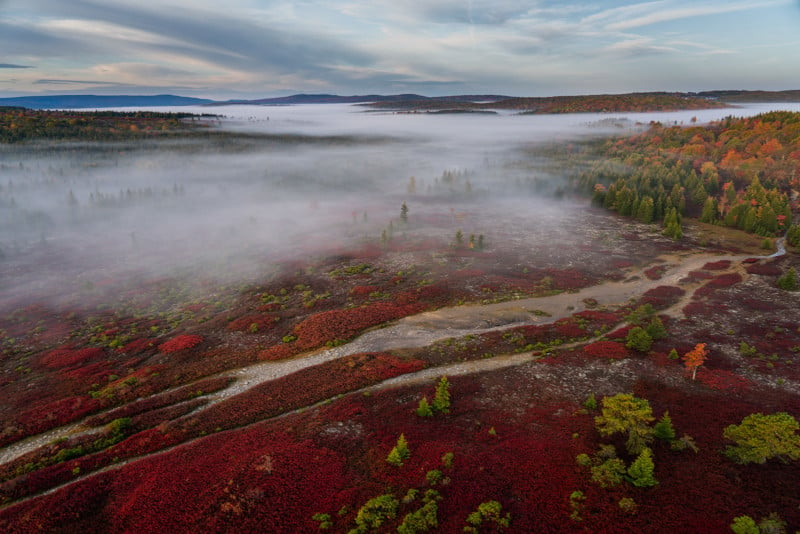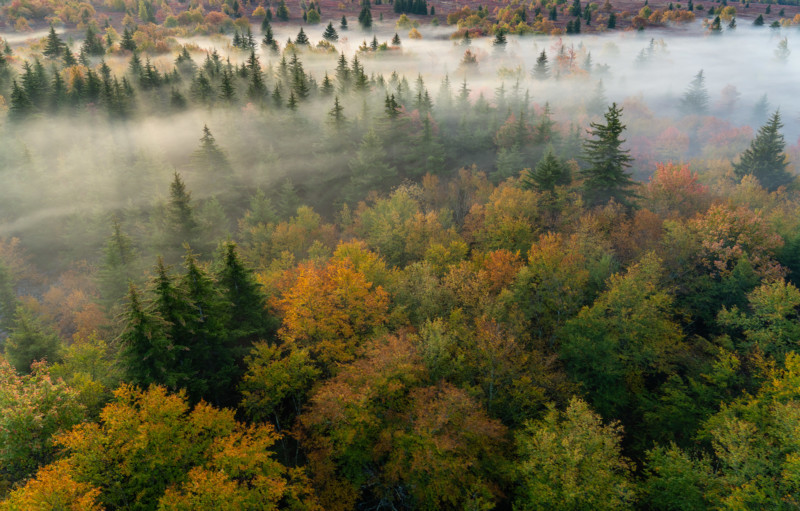 Although some might ask why Chen is going through all of this effort for aerial photography and isn't simply using a drone, his answer lies in what is accessible to photographers. In the United States, drones are limited to a maximum altitude of 400 feet, whereas flying can get Chen as high as 18,000 feet.

The ability to stay up in the air for two to three hours also opens up many avenues of getting interesting and picturesque images, while making the most of paramotor which doesn't require an airstrip to launch.
After accomplishing his dream of flying over Dolly Sods, Chen is looking forward to an Iceland flight in 2022 as well as expressed a desire to visit locations across Southwest and Alaska.
"I can see myself having three cine cameras mounted, recording different angles while in flight. It will be an experiment to see what works, but I like this challenge; it's what keeps me inspired to explore our beautiful planet."
More of Chen's work can be found on his website and Vimeo page.
---
Image credits: All images provided courtesy of Bernard Chen and used with permission.