Actress Says Paparazzi 'Weaponize' Copyright, Refuses to Pay for Photos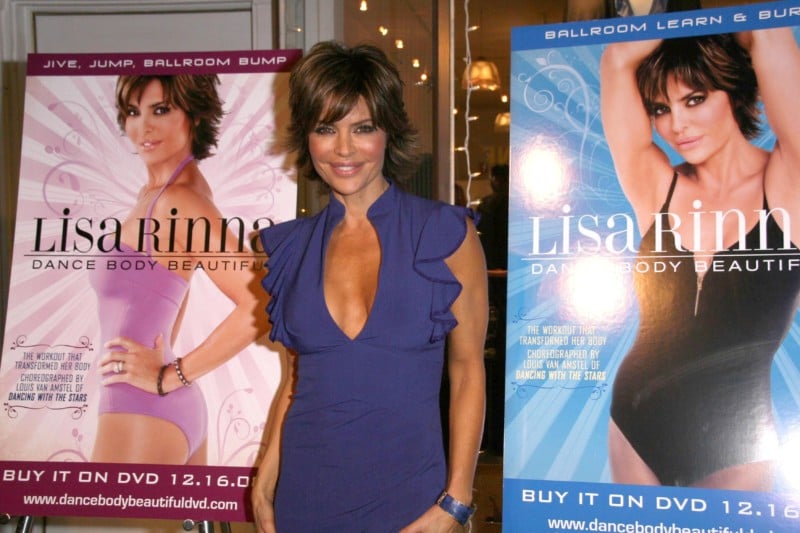 Actress Lisa Rinna has found herself in legal trouble after posting paparazzi images of herself on her Instagram account without compensating the photographer. The representing agency has now filed a lawsuit but the star is not willing to pay up.
"Real Housewives of Beverly Hills" star and television personality Rinna told The Los Angeles Times that she has always seen the relationship between celebrities and paparazzi as "very symbiotic." She claims that she understood getting photographed is "part of the game" and never fought with or ran from paparazzi before.
However, it appears that this relationship has been tainted after Rinna posted a series of images on her personal Instagram page, featuring her and her two daughters. The images were owned by paparazzi photographers, represented by photo agency Backgrid, but she hadn't paid for the use of images before sharing them.
Backgrid first launched a legal campaign with a letter claiming $1.2 million in damages. After Rinna refused to pay, the agency filed a lawsuit in federal court in June for an alleged copyright infringement.
An agency that represents paparazzi asserts that Lisa Rinna infringed its copyrights by posting photos of herself and her two daughters on her Instagram page.

But Rinna is fighting back. Columnist @hiltzikm explains: https://t.co/GCloQxcmTg

— Los Angeles Times (@latimes) October 5, 2021
Jo Ardalan, a partner at One LLP — the intellectual property law firm that has represented Backgrid in several copyright cases, including the lawsuit against Rinna — explains that "once a photograph is posted, People magazine or Us Weekly will be less likely to buy it because all their fans will have already seen it."
However, Rinna is not prepared to pay and is fighting back. She argues that had the fee been more reasonable, she wouldn't be so disinclined to acquiesce. However, the huge amount that the agency is seeking has led her to ask the judge to reject the filed claim on the grounds that Backgrid has "effectively 'weaponized' the Copyright Act" to make up for lost revenue during the pandemic when most celebrities stayed locked down or weren't as recognizable under masks.
Lisa Rinna Speaks Out About Lawsuit Over Posting Paparazzi Photos of Herself: 'That's Not Right' pic.twitter.com/uFMJEN5eYz

— People (@people) October 6, 2021
Rinna is not the first nor the last celebrity to misuse intellectual property. Earlier this year Lebron James reached a settlement with a photographer after a lawsuit alleging he misappropriated an image for his social media feed without paying the photographer, TikTok star Charli D'Amelio was called out for using a photographer's images in her book without permission, and Dua Lipa received a similar lawsuit to Rinna's.
At a quick glance, it could be mistakenly assumed that paparazzi photographers' work doesn't — or shouldn't — come under the same copyright and ownership image rules as any other image creators'. But, whether an image was captured by paparazzi, press, or portrait photographer, it cannot be used for commercial gain without obtaining the correct licensing or permission first.
Because of negative connotations that still pervade paparazzi photographers, the public reaction to the lawsuit has been mixed:
There should be laws against photographing people without their permission, especially with the intent to profit from the photos.

— LazyCat // #NeverAgain (@LazyCatHappyCat) October 5, 2021
This law is clear. You don't own the IP just because you're the subject of the artwork. If an author writes a biography about you you don't get to snatch as many copies as you want. Take your own family photos to promote your social acct. Or pay the photog who took this one.

— Lex Jurgen (@Lex_Jurgen) October 5, 2021
I mean she did steal them! If a photographer takes a professional photo of you and you post it on your page without paying the photographer, that's theft.

— Kat⁷ 🪐 (@royaltymyg) October 5, 2021
However, copyrights and licensing of intellectual property is a crucial aspect of any working photographer. Without the image use protections in place — same as those that protect singers, songwriters, designers, and other creators — the work could be misused in any which way leading to loss of profit and potentially damaged reputation.
---
Image credits: Featured image licensed via Depositphotos.