Photographer Says Top TikToker Charli D'Amelio Stole His Photos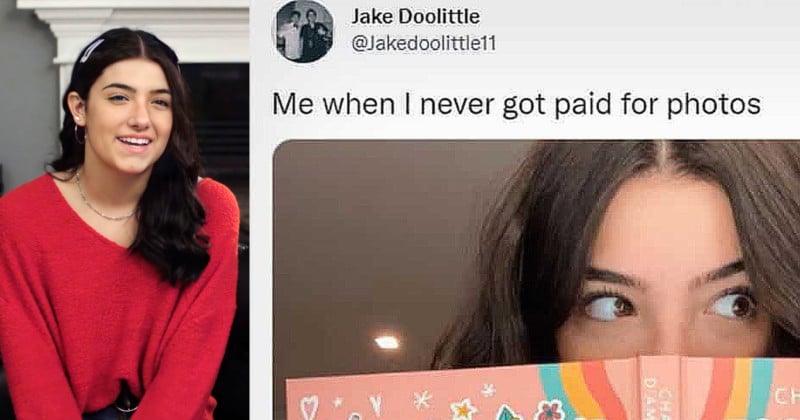 The most-followed star on TikTok is being accused by a photographer of using his photos of her without permission or compensation for her new book.

17-year-old dancer and social media star Charli D'Amelio, who boasts a staggering 124 million followers on TikTok,
announced her first book
back on December 1st, 2020.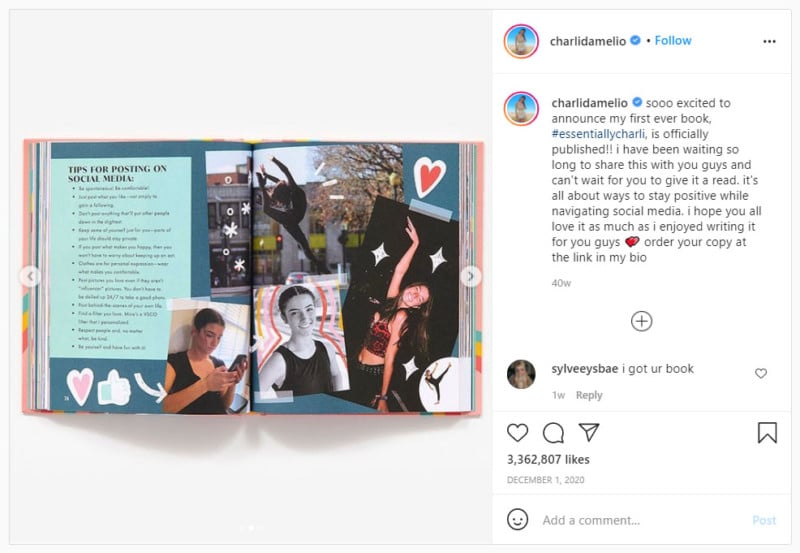 Titled Essentially Charli, the instant New York Times bestseller offers a behind-the-scenes look into the life of a girl who became the first TikTok personality to surpass 100 million followers.
"Packed with Charli trivia, exclusive photos, real talk from Charli, and writing prompts, this book is your new go-to resource and is the only official book by your favorite teen role model and icon: Charli D'Amelio," the synopsis reads.
When photographer Jake Doolittle caught wind of the book, it was the "exclusive photos" that drew his attention. He says that some of the photos were shot by him and used in the book without permission, and although he was properly credited as the creator of the images, Doolittle believes he should have been compensated for them.
The photographer expressed his displeasure by responding to the book announcement in a series of Tweets.
In response to a D'Amelio Tweet that said, "I can't think about anything but having wings right now," Doolittle replied, "I can't think about anything but the millions you made off my photos."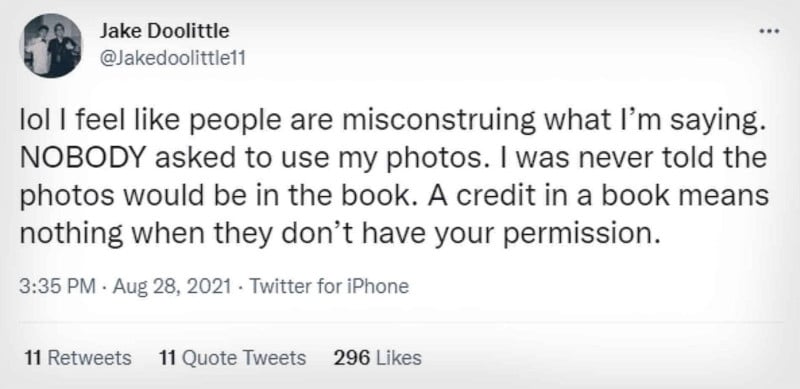 "Nobody asked to use my photos," Doolittle writes. "I was never told the photos would be in the book. A credit in a book means nothing when they don't have your permission."
The Tweets have since been deleted (after being screenshotted by Dexerto) due to legal threats Doolittle quickly received.
The photographer has since uploaded a video to YouTube with his side of the story. It's titled, "Charli D'Amelio's team won't pay me for my work."
Doolittle says that his main complaint is against the team behind the D'Amelio media empire rather than the family or Charli herself (who has been "nothing but polite" to him).
The photographer says that he originally reached out to D'Amelio a few years ago when she was an up-and-coming influencer with a much smaller number of followers than today. In December 2019, he traveled to Connecticut and shot some free photos for her to use and for him to have in his portfolio.
In an email to D'Amelio's management, Doolittle wrote that "If you do decide to sell the photos for any reason, I would like to be notified beforehand so that we can work something out." D'Amelio's team responded that they "agree to the rights and usages" that were laid out.
"I very clearly in my email said that I will not sell [the photos] but if they decide to sell them, I would like to be notified so that I can get paid," Doolittle says. "This photo shoot was for an Instagram post. The D'Amelio family and the whole team got photos of Charli showcasing her dance ability and in return, I got a social media post out of it all knowing that I would not get compensated for any of it… unless they were to sell the photos."
Doolittle says he later (in April 2020) signed a work for hire contract with the D'Amelio family, which means that the copyright of everything he created for them after that date would belong to the D'Amelios rather than him. After a few months of work under this new agreement, the work dried up and Doolittle assumed the relationship was over.
When Charli announced her first book in December of that year, Doolittle was surprised to learn that some of his older photos of Charli had been published.
"I had absolutely no clue that my photos were in this book until a friend screenshotted and sent me the post asking if these were my photos and had I been compensated or credited," Doolittle says. "Right away I bought the book on Kindle to look through [and] see how many photos of mine were used and if I was credited."
The photographer found that two of his photos of Charli dancing were used, and one of them (of Charli jumping) could be seen in the announcement post on Instagram liked by over 3.3 million people.
After some initial excitement of seeing his name and work in a published book, it dawned on Doolittle that his copyright had been infringed and that his original usage rights agreement with the family had been broken. That's when Doolittle decided to speak up in his series of now-deleted Tweets.
The photographer says that D'Amelio's team then contacted him, threatening to get lawyers involved if he didn't take down the Tweets and stop spreading "false information."
"Charli and I would be grateful if you could make a tweet or something stating that there was a misunderstand and she did have the rights to use the images, that you and Charli are good and asking everything to put this behind him," a team representative purportedly wrote to Doolittle," and before you post anything send to me so we can be on the same page and make sure it serves the purpose to clear the air and not add more drama to anyone."
Doolittle has also received a flood of angry messages from Charli's fans, including people telling Doolittle to "kill himself."
"The people who are in charge of photo rights couldn't be bothered with me until I tweeted and it ticked them off," Doolittle continues. "All it would have taken was a simple courtesy hey we're going to publish this book of Charli and we would like to use your photos. Here's money for the work you put in. Sign here. Thanks, bye. We're not going to ever talk to you again but at least we reached out to you for the photos."
"I feel powerless when it's me fighting against a big media conglomerate with managers, lawyers, public relations people, and so much more," Doolittle concludes. "That's all I feel. Powerless."
The D'Amelios have not responded to PetaPixel's requests for comment.
---
Image credits: Header portrait of Charli D'Amelio by Priyanka Pruthi and licensed under CC BY 3.0