Realme GT Explorer Master Edition Review: Not Always Keeping It 'Real'
If you've never heard of Realme, you wouldn't be an outlier — at least in North America. The brand, which first came to market in 2018, falls under the Oppo banner, which also joined forces with OnePlus earlier in 2021. Realme's focus on affordability and growth in other markets around the world have put it in seventh place as a smartphone brand globally. It's growing fast in China, India, Russia, and the Philippines, and only time will tell if it gets a bigger piece of the action in the West.
To do that, the Realme GT Explorer Master Edition and GT Master Edition would be the brand's latest phones trying to deliver. Neither is what you'd consider a flagship, and certainly not a "flagship killer," but there is a real focus on trying to offer value at a highly competitive price. The particular focus on photography suggests Realme is positioning these phones as competitive shooters, too.
Being the higher-end of the duo, the GT Explorer Master Edition has the better specs for mobile photography, with what Realme calls "flagship sensors." While as mentioned the brand isn't trying to outshine flagship phones, it does think it has the chops to be highly competitive as an upstart.
Design and build
The GT Explorer Master Edition is an objectively nice phone to hold and look at. I'm never a fan of curved displays on phones, and this one isn't all that subtle in how it meets the edges. The 6.55-inch Super AMOLED is vibrant, helped by the smoother navigation afforded to it by the 120Hz refresh rate. The Luna White backplate on my review unit has a tasteful veneer that not only looks nice, but also has a reasonable grip to it. Like other Chinese brands, though, Realme includes a silicone case in the box to at least offer some protection from the start.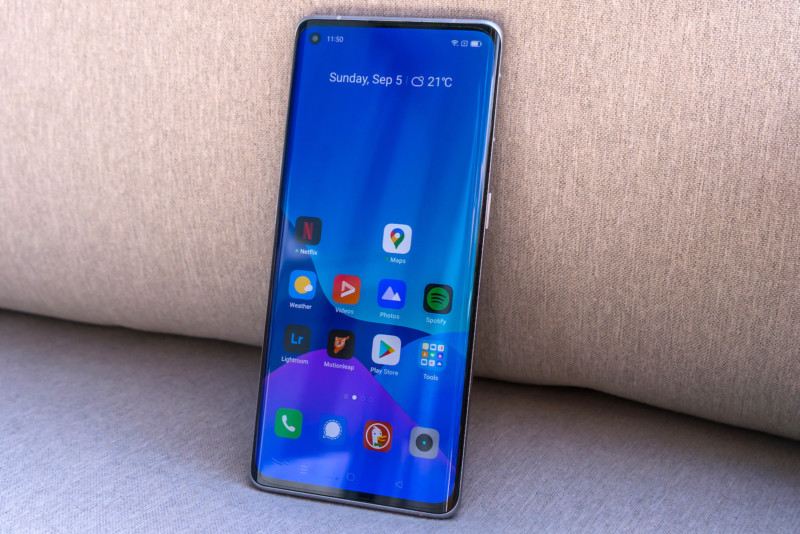 What's odd is that this phone runs on the Snapdragon 870 processor. The company previously launched its GT 5G phone earlier in 2021 with the faster Snapdragon 888 chipset, only to opt for the slower CPU here. I haven't tried the GT 5G, but I imagine the performance difference isn't going to be all that substantial as it relates to the GT Explorer Master.
The phone does come in two memory variants: one with 8GB of RAM, and the other with 12GB. There's 256GB of internal storage, albeit without a microSD card slot to expand further on that. In lieu of the card slot, there is a dual-SIM slot in there. It doesn't support wireless charging, and there is no rating for water resistance at all, so there is some level of fragility to bear in mind here.
My review unit was a Chinese variant that forced me to sideload the Google Play Store and other Google apps. There are North American variants and they do support Sub-6 and mmWave 5G bands, except U.S. coverage is limited to the 850 and 2500 bands.
Camera Features
The triple camera array in the rear is anchored by a 50-megapixel primary (24mm equivalent) with an f/1.88 aperture. It's a 1/1.56-inch Sony IMX766 image sensor that Realme claims can capture up to 64% more light.
Flanking it is a 16MP ultra-wide (14mm equivalent and 119-degree field of view) with an f/2.2 aperture using a Sony IMX481 image sensor. And the 2MP macro (at f/2.2) rounds out the array, though it isn't a Sony sensor. Instead, Realme put Sony's IMX615 at the front as a 32MP selfie shooter with a 26mm equivalent. Clearly missing is a telephoto lens, meaning the only option to get closer to a subject is to either physically move closer or accept degradation by using digital zoom.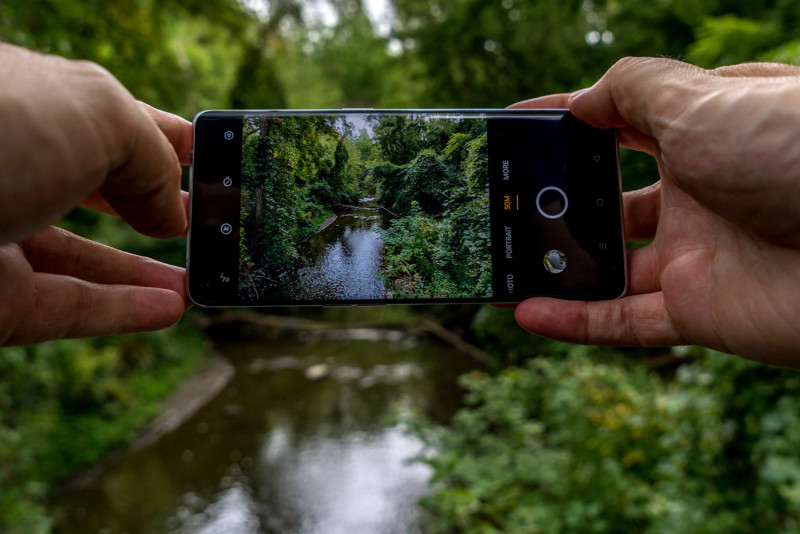 Software Features
Realme UI 2.0 acts as the Android overlay for the GT Explorer Master, though my experience varied because of the Chinese variant. The bloatware notwithstanding, there's plenty to wade through once you launch the camera app. Realme's focus on offering a number of modes and options is largely centered on what it thinks makes it different.
Street photography is one of them, as is the 50-megapixel mode for higher-resolution photos. The interface has some extras, like pulling down the pane from the top of the frame to reveal tilt-shift, aspect ratio, and the timer. AI Scene Enhancement is supposed to help with composition, but it's probably best to leave it off because you can't constrain its own excesses. HDR is worth using, and is on auto by default.
Not surprisingly, there is an AI Retouching slider for smoothing skin, which is an old hat now for phones coming from Chinese brands. There's a fair bit to try out here, including an unusual mode you can use for photo IDs, which may not be as practical as it sounds.
Image Quality
Main Camera
In most circumstances, the primary sensor shoots at 12.5-megapixels, since there's pixel binning at work. The 50-megapixels sensor has its own mode, as noted earlier, and is at its best when lighting conditions are optimal because the Micron Pixels are smaller. Realme's assertion that the lens captures more light is specific to the binned 12.5-megapixels shots, rather than the full gamut of the sensor, which isn't all that surprising since it's the same story with other phones as well.
For the most part, the sensor can capture good photos, with fairly vibrant colors and acceptable detail. Zoom in and it's pretty clear Realme applies some sharpening and perhaps a little vibrancy right after taking the shot. Mind you, this is with AI Scene Enhancer turned off. When on, it interpolates any scene based on what it thinks is in the frame. Shoot a forest, and it will try to apply more color, but it was hard for me to see real value coming from it at any time.
HDR comes in with an assist when need be, and leaving it on auto was probably for the best in my testing. It doesn't need to be there for every shooting scenario, though I was disappointed when it did little to improve upon an image where the sky could get blown out while a foreground subject was more properly exposed. It was hit or miss, and always nice when it was an actual hit. For that reason, I tried to be pragmatic and turn it on manually when faced with a scene that had some heavy contrast to it.
But I also had to remind myself that this is more a mid-range device, not a flagship. At first, I took issue with the exposure slider (after tapping to focus) because it sometimes mistook a swipe for switching lenses. But soon after, I got the hang of it and noticed I could swipe up and down anywhere in the frame to make those adjustments.
Ultra-wide
Given this is Sony's IMX481 sensor, one seen in several Xiaomi handsets, the results weren't all that surprising. Output falls into a similar boat, where good lighting conditions generally deliver better shots, unless things dim and the lens struggles to capture the scene with greater detail. It's evident Realme applies additional sharpening to these images. The closer I looked, the blotchier the image turned out to be.
Strangely, Realme shoves the ultra-wide lens to the top menu in Pro Expert mode rather than within the frame. Instead, the company chose to prioritize zoom as an alternative in that mode, even though there is no telephoto lens. It's a bizarre choice that doesn't serve the phone well, especially considering how much noise digital zoom produces.
Macro
There's only so much to expect from a macro camera this limited in scope. It's just 2-megapixels, and using a sensor that is neither Sony's nor anyone else noteworthy. Hence, the results are predictable, which is to say they're not very good. The sweet spot is 4 centimeters from the subject, as a message says when it pops up onscreen, but focusing is often finicky and the images you get are noisy, even in ideal conditions. I can understand Realme needing to cut corners to keep the price down, but a telephoto lens probably would've served users better.
Pro Expert
Pro modes are supposed to be a way to get the most out of a smartphone camera, though I was left with the impression that something was missing here. It's great to be able to control the basics, like shutter speed, ISO, white balance, and exposure, and Realme wisely includes brief explainers on what each of those is. The onscreen cheat sheet, notwithstanding, results speak for themselves, good or bad.
Unfortunately, they're not great. The issues reveal themselves more in post-production, especially when contrast was higher. When I processed those RAW photos in Lightroom, the flaws became easier to see. Chromatic noise is abundant in darker scenes, even at low ISO levels, making it hard to capture shots with more significant contrast. Phone screens are small, so they might mask it a little more, but there are visible artifacts anyway.
Night and Low-Light Photography
Despite limitations and issues along the way in other respects, the primary camera isn't all that bad when it comes to low-light photos. It does depend on what kind of light sources you're dealing with, and Night mode does have its quirks. For one, Realme made a nice move by adding a slider to add sliders for ISO, shutter speed, white balance, and focus. It effectively gives the mode a manual option, except it omits the ultra-wide lens once you slide it over. Leave it on AI, and you can use that lens.
What's odd is that the shutter in Night mode turns into a stop button while it captures multiple exposures, only it does nothing when you press it while that happens. I was trying to limit the exposure to keep the night sky darker, but failed every time. Realme did issue a software update in September 2021 to remedy that, though didn't address the exposure stoppage. That means you basically accept whatever results come from it. There's room for improvement, and if Realme continues its support through software updates, it may make low-light shooting increasingly viable.
Special Modes
Realme touted its Street mode as a way to capture urban scenes in ways that would make the GT Explorer Master unique. The mode's interface notes the focal length for the two lenses at play in the primary and ultra-wide, along with two zoom options, both of which are digital. You can shoot in RAW in this mode, and choose from eight filters to add some flair to those shots. One caveat is that you can only use the primary lens in RAW. The whole thing is an interesting idea, and can be fun to shoot with, only that results can either vary widely or not seem all that different from a standard shot.
Starry mode is surprisingly good, capturing the stars in the sky with great color and some detail. It's a four-minute exposure for photos, or you can shoot timelapse videos between 60 and 240 minutes. It naturally doesn't work well in places with a lot of light pollution, but darker places should yield good results.
Text Scanner is an interesting tool, though it struggles with turning handwriting into text. Breeno Scan offers translation, QR code scanning, object recognition, document scanning, business card scanning, and more. It's interesting, though prone to difficulties, especially since it often gets matches wrong.
Trying to Deliver the Goods for Less
Realme produced a mixed bag with the GT Explorer Master. The phone is fine, as is, only that the camera is where things are a bit disjointed. It is capable of taking good shots — impressive ones even for a mid-range device — but there are various reasons why that happens that you can't always control. The hardware isn't so much the issue, it's the software that needs refinement, and it's a good sign the company is already updating that to try plugging some performance gaps.
Are There Alternatives?
At some point, Realme will bring this phone to the U.S. when it releases an international version for the North American market. The company's confusing nomenclature and marketing makes this phone sound a little too close to the GT Master, which is a different phone altogether. Between the two, the Explorer Master has the better camera array.
Mid-range phones have tight competition these days. The U.S. is one of only two markets with the Google Pixel 5a, which comes in cheaper than this phone. The Samsung Galaxy A52 5G is also less expensive, and offers an extra year of Android updates.
Should You Buy It?
No, because there's no reason to yet. The Chinese variant forces too many compromises, even if sideloading is easy. The cameras are good, though not exceptional enough to stand out as the best in their class. It would be interesting to see where the phone stands by the time Realme launches one stateside, but for now, you can wait before reaching out for one.